Your bedroom should be a sanctuary of undisturbed relaxation, but limited space can leave it feeling cramped and uncomfortable. Additional space is a luxury that most can't afford, but there are a number of small bedroom decorating ideas that can help you to maximise the area in your room without compromising on style.
Snooze has a range of mattresses, bed frames and storage options to help make the most out of your small spaces - with the right design, you'll forget all about your confined bedroom! Whether you're looking for small master bedroom inspiration, struggling with teen or kids bedroom ideas, or you're just after storage options in general, we're sure you'll find some inspiration here to help you take your room from teeny tiny to spacious.
1. For the adults: Small master bedroom ideas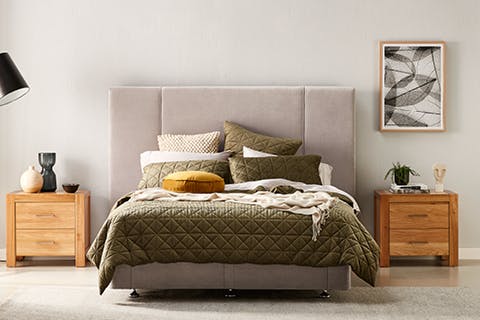 If your master bedroom is a little on the smaller side, there are a range of bedroom ideas for small rooms out there to help you strategically style your space. While there's no need to embrace a minimalist life just yet, it certainly pays to be conscious of the layout of your room.

Placement is key when it comes to bedroom furniture. If space allows, positioning the bed in the centre of a wall creates symmetry and offers practicality with the ability to access the bed from either side. If you're short on storage, dual-or multi-purpose furniture is your soon-to-be best friend. Storage beds allow you to utilise the often unused area under your bed. Available with two-drawer, four-drawer, or gas lift options, Snooze offers an extensive range of storage beds in different sizes, styles and finishes that are sure to suit your taste. 
Decorative mirrors can add another dimension and create the illusion of space in a small room. Avoid freestanding mirrors that take up precious space and instead mount your mirror on the wall. If you have a chest of drawers or a tallboy, a mirror can be positioned on top of the drawers to further open up the room and prevent having to purchase additional bedroom furniture.
2. For the kidults: Teenage bedroom ideas for small rooms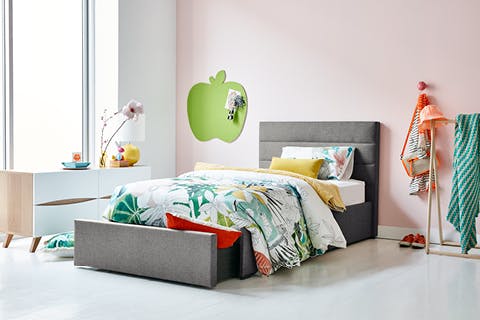 Transform your teen's tiny bedroom into a tranquil retreat with the help of a few small teen bedroom ideas. Versatility is a must for saving space, but it doesn't mean your kidult will have to forgo the stylish room of their dreams. 
Opt for dual-purpose storage solutions that combine style with practicality. If their room layout allows, a blanket box placed at the foot of the bed is an elegant addition for any loose items while doubling as an attractive bench seat. 
If your kidult loves the look of a bed frame, then a headboard teamed with either a single mattress and base or a long single is an excellent way to achieve the look while saving on space. If you're in desperate need of some concealed storage, then a storage bed might be just what you need. Combining comfort, storage and style with a variety of modern designs, storage beds are available in a range of colours, making them simple to coordinate with your teen's bedroom décor. 
3. For little Snoozers: Kids bedroom ideas for small rooms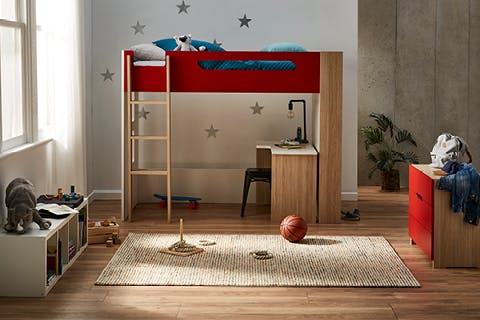 For the little Snoozer in the family, take a look at these neat kids bedroom ideas. Loft beds are a great space-saving hack. By raising the height of the bed, it creates space underneath for storage, study or play. Loft beds are fashionably compact, making them ideal for smaller spaces and freeing up room for a desk.

If you're looking to make sleepovers easy for your little Snoozer, trundle beds feature an extra mattress stored under the main bed and simply roll out for when guests come to stay. Complete the look with a bedside table or a tallboy for a little extra storage for all their bits and pieces.
4. For everyone: Small bedroom storage ideas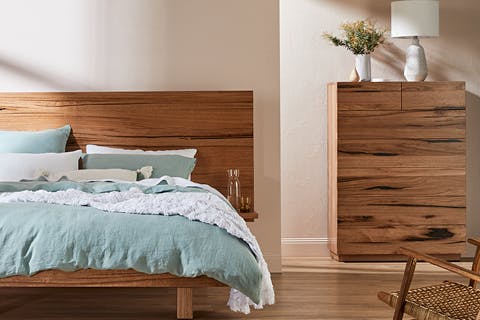 There are a number of nifty tricks you can use to maximise your bedroom storage. Beds with storage offer a practical and stylish solution for turning the largest piece of furniture in the bedroom into a storage solution.
Another simple way to create more space is to work upwards and utilise furniture pieces with height. Tallboys require less floor area than a traditional dresser or set of drawers but often provide just as much storage.
Decorative accents like mirrors not only look attractive but help to make a room appear larger making them perfect for modest bedrooms. There's no need to resign yourself or your family to a life lived in a confined bedroom. With a little creativity and inspiration when it comes to small bedroom decorating ideas, you can take a room from compact to comfortable in no time.