Is Dad dreaming of more shut-eye?We all know he deserves some serious TLC, so treat him to a good night's sleep this Father's Day with a brand new pillow. A comfy pillow makes a great Father's Day gift, and is key to achieving a satisfying snooze, but it can be difficult to know which one will suit him best with so many styles. We've compiled an easy buying guide with handy tips to help you find great presents for dad this Father's Day.
Understanding the pillow profile and fill 
There are three key questions to ask yourself when you begin the search for a pillow gift for Dad:
What mattress does he sleep on? 
What's his sleeping position? 
How would you describe his build?
Understanding these core fundamentals will help give you a clearer picture of what he might find the most comfortable.
Pillow fillings
Our pillows are available in various materials like microfibre and memory foam to suit everyone, even the toughest of critics like Dad.
Microfibre
An amazing alternative to down, microfibre is touted as the new age, synthetic fibre which can wick away sweat, making it more absorbent. Its soft, luxuriously lightweight filling can help the pillow mould to his head and neck throughout the night. It's also an excellent choice for Dad's with the night-time sniffles due to its hypoallergenic microfibre fill, which can help prevent the collection of allergy-inducing dander.
Memory Foam
Lastly, the third wonder is memory foam, which is a sponge-like material. This material has a good rep because it can contour to his body as he sleeps to help improve pressure relief on his head and neck regions like a sponge. It's soft, smooth with no annoying bumps and easy to care for with a zip-off cover. Need we say more?
1. What mattress does he sleep on?
The main job of a pillow is to support the gap between Dad's neck and shoulders. But remember, the pillow and mattress slept on together, not in isolation, will help determine the quality of his snooze. Generally speaking, the most important mattress considerations are whether he sleeps on a plush, medium or firm mattress and how old it is.
Mattress feel: the feel of a mattress (plush, medium or firm) plays a crucial role in what pillow will bring him a good quality sleep night after night. If he sleeps on a softer plush mattress, you may need a low profile pillow that will best cater to his shoulders, whereas a medium mattress with a medium profile pillow can offer improved support. If he has a firm mattress, you may need to look at investing in a high profile pillow even if Dad has average width shoulders and a medium-sized frame because we don't want him sinking too far into his mattress.
Mattress age: as mattresses age and begin to wear out, they tend to sag right in the middle. Determining the age of Dad's mattress is important because a mattress feel can change as it gets older. An older (firm) mattress, for example, may act more like a plush or medium mattress, putting him in an entirely different sleeping position. This also means that you'll need to look at a low or medium profile pillow to offset the impact of the said worn mattress on his sleep.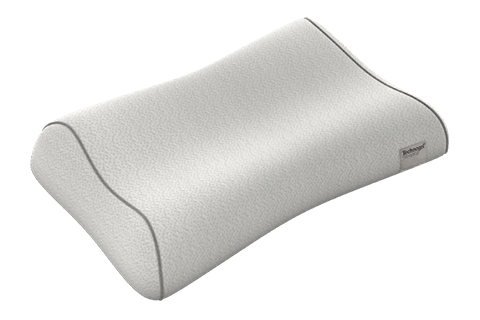 2. What's his sleeping position?
Another important factor to consider is Dad's sleeping position. Sleeping positions vary as it boils down to personal choice. The three main sleeping positions are side, back and stomach and knowing which one he sleeps in will help improve his comfort and support.
Side: If he sleeps on his side, his pillow should support his head in a neutral position. Because his shoulder will take the brunt when he sleeps on his side, it is best to opt for a high profile pillow like the BEDGEAR Solar 3.0 pillow that is fuller, firmer and likely to give his neck the support it needs. The cushioning of the pillow will also help take some weight off the shoulder he sleeps on.
Back: if he sleeps on his back, his pillow will need to support his head and neck still but not so much that the neck is propped up at an unnatural angle. Back sleepers typically need a medium profile pillow, something which isn't too full or flat. A pillow with natural curvature like the TechnogelPixel Anatomic Curve pillow (medium) can help him improve his sleeping posture.
Stomach: If Dad sleeps on his stomach, he will need a softer pillow with a low profile. While it can be described as the most stressful position for your neck and back, it's not something he can change overnight, so something like the TEMPUR® Ombracio pillow with less filing will help keep his body as neutral as possible while sleeping each night.
3. What is his build? 
Another important factor to consider is Dad's body size and shoulder width, as mentioned above. If he has a smaller frame with narrow shoulders, you should consider a low profile pillow. If he has an average frame with medium width shoulders, your best bet would be a medium profile pillow, and finally, if he has a larger build with wide shoulders, a high profile pillow is likely to be Dad's new best friend.
Finding the right pillow 
One of the best Father's Day gifts is a better night's sleep. At Snooze, we pride ourselves on being sleep specialists who want to help him be the best version of himself. Looking for the best pillow to suit Dad?  Find your nearest store, and our friendly staff can help you decide on the best pillow so he too can see what a little Snooze can do. Need more gift ideas for Dad? Browse our full range of bedding and linen for his complete sleep-set up. 

References: