If you have little to no space in your bedroom, you have no choice but to get creative with your belongings and how they're stored. Thankfully, there are many ways you can make limited space work for you. From floating shelving to double-duty furniture, we've rounded up five of the smartest ways to maximise the room you have, and ensure no valuable space is wasted.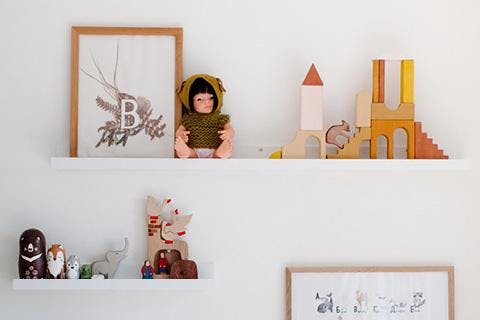 1. Floating Shelving
Finding a solution that is stylish, allows you to efficiently store and display everything you need, all while saving space is not an easy task. But there is one strategy that can help solve the problem, cue floating shelves. They're simple, practical and allow you to save on much needed floor space plus a great alternative if you can't fit a bedside table by the bed. We get it though - not all items are pretty enough to be stored in clear view so try incorporating small storage cubes or rattan baskets, as they'll help you maintain a clearer look, stylishly disguising items you'd rather not display.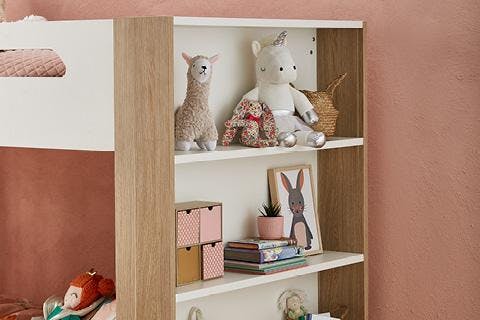 2. Rely on Double-duty Furniture
Furniture which works in a variety of ways is great for small-space storage. Purchase a sofa bed for the study or kid's bedroom to give visitors a better night's sleep when they stay. If you decide to use a larger piece of furniture, ensure it can house a majority of your storage needs without having to use other pieces of furniture to block much-needed space. Loft beds are great space-savers, because they let you use the same floor space twice. The Bingo Loft bed comes with a built-in bookshelf and doubles up as a study space for your little Snoozer underneath.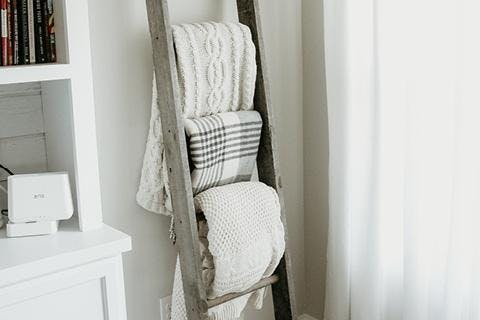 3. Use Vertical Spaces
Utilising vertical space is a great solution for tight quarters. Use vertical spaces behind the doors of your cupboards for storing smaller items that would otherwise clutter your room. There are a variety of slim wire baskets which can keep your contents in view, and line the back of your cupboard door, ensuring all that precious square feet is put to good use. Another way to declutter your clothing, blankets and/or shoes, is to try leaning a ladder against the wall and using it as an organiser. By seeing it all at once it'll help you pick out what you want much faster.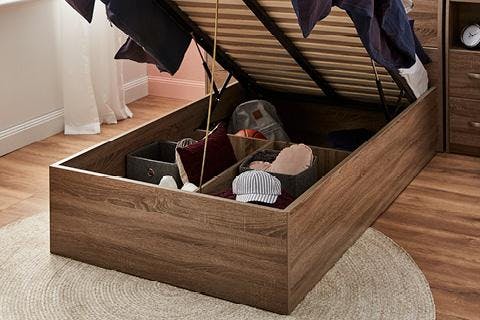 4. Try Under-bed Storage
A bed that doubles up as a master of storage can be your knight in shining armour. Feng Shui experts will probably cringe at the idea of putting your belongings under the bed, but it's simply one of the smartest, easiest to make use of space within your bedroom. Try a storage bed like the Clovelly Bay or Slumberland Square Winged bed frame which both boast drawers within the base, DIY an under the bed solution by raising your current bed and adding black or grey storage containers or opt for a bed with a gas-lift base like the Paddington or Elevation.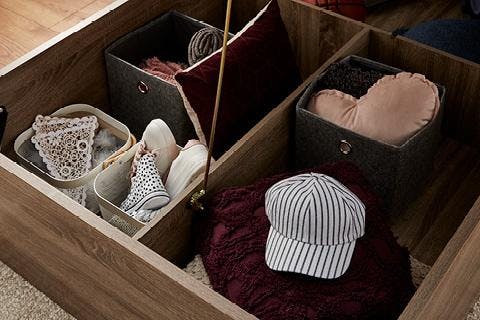 5. Organise your drawers like a pro
Making the effort to properly store your clothing in any of your drawers will ensure you maximise much needed bedroom space. We know the hustle and bustle of daily life, makes you want to just grab your clothes and go, but try and refold or file your clothes on a monthly basis. By using the Marie Kondo folding method you prevent a messy drawer. Consider using containers in your drawers for the smaller stuff and if you're lucky enough to have a large drawer, try dividers or organisers. If you're still struggling for space consider space bags and vacuum packing bulky out-of-season clothing.
All hope is not lost when it comes to small spaces, it just takes various creative strategies to help maximise your storage. By incorporating floating shelving, double-duty furniture with multiple uses, vertical space storage, as well as underbed and efficient drawer organisation you're well on the way to achieving the decluttered, relaxing bedroom you've always dreamt of Snoozers.
References: