You've spent weeks comparing mattresses, considering qualities like feels and support, pitting innerspring against foam, or deciding if you need a pillowtop. Finally, you find a match made in sleep heaven. But now comes the real challenge: finding a bed frame to put it on. This frame will form the foundation for your new mattress, help it perform its best, and help provide it with the support it was designed to deliver as you sleep each night, so you need to make it count.
Wood or upholstered, headboard or no headboard, standard or drawer base - there are many different types of bed frames. How do you narrow down the list to find the best one for you? Let us take you step-by-step through the decision-making process.
Find your bed style with Snooze
You'll want to consider your individual preferences and circumstances when sifting through the types of bed frames available. While an elaborate bed in solid timber hardwood may appeal, if you are a renter or likely to move house in the not-too-distant future, a more minimalist modern bed frame may be easier to shift. Upholstered frames can add a touch of style and elegance to your bedroom design but can date sooner than wooden or metal frames. A bed frame with built-in storage can open up new options where space is limited.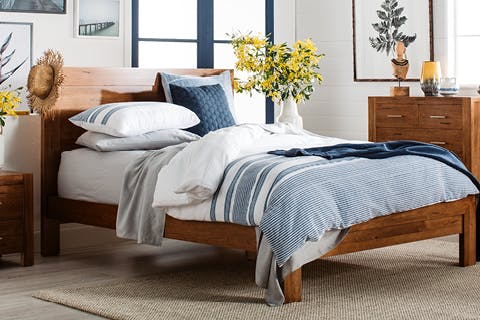 Wooden Bed Frames
Wooden bed frames make an excellent choice if you want a natural, beautiful design that can slip into virtually any bedroom style. The options are limitless, from sleek modern frames to rustic country beds and even ornately carved designs. The beauty of wood is that the material can also be made from an array of timber types and stained light, dark or anywhere in between in warm or cool hues. As well as being an attractive and eye-catching piece of furniture, a high-quality wooden frame can be a versatile option for many years.
Pros:
Wooden beds come in a wide range of styles to suit every bedroom design
Wooden bed frames are a versatile choice
Wood is easier to clean and can maintain its beautiful appearance for many years
Wooden bed frames in Australia are often made from high-quality Australian hardwood timber.
Cons:
Wooden frames may be heavier than metal ones, making them harder to move 
Typically more expensive than metal frames, although on par or cheaper than many upholstered bed options.
Buying Tips: 
Look for a bed with solid construction; it's worth investing a little more money to avoid ending up with a flimsy frame 
If you have other wooden furniture in your room, try to match the type of wood and find a similar stain to match.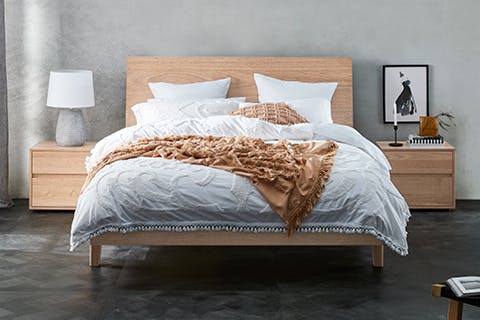 Low Bed Frames
Are you going for a modern aesthetic or trying to maximise space? A low, minimalist bed frame offers timeless elegance and opens up a room by leaving more space than higher frames. Usually featuring wood or an upholstered finish, they may feature a high or low headboard, gas lift storage or under bed drawers, depending on the style.
Pros:
Suits contemporary bedroom styles with a sleek, modern design
Range of materials and features available.  
Cons:
Storage space can be limited by the low design
Getting in and out can be hard for some people
It can be difficult to clean underneath the bed.
Buying Tips: 
Consider the room and what your bed frame will be surrounded with bedroom furniture wise: low bed frames are great for smaller, modern rooms, but they may not suit a larger room with tall, bulky furniture.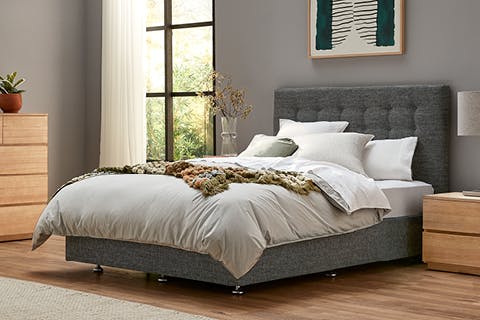 Fabric Bed Frames
Upholstered bed frames offer your bedroom a touch of decadence and comfort. With eye-catching textures and colours, they easily become the room's focal point. A cushioned headboard is perfect for those who like to sit in bed to read. Fabric options range from natural materials like cotton and linen to synthetic fibres like polyester. While they can make a stunning centrepiece and cosy sleeping space, fabric-covered bed frames require a bit of upkeep, so it's something to keep in mind when considering this option.   
Pros:
Fabric bed frames can add visual appeal
There are an array of fabric types, textures and colours to choose from to coordinate with any room design
The soft headboard can help provide extra protection to your wall to limit wear and scuffing. 
Cons:
It can require more maintenance than wood and metal options, including regular vacuuming to remove dust and cleaning any dark, greasy marks
Pet owners tend to avoid fabric frames as they will collect shed hair and can become an attractive scratching post for feline family members. 
Buying Tips: 
Consider the overall aesthetic of your bedroom and find the fabric and colour that suits you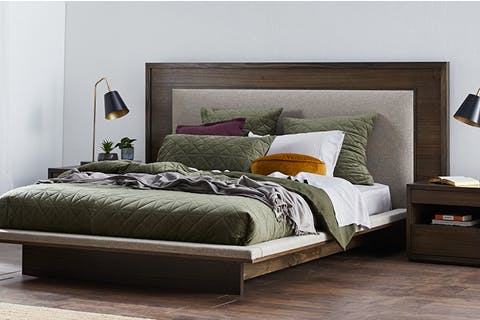 Platform Bed Frames
Platform frames are a type of low bed frame that can offer a complete foundation. Platform frames are great for small spaces and modern bedroom designs as they have a smaller footprint than fabric frames and chunkier wooden frames. They often include under-bed storage drawers, making them even more useful for space-poor rooms.  
Pros:
Modern design that will suit a range of bedroom styles
Available with different headboard options
Often come with in-built storage.
Cons:
As with other lower frames, it can be difficult for some to get in and out
Large, solid pieces can make it more difficult to dismantle and move.
Buying Tips: 
Where possible, test out a low platform bed in person before you buy so you can get a sense of how easy it is for you to get up and down from it
If space is an issue in your room, look for a frame with built-in storage drawers.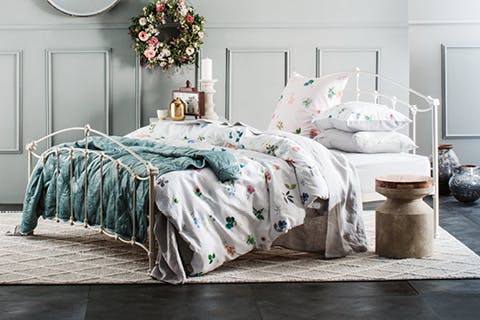 Metal Bed Frames 
Metal frames make a stand-out choice when you're looking for something good-looking that can last. Metal frames come in various finishes from matte to gloss; while black, white and cream are typical options, the painted finish offers up a world of beautiful colour options. Metal frames tend to be a bit cheaper than wood and are more resistant to scratches and damage. However, they can become squeaky over time and are quite heavy to move.
Pros:
Metal bed frames are visually appealing in a wide array of bedroom settings, from minimalist to more classic styles
They come available in many different colours to suit your decorating style 
Easy to clean.
Cons: 
Tend to become noisy over time
Parts can be very heavy to move if you are likely to reposition your bed frequently.
Buying Tips:
As with other bed styles, quality is your friend as it'll help ensure your metal bed can last longer 
Test out a metal bed frame in person and ensure it is sturdy with minimal movement.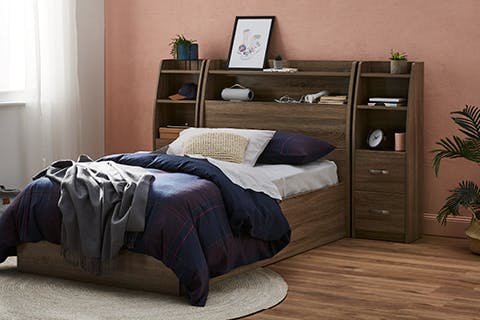 Bookshelf Bed Frames 
The bed frame with a bookshelf combination is designed for serious bed lovers. The handy built-in shelving is perfect for keeping current reads, a cup of tea, a soothing candle… you get the picture. The bed frame has your ultimate comfort and convenience at heart. They are not the cheapest or easiest to put together, and it's not the kind of furniture you want to move house with regularly, but if you're keeping your existing room as-is for a while and want the best in bedroom lounging, the bookshelf bed frame is worth every cent.
Pros:
Convenience is the hallmark of the bookshelf bed frame, keeping all your relaxation necessities within easy reach 
They make for a gorgeous piece of furniture and tie in nicely with a lot of bedroom styles 
Maximise space with built-in shelving - you can even do away with bedside tables.
Cons: 
More costly than other options
It can be challenging to put together and dismantle, making them less ideal for people who reposition their bed frequently. 
Buying Tips:
Be sure to work out exactly how your new bed will fit into your room ahead of time
Think about headboard size, how you like to sit while reading in bed, and what will be most practical and comfortable for you.
Hopefully, by now, you have some inspiration to start you off on your bed hunt - but it doesn't end there. For every sleeper and every bedroom, there is a perfect frame waiting to be found. From simple bed frames made from natural wood or metal to contemporary beds with low headboards and built-in storage, the convertible daybed for studio living to extra under-bed storage space, with colours, textures and materials to suit any style or scheme, you're sure to find something you love with a bit of time and love at Snooze.