Whether you are buying a new mattress online or in-store, the question of adding a mattress protector to your order is likely to come up. 'Hang on,' you think to yourself, 'aren't those for kids or overactive bladders?' While it's a popular misconception mattress protectors guard against life's little accidents alone, these simple covers play a considerable role in helping to protect your mattress. Learn why a mattress protector should be at the top of your list after buying a new mattress.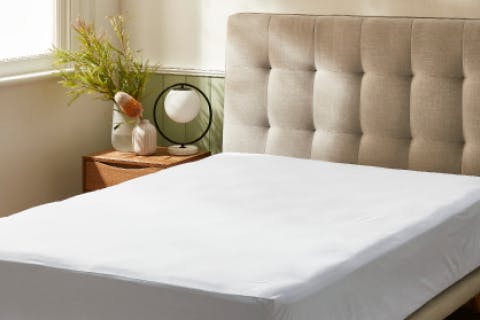 What is a mattress protector?
A mattress protector is a thin protective layer of fabric or material that fits snugly underneath your sheet set. Available styles can be secured by stretch material that acts as a second fitted sheet for improved coverage. Whilst how they stay on is an important feature to consider - particularly if you're an active sleeper - there are a few other things to consider in your search for the right protective layer, such as waterproofing, comfort, and body temperature.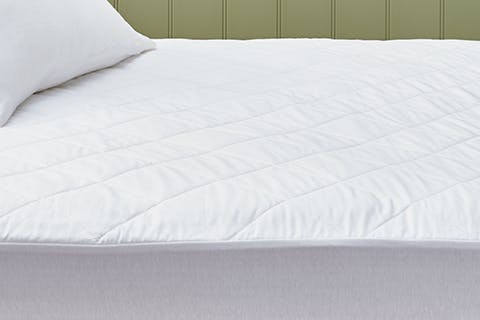 Waterproof mattress protectors
Waterproof mattress protectors use a thin waterproof membrane to help block moisture from night-time accidents, body sweat, oils, and liquid spills. Not only does this help to keep your mattress free from stains, but keeping things dry under the sheets can limit the growth of bacteria and dust mites. Moisture in any mattress can also reduce its usable life. A basic waterproof protector will combine the plastic coating with a soft fabric top; cotton, bamboo cotton, microfibre and Tencel™ are popular options for improved comfort.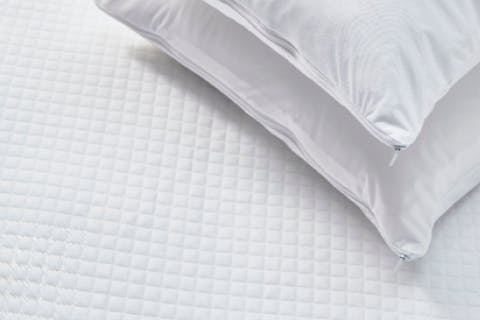 Quilted mattress protectors
Quilted mattress protectors are typically made using a fabric top sheet and padded with soft filling. Used to add a soft, breathable layer to your bed and provide protection to the surface of your mattress from wear and tear.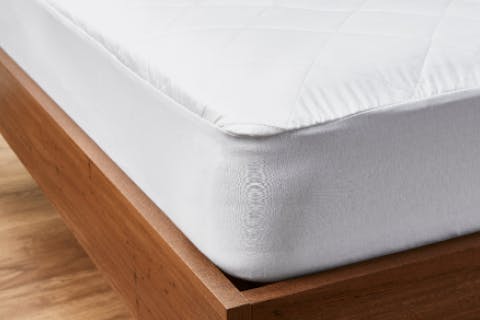 Does a mattress protector make a difference?
Mattress protectors offer up a range of benefits. They help to keep your mattress clean and hygienic; the humble mattress protector is hard at work every night. The best part? They are fully machine washable - unlike your mattress. This is good news for your health and mattress life, but bad news for the dust mites, bacteria and other microbes that like to invade our sleeping space.
Ward off allergies, creepy crawlies, and dust
Allergies caused by dust mites and airborne pollen can be exacerbated when you hop into bed at night. While you might think a simple fitted sheet is enough to keep out dust and pollen, they can easily work their way through the fabric's weave and combine with your body's sweat and oils to make the perfect breeding ground for dust mites, bacteria, yeast, and fungus. 
The right mattress protector can help block dust, mites, moisture and more from working down into your mattress. By keeping them up on the surface you will only need to wash the protector and regular sheets to help restore your bed to its healthy and hygienic state.
Helps keep your mattress cleaner longer 
A waterproof mattress protector can help your mattress stay clean from drink spills, urine or sweat. Without a protector, moisture and liquid are free to seep down into mattress material; remember that cleaning the surface of the mattress won't do anything to bring up spills from further down. Using a mattress protector can help avoid the hassle and drama of accidental liquid leaks – you can pull off the cover and pop it in the washing machine. 
What to look for in a mattress protector
Mattress protectors are not all created the same. Coming in at different price points and with a range of features, it is important to look closely at the materials used and their benefits. Here are a few things to look out for when choosing the best mattress protector for you and your bed.
Density and material
A quality waterproof backing material can create a surface that is quiet and smooth to sleep on. For those seeking full protection, premium options will offer waterproofing on either side of the mattress protector as well. If you're on a budget, synthetic materials like microfibre can offer you a protective surface. For those looking for a breathable and absorptive option, look for surfaces like cotton, Tencel™ or bamboo cotton. 
For those who don't wish for a waterproof option, but want a protective layer that can be laundered, a quilted cotton mattress protector offers a level of protection and comfort. 
Ease of use
Fitted mattress protectors work just like a fitted sheet; the height of your mattress will determine how easy it is to fit the protector. Look for an option that if your mattresses depth, or alternatively an option that states 'stretch'. This is designed to fit standard and generally more premium mattresses. 
How often should you wash a mattress protector? 
It is a good idea to wash your mattress protector every two months. You may like to increase this if you have allergies, especially if you have pets that shed hair and dander on or near your bed. You can also pull off the protector and throw it in the wash following any spills or bedwetting episodes. Be sure to follow the listed instructions to help keep your mattress protector in good condition.
How to wash a mattress protector 
Different brands and styles of mattress protectors will have different washing and drying instructions, so be sure to check the label. As a rule, you will want to avoid using harsh cleaners and bleach not to damage any waterproof materials. Check for individual requirements when selecting your wash temperature and before putting in the dryer; many mattress protectors are only suitable for line-drying.
We spend as much as a third of our lives in bed, so it's important to ensure that our sleep space is clean, healthy, and comfortable. At Snooze, we offer a range of mattress protectors to suit every type of sleeper. Talk to us today in-store about the best option for you and your new bed.