Your bedroom should be an inviting sanctuary, somewhere you can rest your head on soft pillows and cushions and find warmth and comfort under layers of cosy, woollen blankets on a cold Winter's evening. It's time to cosy up your bedroom with extra layers, texture and comforting décor. Read on for our four tips for styling your bedroom this Winter.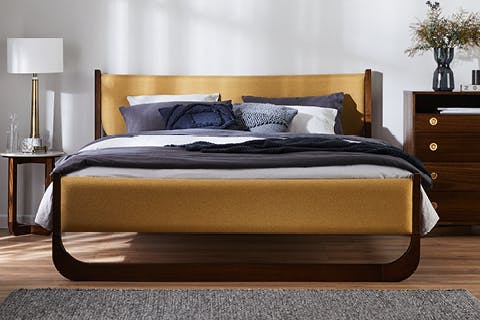 1.  Incorporate a dramatic bed
Whether your bedroom is tiny or oversized, a dramatic bed frame can anchor the room in snug comfort. ​​A statement design will ensure the bed is emphasised in a larger bedroom while giving a smaller bedroom more scale and drama.  A perfect way to envelope your room with a sense of warmth is to select a bed that incorporates timber like the Lotus bed frame. It features a simple, rounded Tasmanian Oak timber base complemented by Warwick fabric upholstery that is customisable to suit your bedroom decor and style in-store. Pictured here is the Chocolate stain with Oden Mustard fabric.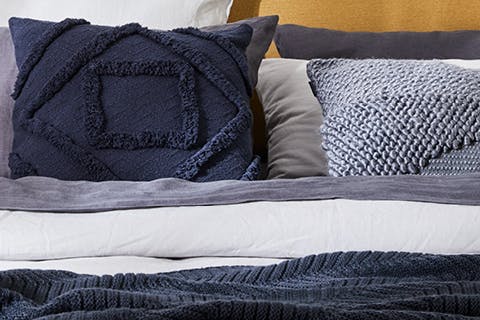 2. Layer it up with texture
Winter styling is all about layers. Instead of turning up the heater, look to warm up your bed by opting for wool or linen textures and thick wool or faux fur throw. You want texture and fabric that feels soft and comfortable on the skin as you nestle into bed during the cooler months. If you have floorboards in your bedroom, warm it up with a cosy rug to make that first step-out-of-bed feeling more bearable on those cold Winter mornings. Don't be afraid to layer rugs like you would with blankets on your bed.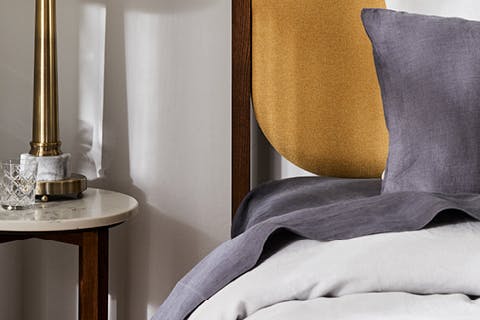 3. Create a cosy colour scheme
Deep colours like grey and navy make up a cosy Winter palette, while mustard reminds us of falling leaves. Switch up your bedroom colour scheme by adding cushions, accessories and vases in these rich colours and tones. A wool throw thrown across the end of the bed will make the room feel warmer, even if opting to use a cooler colour palette. Bedroom furniture and accents that showcase raw, natural timber help bring natural warmth to your bedroom sanctuary. The Lotus high chest and bedside table (with a stone top) will make your space feel cosier in preparation for those cooler months.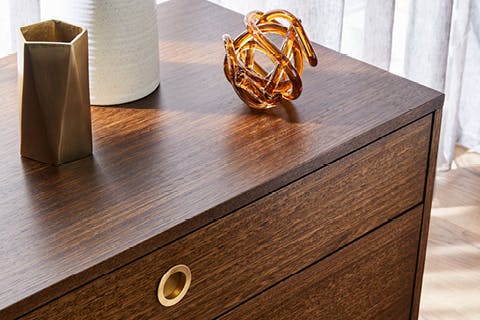 4. Introduce gold accents
One of the world's most precious metals: gold, is one of the most powerful hues you can use in your bedroom. When used sparingly, metallic accents will help create a warm, cosy bedroom setting with a contemporary twist. It's beautifully reflective and generally pleasing to the eye. Fill your space with a few coveted accessories like an interesting lamp, doorknobs, and handles to create added warmth, energy, and a cosier ambience. 
Now more than ever this Winter, there's nothing like stepping away from your busy day and retreating to your bedroom for true relaxation. By incorporating a dramatic bed, layering it and your bedroom with texture in a cosy colour scheme with gold accents, you'll be sure to create a bedroom sanctuary that will help you rejuvenate for the cool days ahead.