The bedside table is a must-have bedroom staple. Whether it's somewhere to store your favourite novel, pop your glasses down or showcase a beautiful lamp, a bedside table can add the perfect finishing touch to any bedroom. Achieving bedside bliss doesn't need to be difficult either. Read on for our styling tips. They make a great Snooze bedside story. 
Choose the right height 
When selecting a bedside table, you should consider the visual lines of your bedroom interior. The last thing you want is a bedside that is so low that it makes you fall out of bed when switching the lamp off or one so high that it interrupts the flow of your bedroom decor. As a general rule, the best height is one that sits at the same height as the top of your mattress to ensure your lamp and personal belongings are within easy reach. Cue the Henley bedside table, which is sure to punctuate your space with its black-stained feature inlay design, solid splayed legs and sweeping wood grain finish. It offers two spacious drawers to store your nighttime essentials at a height of 55cm and comes available in a natural colour with matching bedroom furniture, making it a versatile option for many. 
You can opt for one or a pair 
One popular misconception is that you must style bedside tables in pairs. This couldn't be further from the truth because, in reality, the choice is yours. Bedrooms with a pair can appear more symmetrical, however; if you have a smaller space or the need for only one bedside, then choosing to go solo is still fitting. If you opt for the one, ensure it is large enough to cater to all your bedside needs and hold the personal belongings you wish to display. Make a statement with the Carrera bedside table with a left or right facing drawer (depending on which side your sleep on). It comes with the option of one or two drawers, two shelves and a USB charging port for your mobile. Another positive - its large tabletop is perfect for all your favourite trinkets.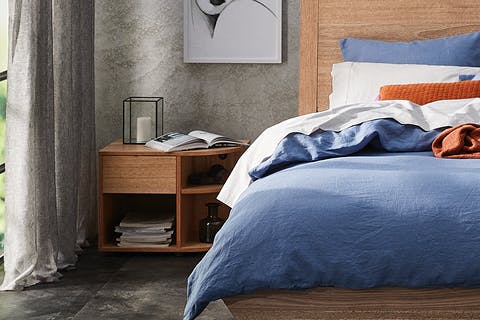 Simple is best 
We're seeing a trend towards natural finishes and materials when it comes to the bedroom. Think wooden stumps, cane, rattan or plywood, which has the advantage of suiting an array of bedroom styles like Scandinavian, minimalistic or modern rustic. Whatever your bedroom style, it's always good to keep in mind any existing interior style, dominant colour schemes or furniture pieces so that you don't create something visually jarring in your space. There is also a shift towards open plan bedside tables thanks to Marie Kondo and her approach to streamlining and reducing clutter. The Lotus bedside table comprises Tasmanian oak timber and features a simple, rounded base design with a stone top. It comes customisable in multiple colours and is the perfect companion for a stylish lamp and glass carafe. 
Consider your bedroom style when choosing a lamp 
Who doesn't love to wind down reading a book in bed with the soft glow of a lamp on the bedside? But more importantly, how do you choose the right one to suit your bedside and bedroom? First of all, you need to consider the style of the bedroom. You can accentuate a contemporary bedroom with a sleek glass or chrome lamp like the example below, paired with our Eastwood bedside table. The Eastwood is constructed from solid ash hardwood and blackbutt veneer and features a unique cube design. Key design notes include a felt-lined drawer for your jewellery as well as a drawer and shelf for your personal belongings and stacked books. Think of your bedside lamp as a powerful accent in your bedroom space and choose accordingly.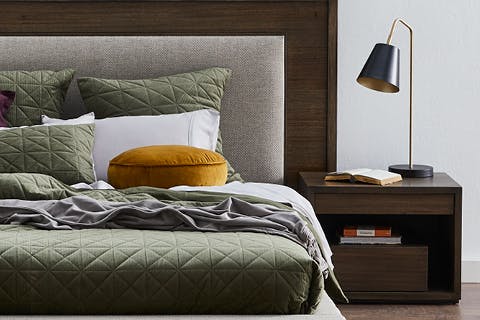 While your bed normally takes centre stage in your bedroom, it's the bedside table that is the supporting act and will tie the look together. We hope that our tips helped steer you in the right direction. Don't forget to explore our entire range of bedside tables, as well as matching bedroom furniture and beds online or visit your local Snooze store. It's amazing what a little Snooze can do.