Even if the ocean isn't around the corner, you can bring a touch of the coastline into your bedroom with the Ocean Grove Cross Thatch collection. Pair it with airy fabrics, a soft neutral colour palette, and beachy accents which create the feeling of an endless Summer in your space. Sun-filled mornings, breezy afternoons, and warm evenings are a Snooze away. 
1. Incorporate distressed timber 
Wood with a distressed finish which is reminiscent of a salt-kissed boardwalk is a must in a coastal-inspired bedroom. The Ocean Grove collection was inspired by a 'breezy, beachy design' according to the National Furniture Category Manager at Snooze, Adrian Galiazzo. '[It's] perfect for that coastal style, which is relaxed and unfussy'. The Cross Thatch bed frame has been inspired by the barn door trend which features a cross-hatch and plantation shutter design. It's synonymous with a breezy, coastal look inspired by the likes of the Ocean Grove in Victoria and the Hamptons which hails from New York. Here, Chantelle (@maddingleycottage) pairs her Ocean Grove Cross Thatch bed with a rattan lamp and sea-inspired palette.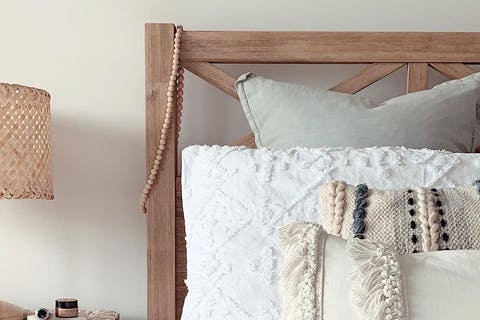 2. Keep it neutral 
The coastal style in its entirety is light and breezy, with a soft neutral palette that is inspired by the sand and the sea. While many beach-themed bedrooms feature blue hues - or at least a touch - it's entirely possible to create a shoreline feel with a colour palette of nothing but sandy tan, creamy white, and soft grey. For example, look at how Chantelle (@maddingleycottage) has successfully integrated these shades into her bedding and linen with her bed frame. It coordinates beautifully with the Mindy timber used that has been lightly wire brushed by hand and then flooded with white paint to achieve a unique coastal finish.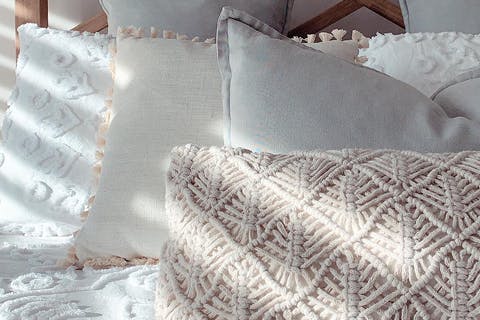 3. Add in natural texture 
The coastal style is all about easy living and integrating the spirit of the sea. Find inspiration from natural elements and integrate wood, bamboo, seagrass and rattan textures to create beach-styled luxury. When it comes to linen and bedding be generous with the number of cushions and pillows. Here, Chantelle (@maddingleycottage) pairs her wooden bed with oversized accent cushions in various textiles like organic cotton, macrame and linen. With windows, it's all about simplicity. You want to diffuse early morning sunlight with white Venetians and sheer curtains which billow in the wind. Keep fabrics neutral, soft and comfortable. Warm your bedroom up with natural furnishings like a rattan chair where you can unwind at the end of a long day.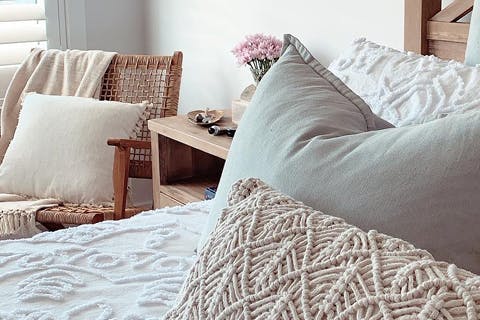 4. Bring in a touch of the ocean
Bringing the beach into your bedroom is even better when it represents a place you've actually visited before. Decorate your dresser or bedside table with a small bottle containing a bit of sand from each beach you've visited. Use a ribbon to attach a note which speaks to the location like Over the Big Moon. Chantelle (@maddingleycottage), has referenced the spirit of the ocean with a seashell on her bedroom shelf.  Sealife is also another hallmark of the coastal theme so you could integrate artwork or a gallery wall into your bedroom with starfish or coral. If you feel like getting crafty you could create a shadow box that showcases your favourite beach treasures or an oyster shell-adorned mirror.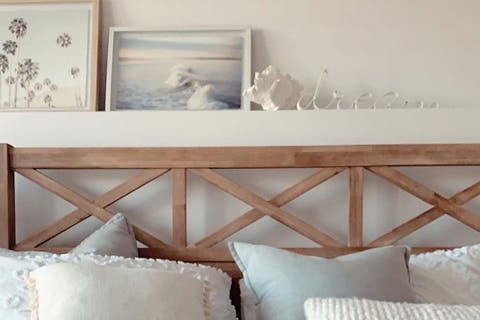 Creating a coastal-inspired bedroom is within your grasp with distressed timber bedroom furniture, neutral tones, natural texture and seaside themed decor. Shop the Ocean Grove collection in-store or online at Snooze. Choose from the Cross Thatch (featured here), Feature or City bed frames to create a space that is big, bright and breezy. This together with their accompanying bedroom furniture are sure to create a bedroom that reminds you of your latest beachside escape.