Bedroom luxury isn't only about opulence alone; creating a beautiful space depends on what feels luxurious for you. While fancy bedrooms often feature chandeliers, canopy beds and ornate furniture in movies and Pinterest boards, the reality of next level luxe comes down to personal taste. Matching colours, experimenting with textures and feature artworks can come into play, but it's often the little things like linen that finish off a space. 
Let's take a look at the different ways you can enhance your bedroom in a way that's unique and personal to you.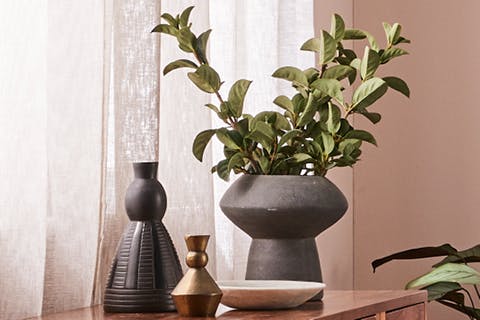 Building a luxury modern bedroom
Before deciding on your luxe bedroom look and feel, you'll first need to understand what luxury means in your home. Soft furnishings, rugs, cushions and throws create warmth, while mirrors, geometric shapes, and metallic finishes breathe sophistication. Undecided? Start with colour.
Popular colour trends in luxury homes
There's something all luxury homes have in common, no matter the decor or palette—and that is confidence. 
No-fuss neutrals
Ideally, you'll want a foundation that lends itself to change. Neutral colours like greys, beiges and earth tones are popular and timeless, allowing to switch out decor, quilts and cushions while enhancing statement pieces like paintings. 
Investigate classics 
Black and white spaces are forever stylish, amplifying that classic monochrome palette while leaving room for pops of purposeful colour. Leaning to either end of the spectrum, all-white spaces give the illusion of a larger room, while a luxury black bedroom exudes confidence and sophistication. Pair this with wall panelling and you've started building your luxurious space.
Find a theme that resonates with you
Natural, contemporary, classic or luxury... whatever design trends resonate with you, incorporate it into your colour palette. Whites, greys and blues are ideal in coastal and hampton designs, while rustic earthy tones suit a farmhouse aesthetic.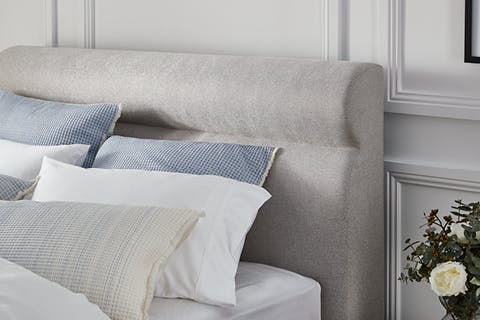 Selecting luxury bedroom furniture
There are so many ways to build a fancy bedroom. From traditional wooden finishes and straight-edge lines, to more ornate pieces that draw the eye, furniture can easily take a space to the next level.
Modern and sophisticated 
The modern luxury bedroom showcases a space covered in textures, running parallel to clean, straight edges. These lines give depth to the space, with an angled light fixture bringing the eye upwards. Fabric bedside tables in dark tones, paired with large round mirrors, give a sense of grandeur. 
Traditional and elegant
Traditional can also mean regal: Tall buttoned bedheads, curved and ornate wooden pieces—like dressers and bedsides—flowing into each other. Rich, deep colours and soft, velvety textures add layers and depth into the traditionally luxurious space. The Fabian tallboy is the perfect example of how to achieve a more French-provincial luxury style to complement a traditional look.
Sleek and simplistic
The sleek bedroom takes a minimalist approach to luxury. It's more about each individual piece adding to the overall look, rather than dressing the pieces. Be inspired by mirrored dressers, dark grey tones, minimal textures or throws.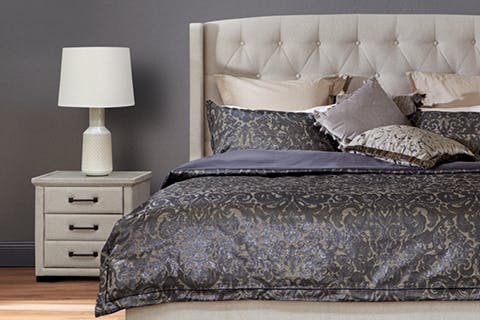 How to choose a luxury bed
What is a luxury bed? When someone refers to a luxury bed, they could be talking about its comfort, the mattress, the linen… but often they are referring to its style. Statement pieces provide a focal point, and choosing a beautiful bed is a great way to elevate your room. 
Material
Your preferred material for a bed frame can be its own quirky piece, or blend with your broader design choices. While wooden and metal bed frames will always be in style, fabric beds provide a sense of grandeur, bringing an added sense of softness to the space. The material of your bedhead or bed frame will depend on the overall look you want to achieve.
Size
When it comes to choosing a luxury bed, you want it to be large enough to balance the space, while allowing for ease of movement throughout the room. An extra large bed may be comfortable, but if you have to shuffle to get from one side of the room to the other, it might be best to go down a size. Thicker frames draw the eye downward, while tall bed heads draw the eye towards the ceiling. Bed head height should be a consideration within the span of your ceiling - too high and it could dwarf the room, too low and it could feel like empty space.
Storage
Your bed frame can do more than support you throughout the night, with plenty of smart storage options to keep your room looking sleek. Underbed storage like pull out drawers mean you can keep extra quilts, pillows or clothes tucked out of sight. A bed frame with gas lift storage base gives plenty of space underneath, so you can do away with that extra furniture.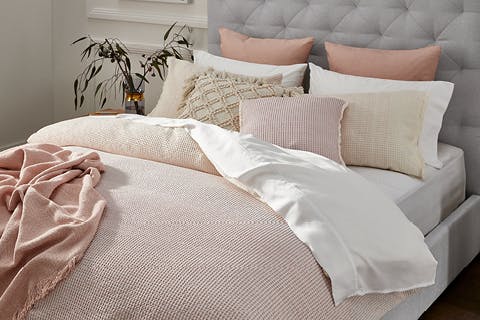 The final luxe touch: luxury bedding
Nothing feels more luxurious than slipping between five-star hotel sheets, sinking into a decadently cushioned mattress, and snuggling up under a soft quilt. But how do you pick luxury bedding for the home? 
Start with the quilt cover
The main focal point of the bedroom is the bed, so it makes sense to start with the quilt cover. You might enjoy something bold to tie in your decor, or perhaps you may prefer to take inspiration from high-end hotels with a crisp, white cover. An understated pattern makes it easier to add flourishes or change up your luxurious look with pillows, throws, and cushions. 
Pair with elegant sheets
But what about the feeling once you're in bed? When choosing sheets, the higher the thread count, the softer it feels against your skin. This is why 400 thread-count sheets are so popular. Love the feeling of silk-like sheets? Lightweight, hypoallergenic and breathable, bamboo sateen sheets are comfortable and buttery soft, or you may prefer the feeling of crisp cotton percale sheets. It really comes down to your preference.
Complete the look with soft furnishings
Complete the luxe look by adding pillows, cushions and throws, creating an inviting and comfortable sanctuary to recharge at the end of the day. You may want to choose colours that tie the bed into your broader colour scheme, or consider adding a variety of patterned or textured fabric cushion covers to your space. The beauty of layering on these finishing touches means that you can easily update your style as your tastes change and the seasons evolve.
When it comes to creating your luxury bedroom, the choices are many. It really comes down to what a luxury bedroom means to you, and how you want to feel when you're in it. Find more hints and tips from Snooze on our blog.