When you're little, the bedroom is a magical place. It's a place to play, be yourself, get lost in books, and create imaginary worlds you can visit whenever you want. So having that space be perfectly designed just for you is pretty special.
If you have a little girl in mind who needs a bedroom revamp, take a look at our bedroom ideas for girls and get inspired to create something amazing for her!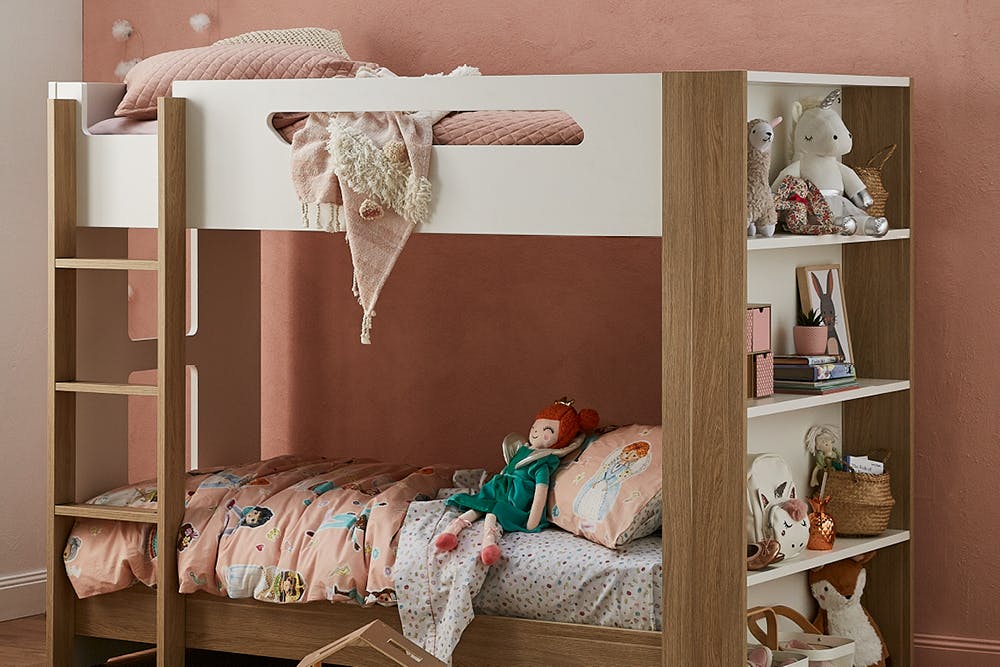 1. Let her take the lead on the theme
It's her bedroom, so the best thing you can do is go straight to the source. You'll get lots of ideas and she'll love being part of the process. Find out what colours she loves, what furniture she might like to have — if there's a theme she wants to work with like princesses, pirates, cute animals or nature. You can even start a mood or Pinterest board together and collect all her ideas in one spot!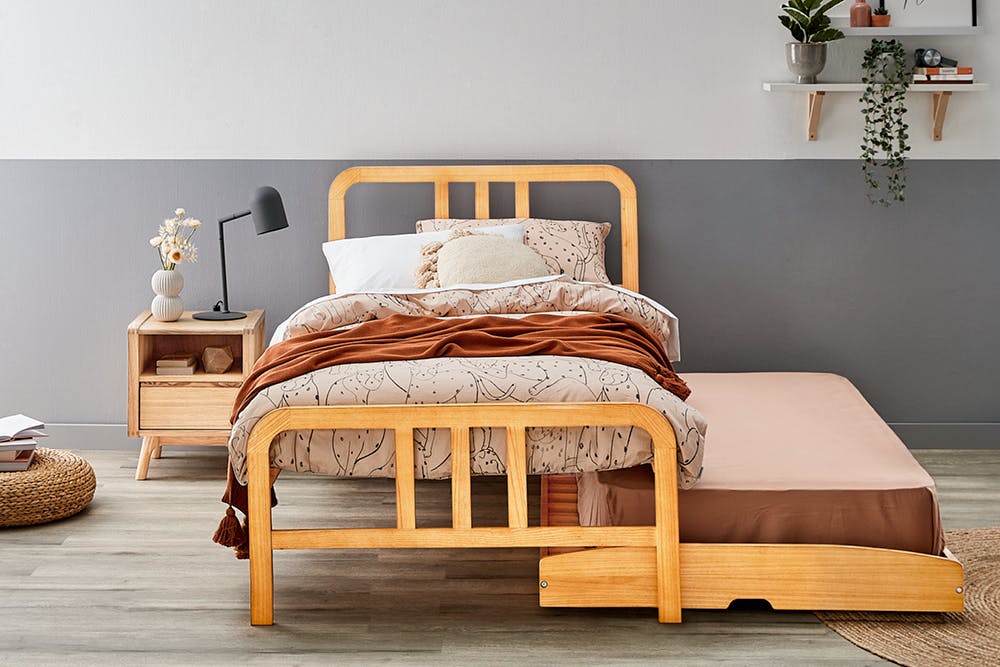 2. No space? Small bedroom ideas for girls
A small bedroom doesn't have to feel cramped if you incorporate some clever storage into the design.
Think vertical
A loft bed makes great use of vertical space by combining fun with practicality. When she's not in bed, she can use the space underneath as a cubby hole to curl up and read or play games. Add a desk and it's the perfect study nook!
Add storage
How about a bed with storage underneath? You could even get one that doubles as a trundle bed so you've got sleepovers sorted, too.
Get creative with paint
If she loves drawing, why not hang up a chalkboard, or create one right on the wall with chalkboard paint? It's a great way to add a creative space without the added clutter.
With a few clever design features, your little girl's small bedroom will become a world she'll love to escape to!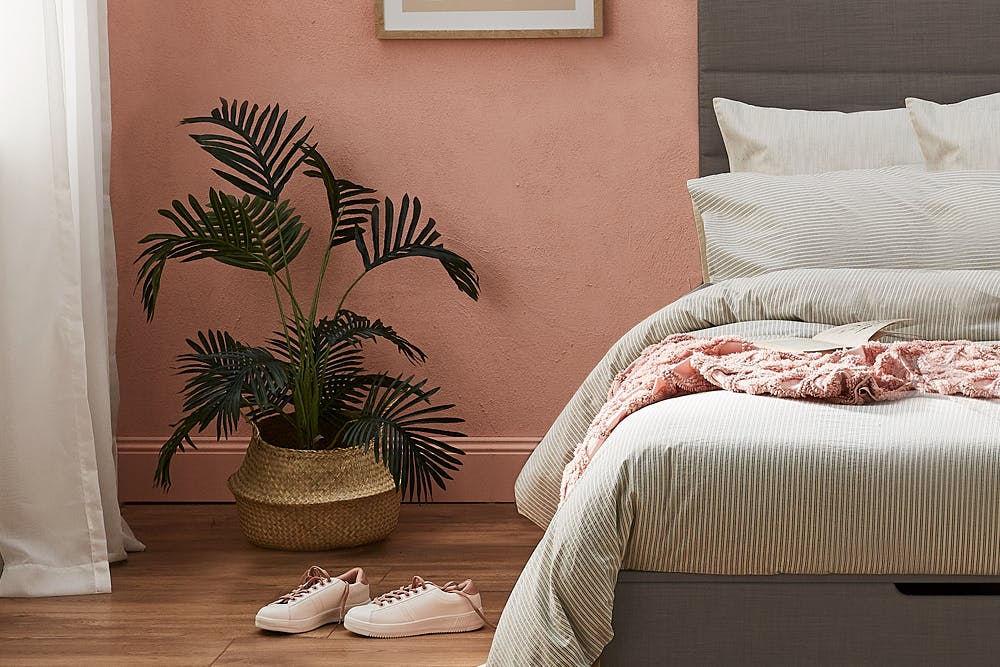 3. Stuck on styling? Girls room decor ideas
Once you know the colours and theme of your girl's room, it's time to get styling! 
Adding colour to a neutral room
Started with a neutral wall colour? It's easy to bring in your girl's favourite colours with cushions, wall decals, rugs, handmade art, and quilts with fun prints. The joy of keeping it neutral means the room can evolve as she grows and her tastes change.
Consider adding colour with furniture
A great way to add a pop of colour is with a brightly coloured bedside table. She can store her favourite books and treasures inside, and sit some small toys, pictures or even a plant on the top. It's a great way to keep her favourite things close by.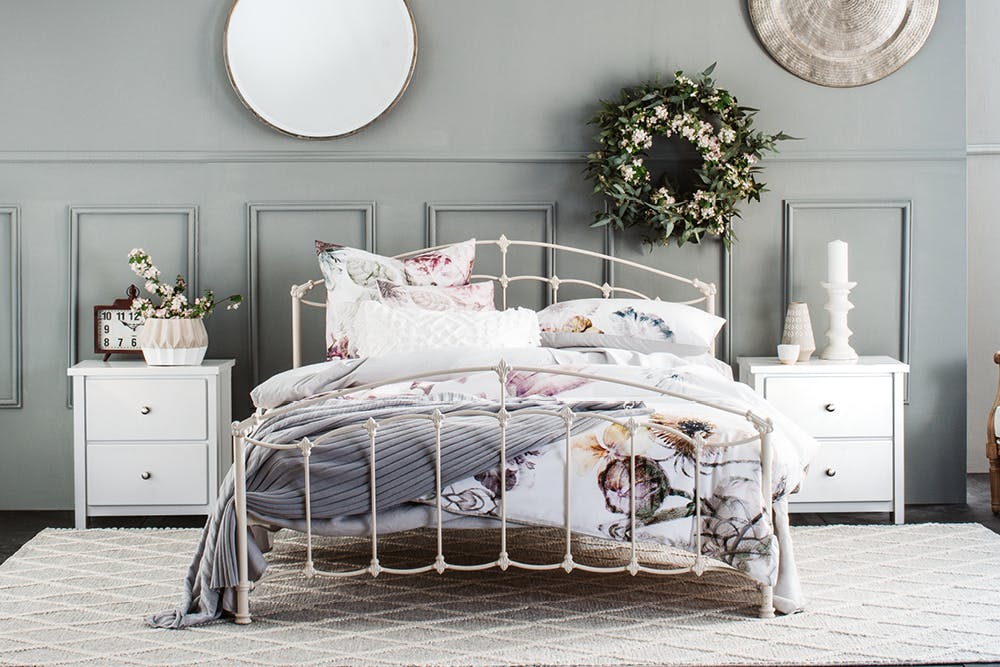 4. Choosing the right beds for girls
There are so many great choices when it comes to kids beds for girls, and they vary depending on the available space you're working with, and the look you're going for.
Bunk beds
Bunk beds and loft beds are fun to sleep in as you get to climb up high, but they can also double as an awesome blanket fort at playtime!
Bed frames
Metal bed frames are also a great look for a range of bedroom styles, and can easily fit in with her chosen look. As a general rule, upholstered frames will create more warmth, and brightly coloured wooden frames will add a fun and playful element to her room.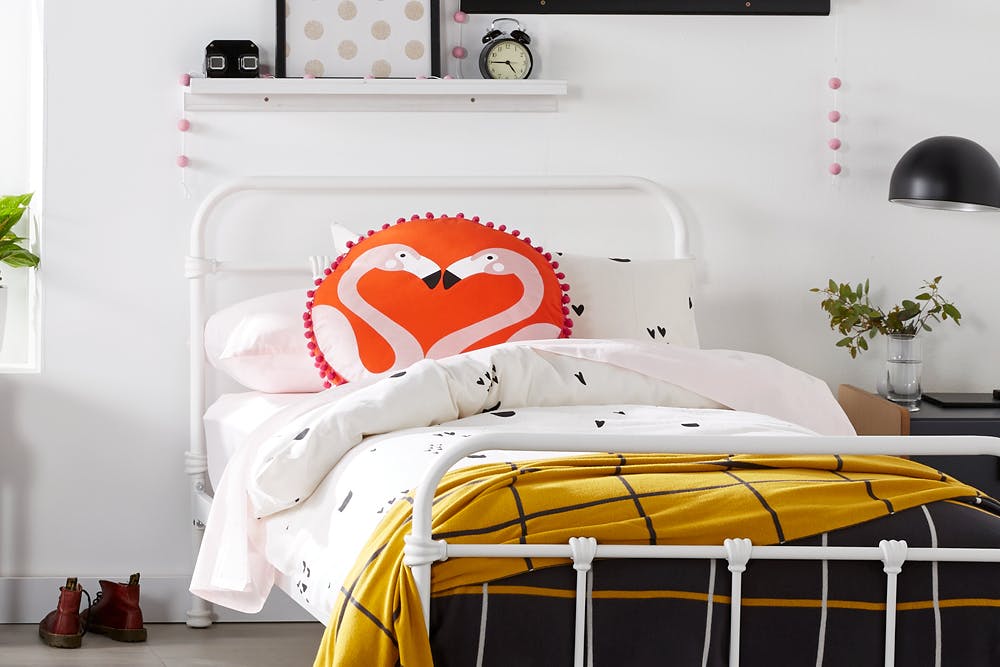 5. The retreat: bedroom ideas for teenage girls
If your girl is a teenager, she's probably looking for more privacy, and a cool bedroom retreat is the perfect way to let her express herself in a space that feels like her own.
Reflect her interests
Again, it's a good idea to ask her what she'd like, as every girl is going to have a different idea of what they want. Is she into music? Sporty? Does she love all things tech? Especially as a teenager, your likes and wants can be quite specific, and it's not always easy to get it right!
Enhance her space with mood lighting
Make her room a retreat with moody LED lighting, perfect for reading at night or just hanging out with friends. A great way to incorporate lighting in her bed is with a Tech Pack - available at Snooze as a standard or additional feature, depending on the bed. Even better - the Tech Pack which comes with designs like the My Design Feature bed frame, and includes USB ports for easy device charging (a necessity for teens). 
Add some greenery
If she likes plants, hanging baskets, pots, and vases for flowers can be a great way to bring the outside in. There's so many easy plants to grow that can trail up walls or hang down to add tranquillity to the space. And if she's a reader, they also look great beside books in a bookcase. 
Create an exciting study nook
You can create a tech space by adding a desk with LED strip lights or a light bar at the back to help with eye strain. It'll be a dedicated space for her PC, laptop, or console with all the wires neatly hidden. The perfect place for finishing homework or playing games.
There's so many looks you could go for, but the most important thing to remember is that it should reflect who she is, and give her a space she wants to be in while also providing her with everything she needs for a great night's sleep - including a comfortable and supportive mattress.