When it comes to decorating a kid's bedroom there is only one rule, which is: have fun! Most kids don't want a bedroom that's full of grandma's old bedroom furniture or a room that features beige walls because that way the marks won't be so noticeable. Kids want a room they can play in. Hang out in. Create in. Feel good in. So if you want your kids to enjoy being in their bedroom, you need to create a bedroom they actually want to spend time in.
Of course not everyone has a huge budget to hire a stylist or even to update every piece of bedroom furniture. But everyone has an imagination. So whether you want to style up a little kid's bedroom, redesign a teenager's bedroom, make the most of small space or use colour to your advantage, we've come up with a few ideas to inspire you. Read our kids' bedroom ideas below.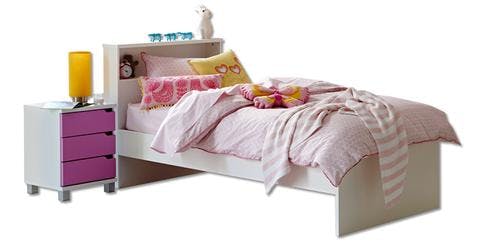 #1 Colour code
Like all bedrooms, colour is important in a kid's bedroom. And it's important that you talk to your child before you open any paint tins or hang any curtains. Ask them what colour they like then use that colour as your base. Of course, if they're too little to decide you can make the decision for them! Once you have your base colour, you can work out your palette. So, for example, if you choose pink as your base colour, you can add a couple of more colours. If possible, don't have too many colours and try to stick with compatible colours. If you're not sure what colours work well together, just search the internet for colour palettes. Once you've chosen the colours in your palette, you can break open the paint tin!
#2 Wall murals
The best thing about a wall mural is, there are so many to choose from in all shapes, sizes, colours and styles! Would your little girl like a green dragon on a purple wall? Would your little boy like a jungle theme? Perhaps your teenage daughter would like a fake brick wall while your teenage son would like a large speech bubble full of zzz's. Browse the internet with your child to find a design you both like then look at the wall or walls where you'd like to place it. You may need to repaint the wall and update or paint some of your kid's bedroom furniture so everything works well together. P.S. Another good idea for a child's bedroom wall (or back of their door) is to paint a large area with blackboard paint. With a box full of chalk, your child can create a new mural every day!
#3 Treasure box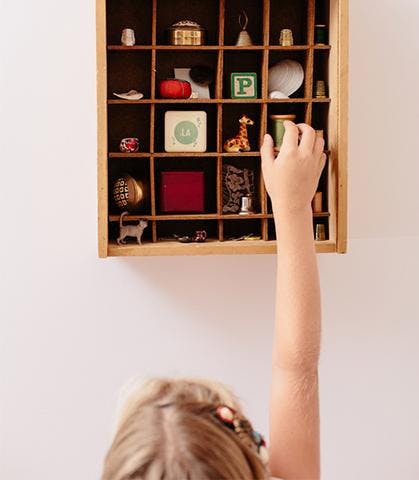 If your kids love to collect things, you can make a feature of a treasure box or treasure shelf. A shadow box, (like the one here) can be picked up from a secondhand shop while a new shelf can be bought from a good retailer. Another option for your child's treasure is a blanket box at the end of their bed or under a window, or vintage trunk or suitcase that can easily slip under their bed. Whatever you decide on, make sure you give it a bit of space so it stands out and becomes a feature of the room. Then let them fill it with all their little treasures including shells found on holidays, tiny ornaments given to them by grandparents or buttons from their very first top.
#4 The sleepover club
Does your child love having friends over for a sleepover? Or do you have two children and one small bedroom? A trundle bed is the perfect solution! There are many single beds and king single beds that are now available with a trundle option and they're so handy. When you need the extra bed, you simply pull it out. When you don't need it, you push it back in and, voila, your child has extra play space! Alternatively, if you remove the mattress, you gain instant storage space under your child's bed. This is a great spot for board games, toys, dress-ups or winter/summer clothes storage.
#5 Cute canopies
Kids love cubby houses and cosy spots where they can hide (especially at dinner time!) and hang out. A canopy over their bed is just the thing for your little adventurer. You can head out and purchase a canopy for your child's bedroom, or you can hook up a home made one. All you need is a curtain or fabric (or a even a sheet) and some curtain wire. Run the wire from one wall to the other, then simply drape the curtain or fabric over the wire. If you're serious about the design of your child's room you can buy an extra set of curtains and use one set as the canopy. Or an extra quilt cover. Or sheet set. But it doesn't really matter what you use because your child will just love the feeling of being hidden and cosy.
#6 Bunk buddies
Bunk beds have been around forever and it's easy to see why. Not only are they ideal space savers when you have two children sharing one bedroom, they're also hugely popular amongst children. What child hasn't set sail from the top bunk? Or escaped from sharp-shooting space invaders to the bottom bunk? Or hung up spare blankets and sheets to create an extra cosy cubby on the bottom bunk? Let's face it, bunk beds are Fun with a capital F!
Hint: If you're thinking about purchasing bunk beds for your kids' bedroom, you might like to consider bunk beds that can be separated into two single beds. It might be an option you'd like in the future.
#7 Box shelves
There are many ways to store and display your child's toys, games and collectibles. We really like the idea of using old wooden boxes. If you can't find boxes anywhere, another great idea is small wooden drawers from an old chest of drawers or dresser. Paint them white with a different colour on the bottom, (from your palette of colours), then attach them to your walls with the bottom against the wall.
#8 Homework headquarters
If you'd like your teenage son or daughter to get their homework done, help them out by setting up a Homework Headquarters in their bedroom. To set it up, you may need to lose some of the bedroom furniture and opt for clever storage instead. (Under the bed, in the bedside tables etc). If you can, make sure the area looks good so your child actually likes being there. Get rid of your child's old furniture and invest in a purpose-built compact desk with bookshelf and drawers, a comfortable chair and good lighting.
P.S. If space is an issue, see #3 Space Saver above!
We hope you enjoyed our Kids Bedroom Decorating Tips and Ideas. Remember, decorating and designing a kid's bedroom should be fun. Don't hold back! Check out other bedroom ideas online and talk with your kids about what they'd like in their bedroom. A shelf for toys? A desk for homework? A rug to lay on? A beanbag for reading? A king size bed because they're getting taller by the second? Ten posters of One Direction on the ceiling? Good luck!