There was a time when the only place you'd see an adjustable base bed was in a hospital. But those days are long gone. Adjustable base beds are becoming more and more popular as a lifestyle choice as more and more people discover their great style and wonderful benefits.
So what is it about adjustable base beds that could make them the next big thing? There are quite a few reasons so we decided to write up the top 4 reasons, which you can read below. Of course, if you'd like more information you can view some of our adjustable beds online or visit your local Snooze store.
1. They're easy to use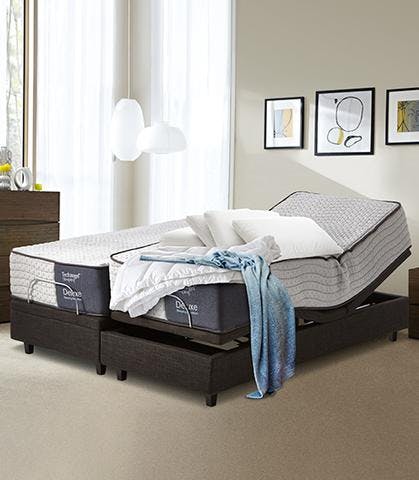 All adjustable beds come with an easy-to-use remote control. Depending on the adjustable bed, the remote control will be connected or cord free. To raise or lower the head or the foot of the bed, you simply push a button. While some beds offer one remote control, other types, those with split mattresses, offer two remotes. This means you and your partner can operate your adjustable bed independently – perfect for when one of you wants to keep looking on your tablet and the other wants to sleep.
2. They offer great comfort choice
With an adjustable bed, you no longer need to fluff up pillows and squish in cushions to rest, watch television, read, or work on a tablet or laptop in bed. With the push of a button, you can raise the head of the bed to the level of your choice to enjoy amazing, personalised comfort.
3. Some offer a relaxing massage option
What could be more relaxing than a daily massage? With the push of a button, you can lay back and enjoy a lovely massage, which may help relax you to get a better night's sleep. While adjustable beds differs, most offer a variety of massage levels and a timer.
4. They can help style up your bedroom
Like other beds that are purchased because of their style, adjustable bedscan add a touch of flair to your bedroom. While most are freestanding, this doesn't mean you can't add a headboard or bed head. And, of course, a beautiful quilt cover set and feature cushions will ensure your adjustable bed is fashionable as well as functional.
Remember, if you'd like more information you can view some of ouradjustable bedsonline or visit yourlocal Snooze storeand talk with a sales person.