Autumn is here and along with it the crisp weather that will have all of us yearning to spend more time in the bedroom for added warmth under the covers. It's imperative that your sanctuary reflects a comfortable atmosphere that is enjoyable yet stimulating enough to pry you away from the beloved sheets each and every morning. Whether you're on the lookout to give your bedroom a complete style overhaul, or a quick and easy refresh, we've rounded up our top four ways to bring a sense of Autumn into your bedroom.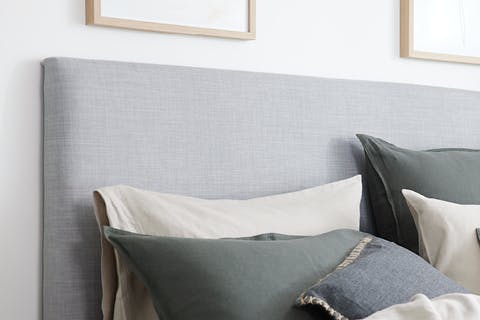 1. Neutral bed frame 
By far, the most popular choice for a bedroom is a neutral bed frame. An upholstered bed frame in a grey tone is a great starting point as it tends to recede and produce a calming, relaxing effect. Further to that, its versatility will ensure you can easily swap out your bedding and linen to coincide with each season. Beautiful design meets careful craftsmanship with the Slumberland Tapered headboard with a standard base and comes available in five stunning shades that would pair beautifully with an array of Autumn linen shades, most notably burnt orange, rust, khaki and brown.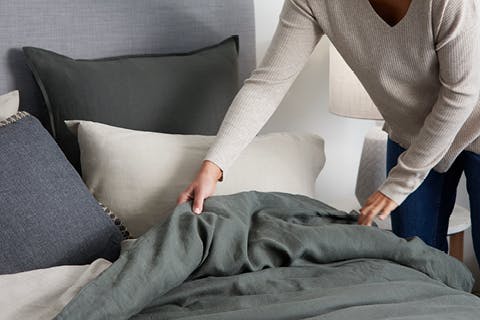 2. Khaki tones 
After you have your bed sorted, the next step is to incorporate linen in an Autumnal shade which offers a built-in sense of comfort and makes snuggling in bed a dream. Khaki works well with a neutral style base and a whole host of colours. Featured in this look is the Snooze Linen quilt cover set in Cyprus. Constructed from 17S yarn sourced from Europe, this quilt has been pre-washed with an enzyme wash to create a vintage look and feel that will give you the feeling of being close to nature within your bedroom space. There's no doubt that incorporating Khaki green into your sanctuary this Autumn is sure to induce feelings of relaxation and rest.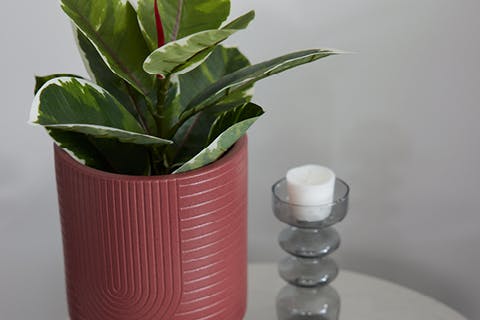 3. Rust decor 
Rust themed decor is a great selection when you're looking to decorate your bedroom and bask in the Autumn season spirit. It serves well as a backdrop to other seasonal items and offers versatility year-round if you desire a warm, welcoming environment within your personal space. You could furnish your room with beautiful abstract artwork or hanging Macramé tapestry, an accent pillow or rug, a vase or even a pot plant with a touch of rust like the example provided below. Individually this shade can create a modern, uplifting vibe that stands out and brings a scale of revigorating warmth to a bedroom this Autumn.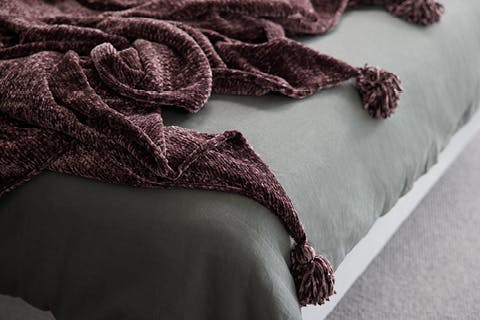 4. Subtle accents 
Keep your bedroom space comfy and warm this season with subtle accents like a throw blanket. Thick throws made from faux-fur are perfect for those extra crisp evenings, while thinner options made from cotton or polyester will help provide a touch of warmth without making you too overheated each night. Knit throws and quilts can also offer plenty of Autumnal style to your bedroom. Featured here is the Hara Espresso throw from Linen House which has been crafted with super-soft and knitted polyester and offers a playful element to the end of your bed thanks to the pom-pom corner trim. 
There are numerous ways to style your bedroom this Autumn. Starting with a neutral canvas in the form of an upholstered bed frame will ensure your Autumnal linen in khaki hues pops and helps to induce feelings of rest and relaxation while rust decor and subtle accents like a throw really tie the look together, creating reinvigorating warmth that is sure help you wake up feeling recentred each morning.