Picture this, you've just moved into your new place, or renovated the home you've lived in for years. As far as you're concerned, it's brand new and time for a new interior aesthetic. The bedroom is where you start and end your day, so why not start your re-styling there. Here are five ideas to get you started.
5 Bedroom styling ideas that won't go out of fashion
You want to style your bedroom in a way that both reflects your personal style, but stays modern and won't date. From the bed, to the furniture and even the walls, here are some bedroom styling ideas that won't go out of fashion.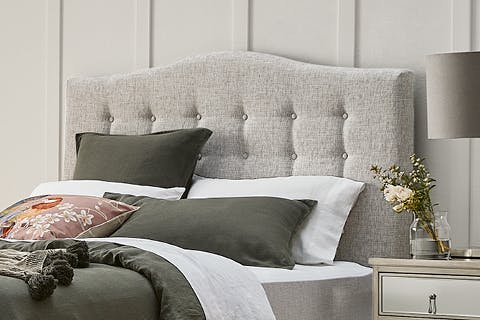 1.   Tufted headboards
Starting with the bed (after you've bought a new mattress), tufted headboards can easily add a small touch of style through the variety of shapes and colours they come in. They also have the additional benefits of protecting your walls from wear-and-tear, providing a barrier between you and a cold wall, and making sitting up in bed more comfortable than a flat headboard.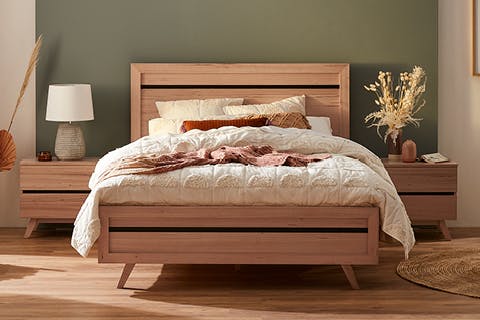 2.   Matching nightstands
After selecting a headboard for your bed, you can choose matching nightstands to go with it. These can be stylish on their own, with plenty of options when it comes to shape, colour and size. You also have the opportunity to add in some stylish accessories, including lamps and other decorative pieces that can be placed on top of them.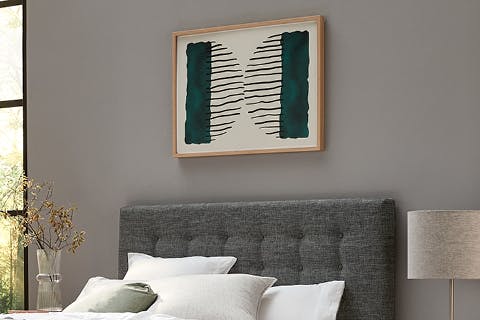 3.   Add artwork over painting
While the idea of choosing an artwork piece for your bedroom may be intimidating, it can be a good long-term investment as it's unlikely to require a freshen up like paint and can really bring your personal style to life. Choose something that accentuates the colour scheme of your bedding, linen and remaining decor.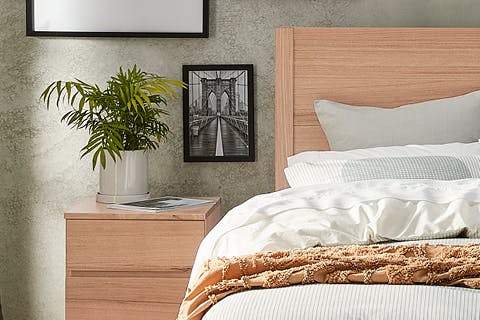 4.   A touch of nature
Some people like to turn their bedroom into an indoor jungle, while others prefer to keep it simple with one or two plants - either way you can't go wrong. Plants add a splash of colour and a touch of nature to your bedroom. If you find live plants too high maintenance, you could always go with faux plants, which provide similar benefits without the worry of watering.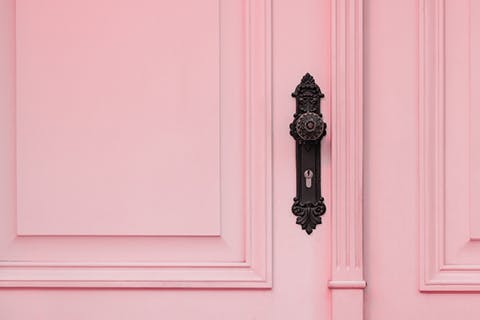 5.    Don't forget the door 
You might not have even thought about decorating your bedroom door, but it is definitely worth considering. Decorating your door is easy and provides another opportunity to put your personality on full display. Stickers and decals are widely available and budget-friendly - you could even use some leftover wallpaper and/or hang up a mirror.
Short on time? Try these bedroom styling tips
If you're short on time or too busy to give your bedroom a grand redesign, you can update your bedroom's style quickly and with these tips: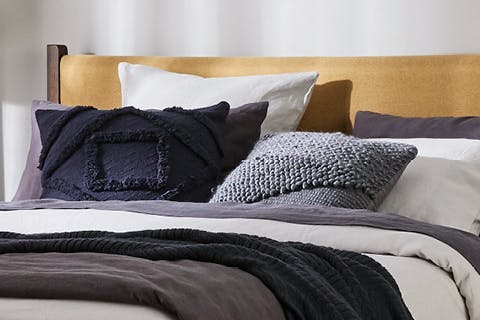 Throw in some throw pillows (or cushions)
Easily add some style to both your bed and bedroom by placing some throw pillows (or cushions) on your bed. Cushions provide the opportunity to give your bedroom a pop of colour, some texture or even an artistic feel. Throw pillows can also add extra comfort when you're sitting up in bed.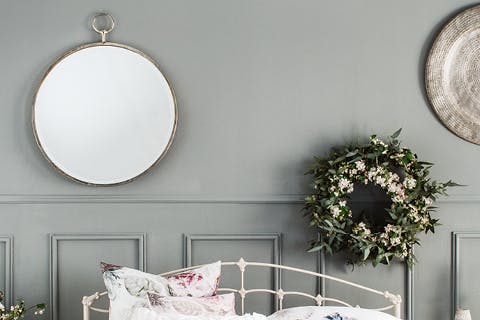 Mirror, mirror on the wall
Hanging a mirror on the wall is a quick way to add style to your bedroom, while also enhancing its space and lighting. A traditional rectangular mirror with a bold or patterned frame can add a much-needed pop of colour, or you could go with a circular or geometric shape and make it one of the bedroom's staple pieces.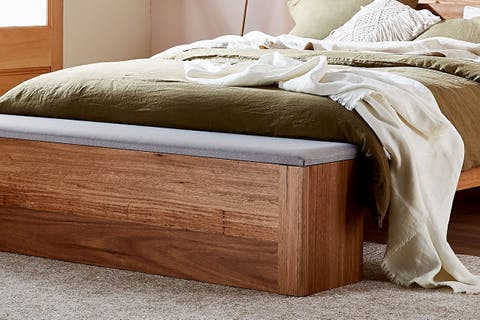 Blanket Boxes
While blanket boxes live up to their name of safely storing your blankets (especially if you're lacking cupboard space) they can easily provide style to your bedroom. Choose from a variety of colours and stains (if they are wooden) to suit your décor. They can also be coordinated with your bed, nightstands, and drawers/dressers.
With all of these tips, you can easily and quickly create a stylish bedroom and personal sanctuary. Starting with the bed, you can buy a new mattress from Snooze for a better night's sleep, so you're ready to start styling your bedroom tomorrow.