We've all heard that mums fantasise about getting more sleep because let's face it, when was the last time they slept uninterrupted for the full 8 hours? She works hard and deserves to relax, indulge and catch up on some much-needed shut-eye. Below, we round up our top-rated gifts to give mum the gift of sleep this Mother's Day.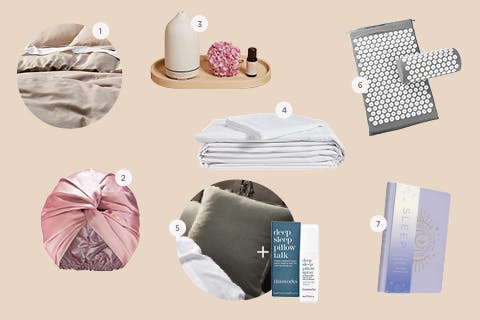 1. A quilt cover set
Gift mum the gift of sleep-inducing luxury with a brand new vintage washed linen quilt cover set. Arguably, one of the best qualities of this coverlet is its versatility year-round irrespective of whether she tends to sleep on the warmer or cooler side. Constructed from 17S yarn sourced from Europe, it has been woven into a lightweight, exquisitely soft fabric that'll make her feel relaxed after a long day. Available in an on-trend white, natural, cyprus and rust colour to create a peaceful bedroom sanctuary.
2. A sleep cap 
Does she often complain about having a bedhead when she gets up in the morning? The solution is a comfortable sleep cap. Every night when sleeping, friction is caused between her hair and pillowcase which can impact its moisture and cause her hairstyle to resemble are banshee when she wakes. This Slip (AU) cap has been double-lined with smooth silk, a low friction material to ensure hair stays intact and remains protected throughout the night.  
3. A porcelain diffuser 
She'll love retreating to her sleep sanctuary each night with a porcelain diffuser. She can start by filling it up with water to the reservoir fill line and add between 2-8 drops of her favourite essential oil like lavender, cedarwood and ylang-ylang to help her unwind her mind. When selecting a diffuser for mum, ensure you choose one which blends in with her bedroom decor and omits a gentle multi-coloured LED light to help ease her into the mood for sleep like the Palm Beach Aromatherapy Stone Diffuser. 
4. A sheet set 
When it comes to gift-giving, mum would never say no to a new set of sheets. With brand new vintage washed linen sheets, she'll be excited to climb into bed night after night. Give her the gift of sheets that are naturally breathable and adaptive to weather year-round. Sourced from Europe, the 17S yarn used in the fabric has been pre-washed with an enzyme wash to give the sheets it's a unique look and feel and comes available in multiple earthy shades to suit her bedroom aesthetic. 
5. A European pillowcase 
Mum would never say no to a luxurious new European pillowcase that she can prop herself up on while streaming Netflix or reading her favourite book in bed. Its linen fabric ensures its versatility when paired with any other style of linen within the bedroom and is ideal as a decorative accent. The vintage washed linen European pillowcase is available in an array of trendy shades that you can mix and match with the quilt cover and sheet set from the same range. Pair this gift with the Deep Sleep Pillow Spray that will help her fall asleep quicker. 
6. An acupressure mat and pillow
Is she curious about acupressure? An acupressure mat can help effectively melt away tension in her neck, shoulders and back. The bed works on the simple principle of acupressure, when she lays down on the bed, its 6,000+ massage points apply steady pressure to your body, making for a deep acupressure experience. By stimulating circulation, the mat may relieve muscle tension and pain, while at the same time rejuvenating and rebalancing the entire body in time for bedtime.
7. A sleep journal
Does mum suffer from a lack of sleep or an inability to drift off due to excessive worrying at night? Sleep: A Day and Night Reflection Journal is a great tool to help her track and analyse her sleep cycles in addition to getting her thoughts onto paper. Off-loading stresses will give her space to reflect and can help her get better, and more consistent sleep. It's designed as a 90-day support system, with each spread including a morning practice for analysing how you slept and an evening practice for setting restful goals and unwinding from the day.