Most people crave a bedroom that feels like a true refuge from the outside world: somewhere they can rest and restore their energy. Getting a better night's sleep is much easier said than done - but setting an intention about your bedroom energy is the perfect place to start. For Mindful In May take some notes and try our six tips to turn your bedroom into a relaxing oasis.
1. Opt for an upholstered bed frame
When it comes to creating a sense of relaxation in your space, opt for a wide upholstered bed frame with a soft line and/or curvilinear form. Square corners have pointed energy and can give the impression of a sharp environment. Other useful pointers include choosing a bed frame lower to the ground and positioning it as far away from the door as possible so you can keep an eye on it.  Sun says 'This allows for a feeling of safety and protection while you rest' and there's nothing as relaxing as feeling safe and sound.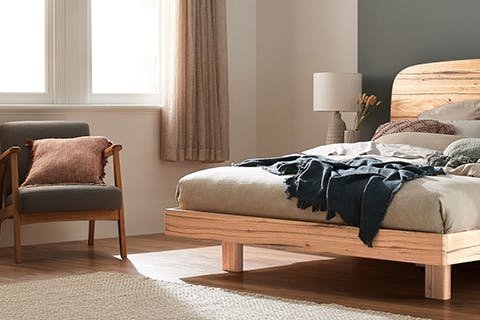 2. Consider earthy tones
A welcoming atmosphere awaits when you incorporate warm, rich early tones in the bedroom. Using soft, natural shades can help create a quiet, tranquil and inviting energy in your space. Think rust, khaki, coral, cream and cocoa rather than bright shades of pink or red as these can be stimulating and overwhelming. These colours can still work as an accent such as a pillow, throw or decorate piece but softer pinks for your bedding and wall colour will go a long way when it comes to achieving a relaxing bedroom retreat. The colours mentioned above, including the deeper shades are sure to have you looking forward to visiting the bedroom when paired with the right lighting.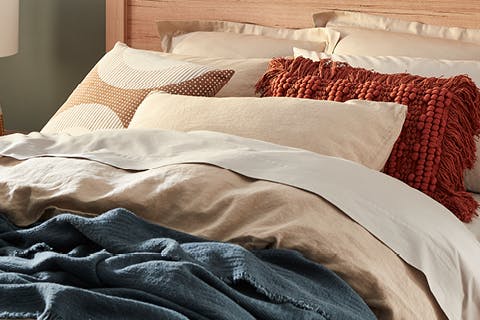 3. Layer your bedding with texture
Your bed frame takes centre-stage in your bedroom so it should set a comfortable, inviting pace for the rest of the space. Layering your bed with a combination of soft, cosy materials in the form of sheets, a quilt and a throw blanket will help you achieve a bed that feels as good as it appears. Finish the look with several pillows and you'll have a luxurious bed that welcomes you into its relaxing embrace after a long, stressful day. You can take it a step further by integrating lots of texture in the form of your rug and curtains, this together with your linen and pillows will create a sense of luxury that immediately relaxes the body.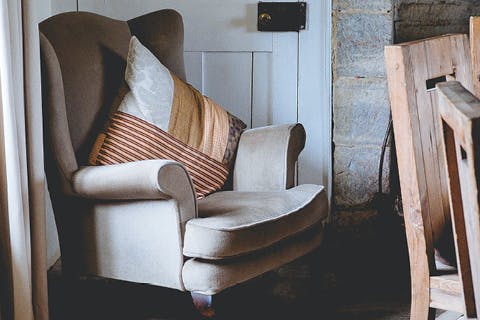 4. Add a comfortable chair
Incorporating a comfortable chair in your bedroom will make for a great reading nook during the day and will double up as another spot to bring upon a more restful mood before bed. By adding some seating to your bedroom in the form of an accent chair will feel even more like your own personal retreat. It's also a great idea to have a comfortable chair with a cosy throw blanket draped over it nearby for those nights when you're struggling to fall or stay asleep. If you've been awake for at least 20 minutes in a cycle of endless tossing and turning in bed, get up and try sitting in your chair until you genuinely feel ready for sleep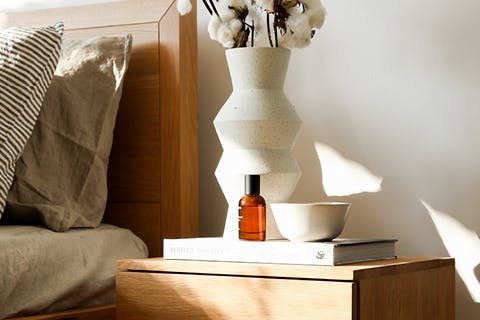 5. Create your own nightstand amenities kit
Take a cue from your favourite 5-star hotel by creating your own amenities kit by your bedside. Stock up and display items such as eye masks, earplugs, a small fan and a diffuser to help create a bedroom that feels like a relaxing hotel suite. Another important hotel service is a bedroom preferences bar, many premium hotels offer their guests the option of different mattress toppers and pillows to suit their mood and sleeping preferences. Keeping these items in multiple feels handy in your under bed storage or built-in-robe will ensure you're covered, whatever the occasion.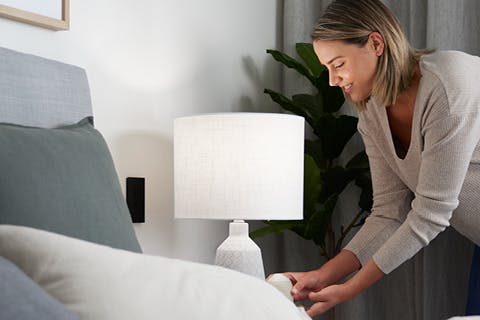 6. Incorporate soft lighting
When choosing lighting for relaxation in the bedroom, flexibility is key. You'll want lots of natural light during the day, soft light in the evening, and darkness while you sleep. Exposure to sunlight first thing in the morning can help influence your serotonin levels and positively affect your mood for the rest of the day. When deciding what forms of lighting are best, opt for a variety of sources like overhead, on the bedside table and wall. This will allow for many different uses throughout the day. Bonus points if they are dimmable so you can adjust them to suit your mood.
Your bedroom should be a place of rest, contemplation, and intimacy. Including an upholstered bed frame, layered with texture in earthy tones together with adding a comfortable accent chair, bedside amenities kit and soft lighting will help you create a serene, peaceful bedroom sanctuary. Go ahead and see what a little relaxation and snooze can do.
References:
1. https://www.thespruce.com/gorgeous-bedrooms-that-are-also-relaxing-4045685
2. https://www.thespruce.com/sherwin-williams-bedroom-color-ideas-797974