Getting enough sleep can allow us to lead our best lives. It can improve our productivity and concentration, ensuring we can get through everything on our never-ending to-do list each day. But while you've tried meditating, cutting back on your coffee and making sure your stress levels are in check - it could be time to turn your attention to the very foundation of your bed. Read on for the five bedroom essentials you should consider for a better night's sleep tonight.
1. Supportive Base
What most of us don't realise is that the support base or foundation under the mattress can play just as an important role in its performance.
"You can have the best mattress in the world; however, it needs to be on a sound foundation to perform at its best and provide the support it was designed to deliver," Adrian Galiazzo, Senior Furniture Category Manager at Snooze says.
If opting for a support base, you'll want to make sure it has a good centre support structure with 1-2 legs touching the floor and a solid centre support rail in the middle running from the head to foot of the base.
When it comes to selecting your bed frame the timber slats should be at least 19mm thick and evenly spaced with no more than 70mm in between the support slats. This can assist with those unsightly mattress lumps and help you get a more even level of support while the thick slats can assist in eliminating any flexing or bowing from the weight of the mattress as you move around in your sleep.
There are of course other functional benefits to a bed frame which can help you get a better night's sleep. The Clovelly Cove bed frame features dimmable lights in the headboard to help you wind down after a long day and the Elevation Curved bed frame comes with the option of an adjustable base, to allow you to adjust your mattress to your preferred position when sleeping.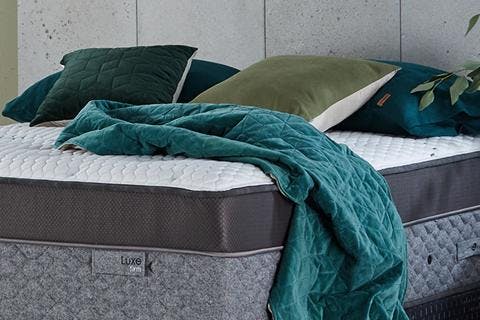 2. Comfy mattress
When it comes to getting a better night's sleep - your bed - specifically your mattress - can be your most important resource and Troy Grzeshcka, Mattress Category Manager at Snooze suggests changing your mattress every 7-10 years. This is because as you age, your mattress needs are likely to change.
In your pursuit to buy a new mattress, there are three things you should consider:
The overall feel
Mattresses come in three different feels: plush (soft), medium and firm, to help cater for differing needs.
First, think about your preferred sleeping position at night as this can determine your ideal firmness level. If you're a back sleeper, a soft mattress for example can make your body sink so you'll need one which can help provide improved pressure relief and enough support to your back. Sleeping on your side can inflict discomfort and pain on your hip and shoulder joints so you'll need to think about a mattress with softer support to cushion those parts of your body.
Another factor to consider is your weight - the feel you'll need will depend on your body type.
The comfort layer
The comfort layer, are the layers of material (such as foam) that are on top of the spring system and provide softness to your body as you sleep.
Troy says "The way you sleep - back, side or stomach - also determines how thick the comfort layer should be for each individual".
"The thickness of the comfort layer determines the level of pressure relief you're going to experience as you sleep. The more pressure relief you get from your mattress, the less likely you're going to toss and turn, and it should improve your chances of a better night's sleep."
Budget
Finally, you spend a third of your life on your mattress so you need to think of a budget when shopping for a new one.
Looking after yourself and investing in your health and wellbeing by getting a better night's sleep is always a positive choice, and there will always be one that can meet your needs within your budget.
If all of this is making you feel anxious, the Snooze Profiler® is a great tool available in-store to help you with this process.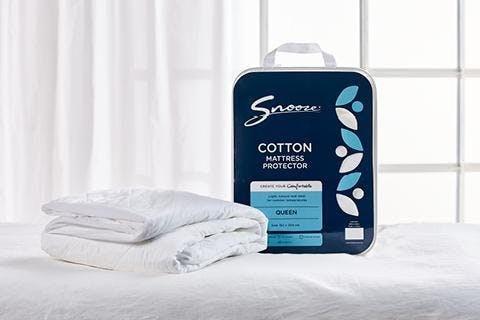 3. Breathable mattress protector
Your new mattress is not something you can wash, no matter how hard you try. This is where a mattress protector comes in.
You can lose up to a glass of sweat each night, and if you're a hot sleeper, it could be even more. In order to maintain a clean sleep environment, invest in a breathable mattress protector with your next mattress purchase - you'll thank us later.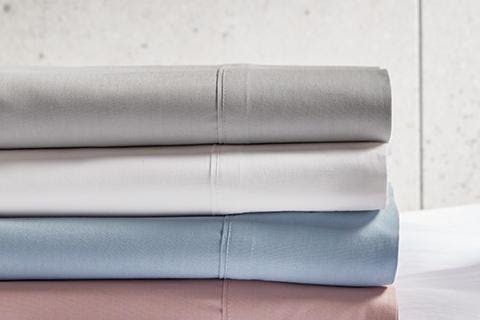 4. The right sheets and covers
If you tend to feel warm while sleeping, natural fibre sheets like cotton or Tencel™ with a low thread count are your best friend. When it comes to your fitted sheet, it needs to offer a snug fit - a bit like your favourite jeans, so that your mattress stays true to it's feel. Not all sheets account for the full depth of the mattress so ensure you check the measurements, for example a 35cm depth mattress should have 40cm depth sheets.
When it comes to your quilt cover, while cotton is the fabric of choice for warm sleepers, a wool quilt will offer extra warmth but remain breathable while you sleep if you feel the cold more at night.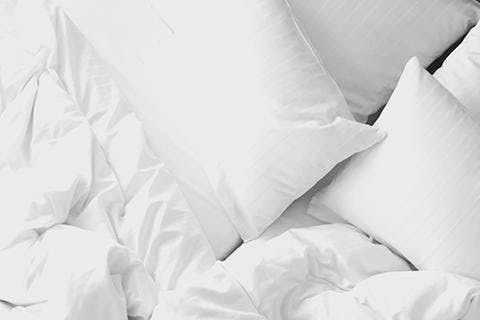 5. Quality pillows
The pillow you'll need to buy depends on your sleeping position and whether you sleep on a plush (soft), medium or firm feel mattress.
"If you're a side sleeper and you sleep on a firm bed, your shoulder will be pushed higher and you'll need a higher profile pillow to help support your neck and shoulder," Troy explains. "If you sleep on your side on a softer mattress, you're going to sink in and the gap between your neck and shoulder will decrease, so you'll need a lower profile pillow."
Another tip from us, when buying a new mattress, try and get fitted for a proper pillow at the same time. This will ensure the two work together more effectively.
Getting quality sleep each night is optimal for our health and wellbeing. By ensuring you go to bed with a supportive base, comfy mattress, mattress protector and the right linen and bedding: sheets, covers and pillows will ensure you are on the right track to getting a better night's sleep tonight.
Sweet dreams Snoozers.
References: