If you've got a growing boy, you know the things they absolutely love right now are in danger of being discarded for something new next month. How can you design a space that gives him what he wants now, while catering for his future interests?
The answer? A fun new bedroom that grows with him could be just the ticket to inspire a timeless vibe. Whether it's a few key colours, or featured items you can swap out over time, we've put together some ideas to help you adapt the room as his style evolves.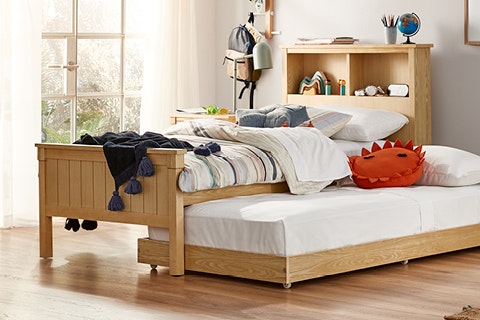 Cool boys bedroom ideas
As much as we love our boys, the only way to know what they want is to ask. By involving them in the process they'll enjoy creating something they'll feel proud of, and you're saved from picking the 'wrong' colour, or theme, or pokemon!
Your discovery questions can be broad or narrow. What's their favourite colour? What do they want to be able to do in their room? Is there something they really love, like outer space, or sea creatures, or super heroes, that they want as a feature?
The opportunities are endless, so have a real brainstorming session and get all the ideas out on the table. You can even have him draw some ideas out to get his imagination going. Making the process fun will get him excited about what's to come!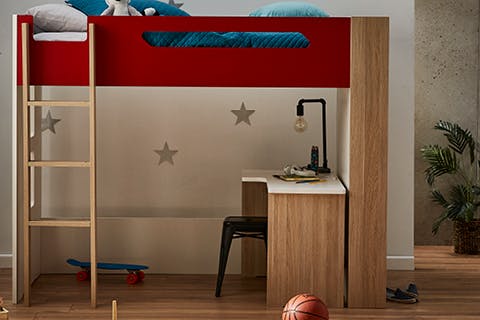 Boys bedroom ideas for small rooms
If you've got a small space with big ideas, it can be difficult to see how it'll all fit together. But a small space offers its own opportunities and, with some smart furniture, actually use it to your advantage with some clever space-saving ideas.
Use Vertical Space
Firstly, look up. By using the vertical space, you'll fit more in and create areas where he can be up high above the adults. That's a pretty good feeling when you're a kid!
A loft bed or bunk bed can also help you maximise vertical space
One way to take advantage of the vertical space is to add a loft bed or bunk bed. If it's a loft, you'll have a space underneath for a desk or beanbag where he can hang out and play. If he likes Lego, it's a great way to mark out a space for him to play, so it's less likely to get underfoot.
Incorporate Shelving
Wall-hung shelves work great for small spaces too, as they free up floor space. Wall hooks for bags and jackets come in lots of styles, and can be practical while adding colour and style to a small room.
Bold, neutral, or both—Choose the base colour
When it comes to the colour of his room, it's a good idea to go for light colours, as these will open up the space and make the room look larger. Neutrals work best, and offer a perfect base to add pops of colour that can change as his tastes change over the years.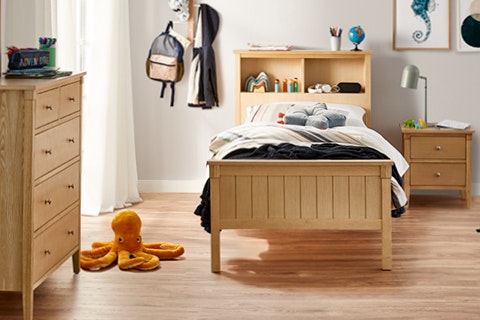 Your guide to boys bedroom decor
You can explore the chosen theme in your boy's bedroom with wall hangings or light shades that complement the style he loves. Does he like space? Why not try a planet themed light shade or a constellation accent wall? You could even do something less permanent with a lamp that projects the galaxy right into his room, providing a calming and awe inspiring space he can go to sleep in.
Choose fundamental pieces
Pick pieces of furniture that act as a base for your boy's room. Something that is neutral enough to remain, while offering enough interest to be passable as the years go on. Something like an open bookcase can be a great way to display action figures or art he's made at school. Is he sporty? Does he love books? Craft? There's so many uses for an open bookcase, and it's easy to switch out displays year after year.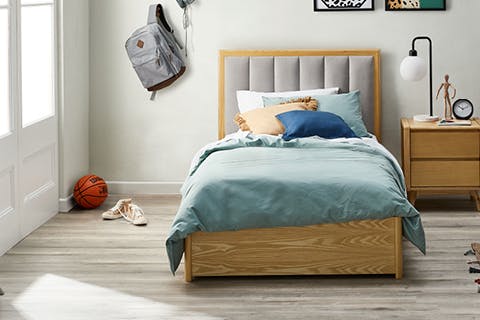 Timeless boys beds for your little (or not so little) guy
No matter how many little guys you've got, there's beds for boys to suit every occasion.
Opt for a storage bed 
Storage beds are a great way to keep toys, clothes, books or bedding all tucked away neatly when they're not using them. Coming in open styles with easy access boxes, or hidden drawer or gas lift styles, there's plenty to suit whatever look you're after.
Bunk beds save space
If you've got a couple of boys sharing a room, a bunk bed is always a fun addition as it can double as a play space (blanket fort anyone?).
Go simple and build on it
And if you're after something fun and colourful, why not try a simple bed frame with a pop of colour behind it? It's a great way to bring colour to the walls without having it take over the whole space, and you can change it more easily later on. You could even try a twist on this idea with a fun wallpaper print.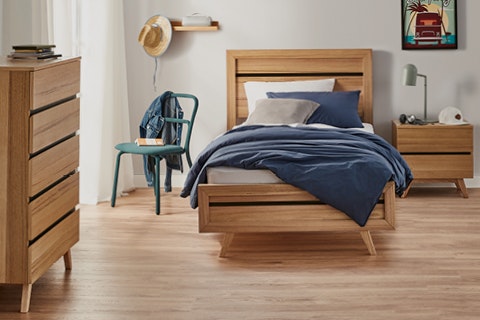 Create a modern teenage guy room with Snooze
Teenage boys need privacy and space as they're growing up, so making their bedroom into a place where they can be themselves and feel at home is really important. 
Ask for his input
It can be hard to work out what teenagers want sometimes, but going to the source here works just as well, if not better. By keeping him in the loop and using his input, he'll respect the space and you can have fun bonding over the experience.
Create a space he can hang out in
If you have the space, beanbags or a lounge will instantly create a space that'll make him feel like his friends are welcome. If he likes music and you want to get a bit retro, a record player is a nice touch that can make listening to music more intentional. It may not seem that modern, but everything is cyclical and retro is never out of style.
Incorporate his interests
Does he like cars? Try having some cool graphics framed or hanging some street signs that give an edgy feel to the room. Whatever his interests, art is a great way to incorporate them into the space.
Top it off with a quality mattress to support his growing body
A good mattress is essential, as studies have shown quality sleep of 8-10 hours is especially important during teenage years. Using shutters instead of curtains to fully block out the light is also a great way to ensure he gets good sleep.
If you'd like more inspiration on how to design your boy's bedroom, try reading our blog on three amazing kids' beds that'll keep the ideas flowing!