Whether you have a little fairy, cute pirate or totally cool teen, our kids' beds can help you create the bedroom of their dreams. With designs that can store everything from sports equipment and school shoes to their favourite books and trinkets, we offer an extensive range of bed frames that are sure to meet their tastes, needs and let their imagination run wild. And, of course, we also have beds built for frequent sleepovers with trundles and bunk beds for kids in all shapes and sizes. To get you started, we've listed three amazing kids' beds that we think they'll love.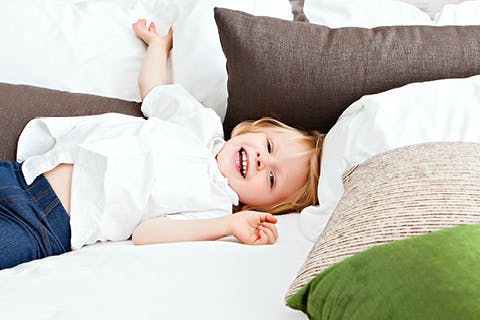 Before we get stuck into the good stuff, these are a few practicalities to consider when designing your kids bedroom: 
Their age: the age of the child you're designing a bedroom for can dictate the style and what's included. For example, when planning for older or teen children you'll need to consider what they'll need to house in their bedroom in the future. Will they need to have their own desk? Where will their toys be stored? What about keepsakes they can't quite part with?

What will the bedroom be used for?: If you're short on space in your home, chances are your kids' bedroom will double as their playroom. 'Kids rooms are all about storage' according to Block 2011 participant and All-Star Jenna Denston. '[It's all about] having the ability to be creative during the day and put everything away at the end to create a soft, calming environment come bedtime'.

Will the bedroom grow with your child?: Adorning your child's bedroom with age-specific play equipment may look the part but may not translate into a space that grows with them. You are welcome to add fun inclusions, but make sure they aren't permanent so they can be removed easily when the time comes. 

Does the bedroom stimulate or relax?: As you may have heard, colour schemes can make or break a space. Bright, bold colours are attractive to little people but they don't exactly spell rest and relaxation. Think about painting their bedroom in neutral tones, providing points of interest like wall decals that can be swapped out as they grow.

Is there enough room for their belongings?: Of course, having a fun space to play is important to your little Snoozer but don't let the fun stuff stop you from excluding the basics. You'll discover your kids accumulate many things and they'll need a place to store them. Finding a bed and furniture which has storage will go a long way when keeping their room neat and tidy.

Do they often have sleepovers?: Those sleep-over years roll around quickly so make sure you consider room for another little Snoozer. Trundle beds stored beneath your kid's bed are great, as are bunk beds. Later on, you may want to remove the bed underneath and use it as a space for study or 'chilling out'.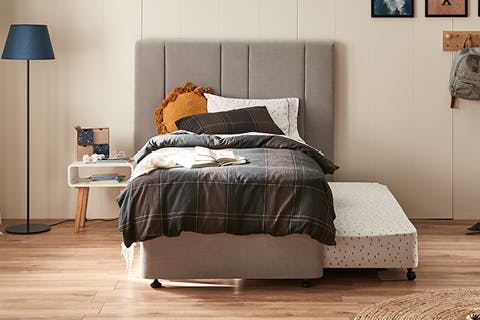 1. Slumberland Extended Headboard with trundle base
If you're looking for a kids bed which is great for those last-minute sleepovers look no further. The Slumberland Extended Headboard with trundle base features a bed that is cleverly concealed when not in use that can slide in and out when your little Snoozer has someone over to stay the night. It features a versatile Galaxy fabric upholstery to create a blank canvas for an array of fun linen and bedding styles. Does your child dream of a land of fairy-tales, pirates or superheroes? This practical bedroom solution is available in single and king single and is sure to be a stylish addition to any space that will last your child through to their teenage years. Balance child-like imagination with adult practicality and style with a Fitzroy cube bedside table and a stand-alone lamp.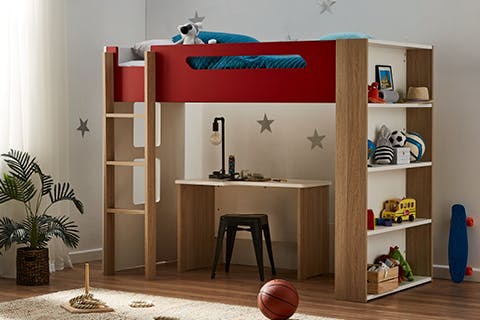 2. Bingo Loft bunk bed
Fashionably compact to suit the smallest of rooms, the Bingo loft bed is everything your little Snoozer will want in their bedroom. It features a space underneath for their imagination to run wild and can be used for the likes of their storage, study and even play. Bold bedding paired with the extensive Bingo bedroom furniture range which includes a bedside table, chest and desk are sure to make a statement. The loft bed and matching bedroom furniture come available in a painted laminate finish to ensure it's easy to clean any accidents. Choose from an array of colours like red, white, charcoal and aqua to suit your child or growing teen bedroom. Available in single and king single, it features a bookshelf for your kids' toys making it a versatile and practical solution for their bedroom space.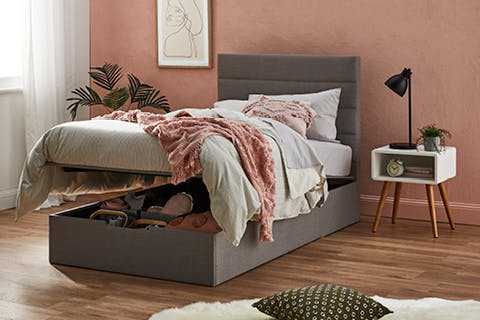 3. Paddington bed frame with gas lift storage base
Your kids will sleep in style with the Paddington bed frame (exclusive to Snooze). It comes with a lift-up motion gas lift base making it a great storage solution for all your little Snoozer's belongings from clothing and bedding to books and toys. The stylish, modern design in neutral tones will last your child through to their teenage years. Choose from cement, oatmeal or slate upholstery to coordinate with your kid's bedroom decor. Add some cute bedding and a quality mattress, and let the fun begin! The Paddington bed frame with a gas lift storage base comes in a single, king single, double and queen and works well in solitude or paired with a bedside table from the kids' bedroom furniture range at Snooze. 
A kids bedroom has many roles beyond a place to sleep: it's a secret hideout, performance stage, book nook, changing room, study hall and much, much more. To create a special space to foster their imagination and creativity explore our kids' bedroom collection or visit your local Snooze store and talk with our bedroom specialists.
References: