You've welcomed a new bed into your room and can hardly contain your excitement. It's time to lay down and drift off to sleep, but there's one thing standing between you and bedroom bliss - your old mattress and bed frame. Perhaps you've pushed them up against a wall or moved them to the spare bedroom for those unexpected guests? If neither of these is an option for you and you're interested in recycling, upcycling or donating your pre-loved bedroom suite, we explore three reasons how it can make a difference to our environment, economy and industry.
1. It protects our environment
Mattresses and ensemble bases:
Did you know that 1 million mattresses are thrown into landfill each year? We now have more choice, which has led us to expect better and at times, to replace our mattress more frequently than the recommended 7-10 years. There is, of course, nothing wrong with putting your sleep needs on a pedestal (in fact, we encourage it) but it can contribute to a large amount of waste going into our landfill. Aside from adding to this growing waste problem and contributing to climate change, mattresses are renowned for causing environmental hardship when breaking down - some can be toxic (and icky) which can cause havoc for surrounding soil and groundwater. However, there is a solution...
Soft Landing our recycling partner at Snooze, offer mattress and base recycling services that cover many areas across Australia. They are responsible for diverting end-of-life mattresses from landfill to ensure that up to 75% of a mattress can be recycled in such a way that protects our environment. General Manager from Soft Landing, Chris Richards stresses that the company pride themselves on using recycling methods to reduce the environmental footprint, opting for local companies over their global counterparts to minimise transport mileage and maximise the reusability of the materials being recycled.
Bed frames and bedroom furniture:
If you are exploring the prospect of recycling your timber bedroom furniture, you must ensure it's not contaminated with paint, oil (other coatings) laminates, nails and metal connectors. Unfortunately, it can be challenging to recycle treated timber bedroom furniture. There are a variety of preservatives used in Australia and in the world to treat timber and these can put our environment at risk if burned without appropriate emission control equipment.
We recommend visiting Planet Ark's website to determine if your bedroom furniture is eligible for recycling but if not, no fear. Consider repurposing your bed frame with a fresh coat of paint and new fabric upholstery. Bedroom furniture can lend itself for storage in other parts of your house too (even the garage). If you're still keen to part ways with your pre-loved bedroom suite, look to sell or give it to a new home via Facebook marketplace, Gumtree or eBay - as they say, 'one man's trash can be another man's treasure'. According to Sustainability Victoria by recycling (if able), upcycling or donating your bedroom furniture, you can conserve raw materials and help reduce greenhouse gas emissions.
2. Supports our local economy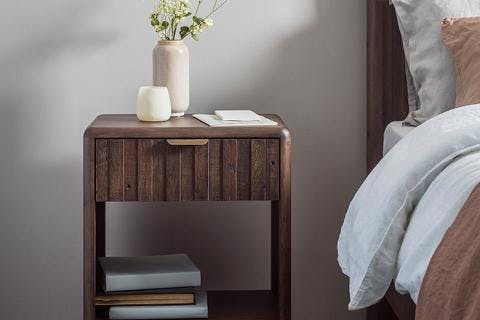 Just 52% of our total waste in Australia is recycled, which means there is ample opportunity for improved jobs and revenue within our local community. According to the ABC; 9.2 jobs are created for every 10,000 tones of rubbish recycled, but it could be more and we need to be smarter when it comes to recycling our household goods.
Our partner, Soft Landing, targets this issue by creating jobs and training for local people who have experienced barriers to gaining lasting employment in the past. The recycling of all mattresses, bed bases, as well as their by-products, takes place here within Australia. As a result, this past year has seen Soft Landing providing employment opportunities for 220+ people across Australia, with 77% of them facing challenges upon entering the workforce. Richards explains that 'Working in local communities and providing employment opportunities within these communities is just as important for the business as recycling mattresses and bed bases.' He goes on to say that for every 35 mattresses that are collected by Soft Landing, they can create a job for someone who needs one. Which means that up to 65% of revenue made by the business goes to wages of people who experience barriers to employment and in turn, generates dollars within these local communities - now, isn't that a great bedtime story?
3. It can create more beautiful household products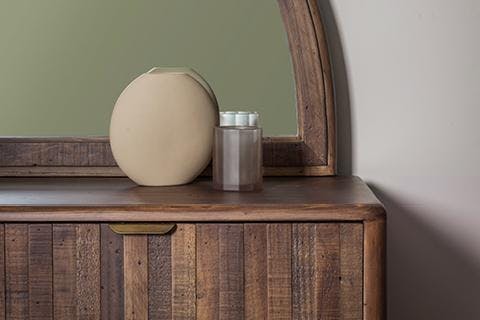 When you recycle your mattress with Soft Landing up to 75% off its components go towards creating beautiful new household products. The steel springs are recycled into roof sheeting whereas the foam can be used towards carpet underlay. Timber and husk can be repurposed into kindling, weed matting, mulch and animal bedding. Another use of recycled timber is creating a new bedroom suite like the Lineo bed frame and its coordinating bedroom furniture. This range (exclusive to Snooze) features a layered timber inlay throughout its design, which has been made from 100% recycled hardwood timber.
When you buy a new mattress or bed frame, it's easy to overlook what happens to your old furniture. At Snooze, we understand the importance of sustainability and leaving a positive impact on our economy, so highly recommend recycling your mattress or base with Soft Landing so that it doesn't end up in landfill. To book a mattress or bed base collection, visit https://www.softlanding.com.au/. In cases where it is harder to recycle, consider upcycling or donating so that you can give a new life to your pre-loved bedroom suite.
References: