Wake up your bedroom in time for Spring with natural timber, fresh floral linen, bedding in neutral tones and textures and the natural beauty of plants. Get inspired with our four tips to freshen up your bedroom in time for the season, bringing about an instant touch of tranquility and a more relaxing night's sleep.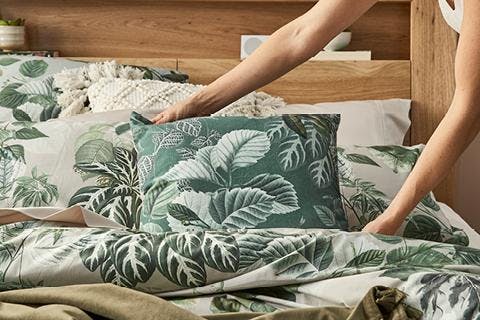 1. Bring the outside in
The smell of freshly cut flowers signals the return of Spring. Mimic the organic tones and textures by taking hints from nature with floral inspired linen from Linen House. The Clovelly Feature bed frame will allow nature-inspired linen to shine and is sure to create conservatory ambience within your bedroom thanks to its irresistible lush green floral pattern.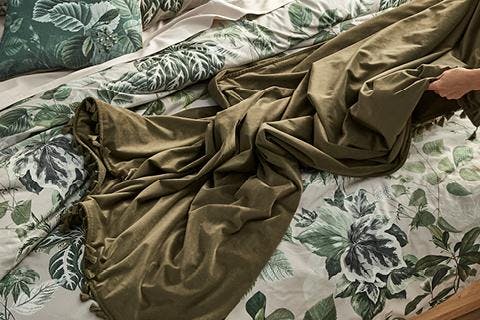 2. Accessorise with an olive throw
Add instant freshness with a soft throw in a shade of olive green. The general rule of thumb is to choose a throw which contrasts with the texture and colour of your chosen floral quilt cover set. Throws should be casually draped over the bed so that it appears informal and lived-in, creating an inviting place for sleep. We love this shade because it reminds us of nature itself, and makes us feel grounded and relaxed. Featured here is a blanket throw from Linen House which features a super-soft texture, making it an all-season favourite.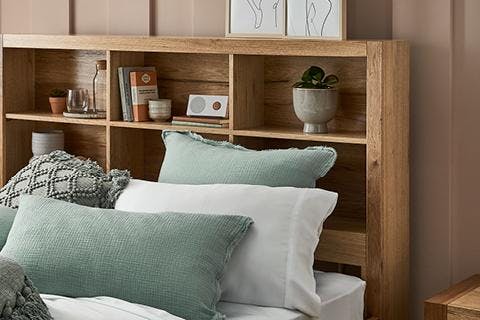 3. Neutral tones and textures
Introducing neutral tones and textures is the key to bringing a touch of Spring into your bedroom. Think beautiful textures like soft linen, printed cotton and macrame which will accentuate your chosen floral linen quilt cover and natural bed frame. This cushion in a natural shade from Linen House lends itself beautifully to this look and looks great when paired with neutral tones of taupe, beige or crisp white linen, creating a bedroom sanctuary you would gladly retreat to at the end of a long day. Pictured here is a sheet set exclusive to Snooze.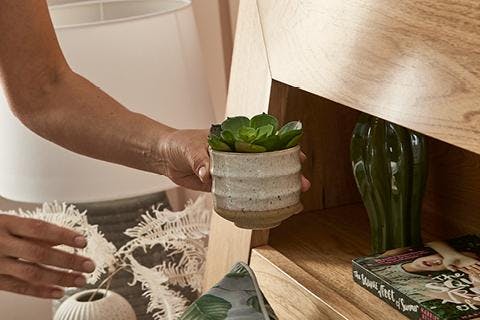 4. Think natural
Welcome the natural beauty of the outdoors with succulents or a sprig of foliage by your bedside. It's such an easy and low-maintenance way to bring a breath of fresh air indoors this Spring, after all the pairing of classic wooden tones with a plant, really allows their natural beauty to shine. Studies have also shown that indoor plants can boost your mood, enhance your creativity, reduce your stress levels, increase your productivity and bring you tranquility.
With the days getting longer and the weather finally starting to take a positive turn, refreshing the colours, textures and patterns in your bedroom can be the opportunity you need to create a light, fresh ambiance. Your bedroom always is a worthwhile investment and with the right styling, will become a retreat-like space you enjoy unwinding in this Spring.
References: