There comes a time in every little Snoozer's life when they are ready to make the 'big move'. We're talking about that transition from their cot, the only sleeping place they've ever known (yeah right - except for your bed, or the car, or quite frankly anywhere else) to a bed. A big kids bed.
For most it's an exciting time, for many it's an emotional time, for all of us though it's a milestone and one worth some thought and consideration. Although it can be a time of celebration, it's important to remember that it can also bring a new set of challenges and night waking. Once your toddler is in a bed, they can get up whenever they want, regardless of whether the sun has risen! Remember too, there's certainly no hurry and sometimes it's easier to leave children in the cot if they're happy there. It's also safest to wait until children are over two years before moving them into a bed*.
So, first and foremost, ask yourself if your little Snoozer is ready to make the transition and whether there are reasons to start thinking about the move. Here are some signs to help you get the timing right.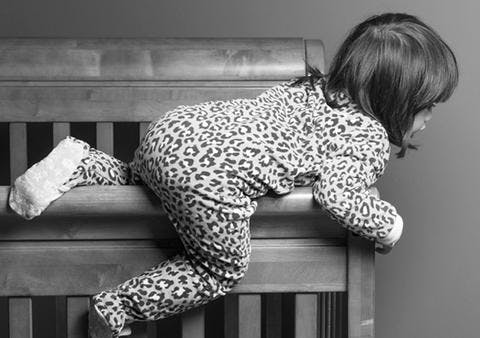 Your toddler is aged between 2 and 3 ½
You have a new baby on the way who needs the cot
Your child has started to climb out of their cot and it becomes a safety issue.
Your toddler is toilet training so needs to be able to get out of bed easily.
It's always good to ensure that the family isn't going through a stressful period - such as moving house. At times of change, or if your little one is unwell, it might be best to avoid an additional change. Also, if there is a new baby on the way, make the move well before the new baby arrives so there is no resentment directed towards the baby (about taking their bed).
If the timing is right, it's time to start preparing. To help make it a successful move, we've put together our top 5 tips for moving a toddler from the cot to a bed.
Tip # 1 Making the bedroom safe
Once in a big bed, your child will be free to move about the bedroom (where they were previously contained) so it's important to ensure it's a safe environment.
A safety check is a wise idea that could help prevent accidents:
Check windows and ensure that your toddler cannot climb out - particularly if your child's bedroom is on an upper level. Safety locks can ensure that the window opening is not big enough for your child to climb through.
Curtain or blind cords should be kept out of reach, as should anything else like hanging mobiles that could potentially be wrapped around your child's neck.
Check that electrical heaters and other electrical appliances have child safety locks or remove them from the room.
Ensure heavy furniture or objects cannot fall on your child - attach furniture to the wall with brackets where possible.
A safety gate across a doorway can be a great idea if there is a risk of your little one falling down stairs in the middle of the night.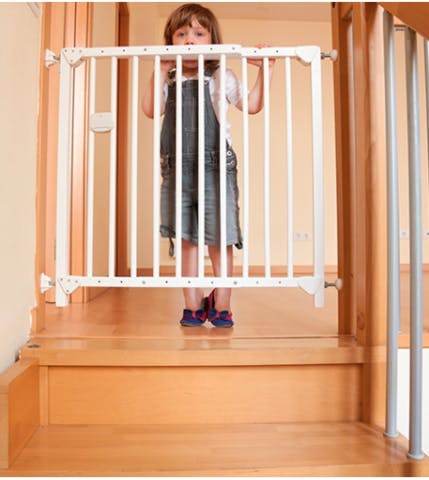 Tip # 2 Let them help to choose the bed
Although many young children are excited about this change to a 'big kids' bed, some may find it stressful. Communication and preparation are essential - i.e. letting your little one know beforehand 'that the move will happen in a couple of days'. It may also help if your Little Snoozer has a sense of ownership of the new bed - pick it out together.
Visit Snooze and choose from a range of kids beds. From the fun, modern and stylish Hipster bed frame to the traditional yet versatile metal frame of the Vibe single bed there's a range of designs to suit all kinds of personalities. The Polo bed frame comes with either a feature bed frame (with bookcase headboard), full panel bed frame or open post (with matching footend) and all three have an optional trundle available. So many options - your toddler will love trying them out and finding the perfect first bed! If you're not sure what mattress your child needs on their single bed, read our Mattress Buying Guide or talk to our sales people in store.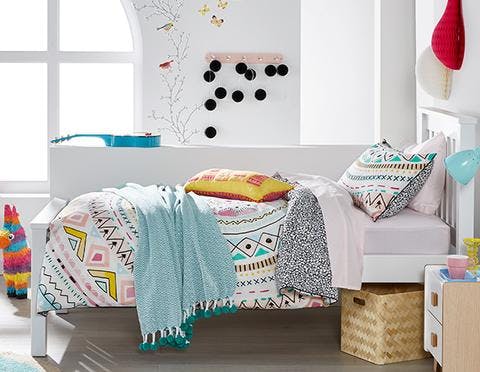 Tip #3 Moving safely from the cot to bed
Once your bed is chosen, and set up in your kid's bedroom, consider these simple precautions to keep your child safe.
If you're considering bed rails, be sure to check for gaps between the bed and the bed rails so that your child cannot get stuck.
If your child is still in a sleeping bag, now is a good time to consider getting rid of it. There's a higher risk of falls and injuries when children wear baby sleeping bags in bed.
The top level of a bunk bed is not safe for toddlers.
Make sure the area around the bed is clear of bean bags, soft toys or anything else that may be a suffocation risk. Keep in mind that pillows are still regarded as a suffocation risk for children under two years.
Tip # 4 Using a bedtime routine
If you've got an existing bedtime routine with your toddler, don't change it. Consistency is key. If you don't already have an established, tried and tested routine, now is a great time to start one. A warm bath or shower, followed by brushing their teeth, and finishing up with a story in their new bed is a good place to start. Encourage your little Snoozer to climb into their bed if possible and arrange the blanket and pillow the way they want. Keep the lighting as it was when they were in a cot. This could be lights off/door open, or a nightlight in the bedroom, or a hallway light. And finally, the last part of any bedtime ritual is saying goodnight - usually your toddler will have a final request: a special teddy, a trip to the toilet, a drink, but then ensure you say a firm and loving 'good night, it's time to go to sleep, see you in the morning'. Then leave the room. Your toddler may get out of bed several times, in which case repeat this last step until they stay in bed and settle.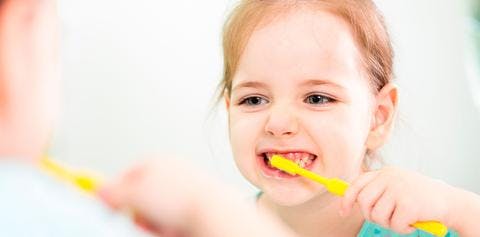 Tip # 5 Positive Reinforcement
Remember to make it fun; throw a 'big bed' tea party with all their favourite toys to celebrate the big move, let your child know how proud you are, let them watch or be involved as you're setting up the room! Anything that can contribute to the excitement and make it a positive move!
If you have ongoing problems with your toddler staying in their big bed we suggest you talk with a Sleep Expert or your Maternal and Child Health Nurse. If you'd like to discuss your child's mattress or pillow needs, or you'd like help with our range of beds, visit your local Snooze store and talk with our sales people. It's amazing what a little Snooze can do.
References: