As we start to enjoy longer days, and the unfurling blooms of spring, we also welcome the age-old ritual of spring cleaning. Rather than just an excuse to tidy out our cupboards, often spring can be a time of renewal and reinvention. 
During Winter, it's easy to become embedded in routine. This can have us feeling ordinary and uninspired. Changing, or reinventing your bedroom space can be empowering, offering the chance to create a space where we feel nurtured and truly at-home.
With spring arriving, now is the perfect time to breathe new life into your bedroom space.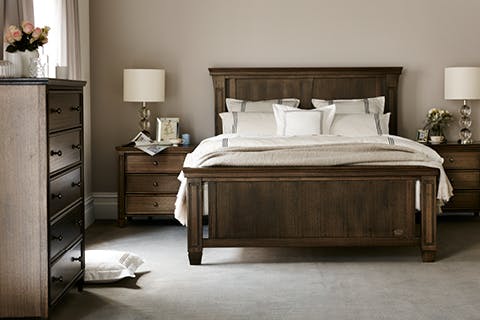 Choose a new style
Maybe you chose an upholstered bed whilst watching a lot of, The Queen and now you feel like a more contemporary vibe. Perhaps you've grown out of the bed you have lovingly held onto since you first moved out of home. As with our tastes in music, food and people, sometimes a style we once chose for our bedroom, doesn't quite resonate anymore.
First, seek inspiration by looking around online on Pinterest, or flicking through an interior design magazine for ideas. This can be a quick way to hone in on the types of styles you do, and don't like. Why not take a wander through a bedroom store like Snooze and see what's around? No doubt the offerings have changed since you last went bedroom shopping. Contemporary or Classic, Natural or Luxury; perhaps you want to recreate a French Provincial look?
One difference you may notice, is you can now customise your bed and coordinating furniture to create exactly the look you want. For example, you can choose a specific headboard and pair it with your ideal base (one with extra storage perhaps) to best suit your lifestyle, like the My Design or My Style range at Snooze. You can even choose the stain or fabric, to get the exact style bed or bedroom furniture that you want.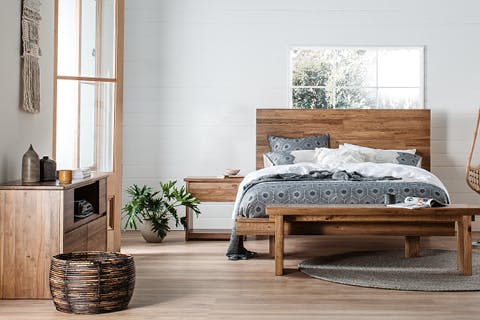 Go with a complete bedroom suite
Choosing a complete bedroom suite is an easy way to create a harmonious and stylish look in your bedroom, without employing an interior stylist!
Buying a complete bedroom suite, often means great value, as the bed and matching furniture are packaged together in a cheaper deal. Buying a bed with complimentary bedside tables and a tallboy, can create a uniform look and allow you plenty of stylish storage space, to help keep your bedroom clutter-free.
A matching suite, like the stunning Daintree 4 piece bedroom suite, can provide your room with natural beauty and fluidity. Each piece is expertly crafted, and designed to create a complete contemporary look, when paired together. A bedroom suite package is an effective way to give your bedroom a complete refresh, with a minimum of fuss.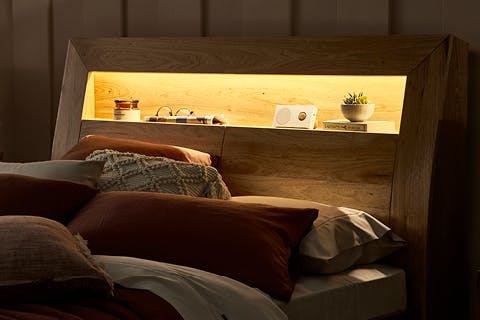 Layer your lighting
As the bedrooms of today are often used for more than just sleeping, (such as working, reading, recharging) it's a great idea to layer your lighting to suit different activities. Good lighting can make the world of difference to the feel of your bedroom. Choosing a feature lamp, or soft, warm lighting, can create a more relaxed atmosphere in your room, whilst having multiple light sources can allow you to match your lighting, to your activity.
Choose a headboard with dimmable lights perhaps, like the Clovelly Feature bed frame, or hunt around online to explore unique lamp offerings. Combine table lamps with standing lamps if you have the space, or you may even get lucky at your local antique store and find a feature lamp that adds personality, charm and ambiance to your room.
 A few carefully considered lighting choices can add beauty, tranquillity and atmosphere to your room.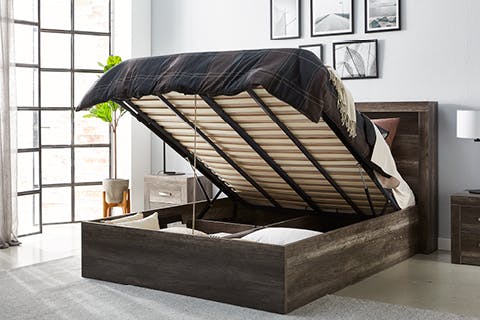 Create clear spaces
In the routine of daily life, sometimes we dump things in our bedroom that stay there indefinitely. Take spring as the chance to reconsider what you've arranged in your bedroom, and whether it was a purposeful choice, or just somewhere to store your things. Removing clutter from your bedroom can create a more restful place, where you can find the mental space to think, create, or unwind.
If it's more storage you need, then consider a bed with concealed under bed storage, such as Avondale bed frame with gas lift base. They can be a lifesaver, and are perfect for tucking clutter, extra bedding and all manner of extra stuff away whilst keeping it close and accessible.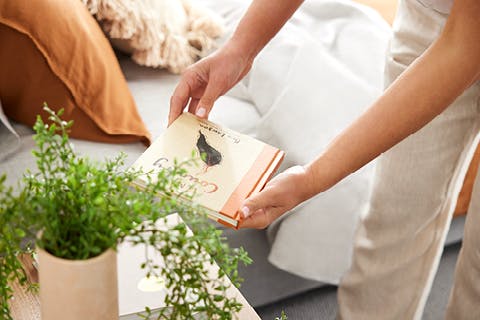 Make it personal
Why not add a fresh bunch of flowers, a decadent candle or some artwork that's meaningful to you? Adding personal touches to your bedroom can make it homelier, and may inspire you to seek rest more often.
In our busy lives, reinventing your bedroom space in spring can feel like a bit of a circuit breaker from routine, and can have you feeling reinvigorated and ready to take on any challenge. If you can't spare the time to jet off on an exotic holiday for example, then recreating your bedroom space is surely the next best thing.