Cotton, Linen or Classic – Your guide to buying the right bedding for you.
In an age where the 'buy once, buy well' philosophy is more important than ever, it's easy to feel overwhelmed when standing in front of any bedding shelf. There are thread counts, GSM's, a plethora of feathers and fibres to contend with, and we haven't even touched on the responsible fabrics yet! There are so many things to consider.
When investing in bedding, it seems there is one universal truth: that you should buy the best quality bedding you can afford. Investing in quality bedding can improve your quality of sleep and can provide you with a degree of improved comfort. We've put together a reference guide which explains some of the finer points of buying bedding.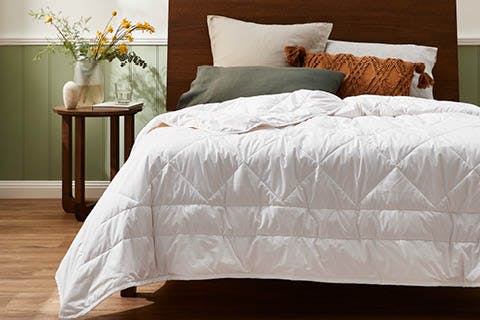 Quilts
When choosing a quilt, it's important to consider: how you sleep (warm or cold), your climate, and the breathability of the fibre.
In addition to traditional bedding options, there are now a collection of more responsible choices that offer similar performance, but are lighter on the planet.
Cotton
A cotton quilt is a fantastic choice that suits a variety of climates, or a warm sleeper. It's generally affordable, breathable and lightweight.
Wool
Wool has been used in bedding for generations, mainly because of its versatility. Offering the ability to provide warmth in cooler months, and breathability for warmer months, it's suitable for most climates and is a great all-rounder. Wool can also be responsibly sourced.
Alpaca
Alpaca fibre offers warmth, without weight. Alpaca is a great choice for cooler temperatures, and may suit those that are sensitive to wool due to its lack of lanolin.Although usually a slightly bigger investment, Alpaca is known for its softness and strength.
Suprelle® Blue 
Suprelle® Blue is a sustainable, new-age fibre made from recycled plastic bottles collected exclusively by PlasticBank®. PlasticBank® works with under-privileged coastal communities, empowering locals by offering payment of goods and services for collected plastic waste.
Our Suprelle® Blue quilts are made in Australia and have a unique structure that retains its insulative properties and loft, providing a medium warmth.
Tencel™
Tencel™ is soft- to-touch and most suitable for the summer months, or warm sleepers. Known for its super-soft feel, Tencel™ is a contemporary fibre that is lightweight, breathable and responsibly sourced and managed.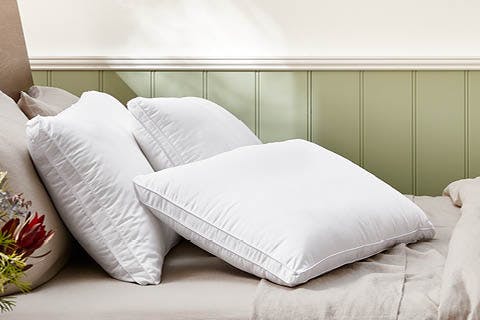 Pillows
First and foremost, choose the right profile pillow for you. Generally, pillows come in three profiles: low, medium and high. The pillow height should allow your head and neck to be appropriately supported while sleeping. The profile you find most comfortable is usually a personal choice, but you may also have a medical reason for choosing a certain profile.
If you need a little help to select the appropriate profile pillow for you, head in-store to be properly fitted by one of our helpful team members. Once you've chosen the right profile pillow, you can then select your fibre.
Microfibre
Microfibre pillows are lightweight and affordable. They provide a mid-range of firmness and are ideal for cooler temperatures.
Memory Foam
Memory foam has long been used as a material for pillows due to its conformance and ability to retain its shape. Offering improved support, memory foam pillows should mould to the shape of your head, neck and shoulders, and are often inexpensive.
Wool
Breathable and lightweight, wool pillows are suitable for most climates. Wool is known to be naturally durable, moisture resistant and is also machine-washable for easy care.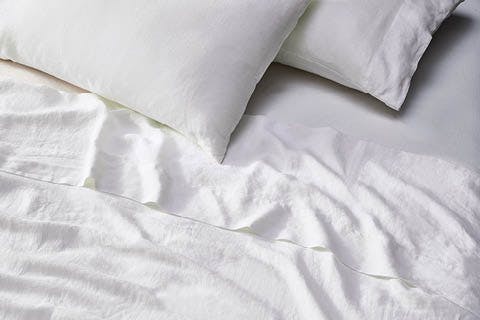 Sheets
Cotton
It's hard to go wrong with cotton sheets, they are a trusted staple in most Australian households. Thread count refers to the number of threads woven into a square inch. A high thread count often does indicate a higher quality in the feel, but not always. The craftsmanship and quality of the yarn also play a big part in the overall softness and comfort of the sheets.
Linen
Luxury at its finest, linen sheets are known for their soft-to-touch feel, breathability, and can provide your bed with a lived-in, comfortable look. Breathable and lightweight, linen is an ideal choice for warmer climates. Unlike cotton, the ideal quality thread count for linen is usually lower and not higher.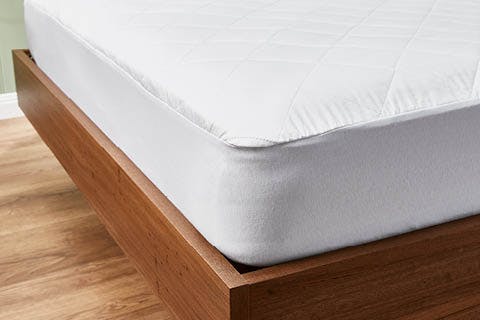 Mattress Protectors
As your mattress can be a significant investment, it's essential to protect it with a mattress protector. When considering your overall sleep health, mattress hygiene is of great importance.
Mattresses left unprotected can be a breeding ground for bacteria. A good-quality mattress protector can keep bacteria, pathogens, pet dander, dust mites, sweat, cosmetics and other environmental pollutants from making their way into your mattress. Choosing a waterproof mattress protector is extremely wise, as it also helps prevent perspiration and accidental spills from damaging your mattress.
The ease of washing a mattress protector in the washing machine, compared to engaging a specialist cleaner to maintain your mattress hygiene, is obvious. Aside from the hygienic benefits of mattress protectors, they can also help prolong the life of your mattress, which in-turn is better for the planet, and your bank balance.
Microfibre
Microfibre mattress protectors are usually inexpensive and provide your mattress with a good degree of protection. Look for microfibre protectors that are waterproof.
Bamboo Cotton
Protecting your mattress with a bamboo cotton mattress protector can offer a soft, breathable sleep surface, whilst providing your mattress with improved protection. Look for bamboo cotton protectors that have a waterproof membrane or backing.
Tencel™
Known for its super-soft feel, Tencel™ is a contemporary fibre that is lightweight, breathable and responsibly sourced and managed. Tencel™ mattress protector can provide a comfortable sleep surface, that can help prolong the life of your mattress and protect it from spills.
Sleepwise®                          
Sleepwise® mattress protector is constructed with a patented fabrication made from plant-based, naturally-derived materials. Sleepwise® can absorb and accumulate excess body heat in its fibres and dispense when the body temperature drops, aiming to thermoregulate the body. Sleepwise® protector is ideal for those that tend to sleep warm.
Will you stick with classic cotton, or try the innovative Suprelle® Blue, which can contribute to lasting environmental impact? Whilst it can require a little research, buying bedding shouldn't overwhelm you. Buy from trusted retailers, like Snooze, and look for Australian-made and responsibly-sourced materials wherever possible. If you need a little extra help with choosing your bedding, stop by any Snooze store to ask our helpful team.