5 ideas to help you design a bedroom your child can flourish in
Where does the time go? The passing of time always seems to surprise many of us, despite the amount we cram into each and every day. While we're busy living our lives, it sometimes becomes difficult to notice each moment. Occasionally you get a reminder, like when it's time to buy your child their first 'big' bed. One minute you're changing nappies and pushing prams, the next you're selling the cot and making room for this significant milestone.
A bedroom first and foremost is a place where we want our little Snoozers to get good sleep and proper rest. Secondly, it should be an inviting and appealing space, and one that allows each individual to flourish.  After all, a bedroom for all of us is often the place we find the most comfort.
"Your child's bedroom and the way it is set up for sleep can have a huge impact on the amount — and quality — of sleep they get," says Steph Gouin, a qualified sleep expert and registered nurse.
When designing your child's first bedroom, it pays to put a little thought into it. Choosing a bed and bedroom design that caters to a child's personality, while also providing longevity is a wise move. Ultimately, you should aim to create a room that fosters relaxation, play and learning, and a room in which there is space to grow; whether that be in a child's physical size, or style preferences. 
When creating your child's bedroom space, here are 5 things to consider: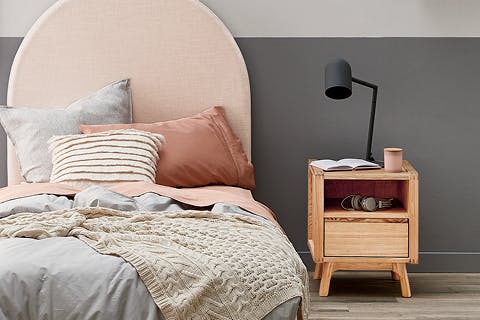 Create calm
Often a great place to start is by choosing a colour theme. You can either go with your child's favourite colours for inspiration, or choose fresh, calming tones.
"Keeping colours fresh, clean, simple and not too overwhelming and chaotic is always a good way to go," says Steph.
 Lighting is equally important. Having a lamp or LED headboard lighting can create a more relaxed state in the bedroom before lights-out. Layering the lighting in your child's room to create a more subdued lighting state can help create a more restful atmosphere.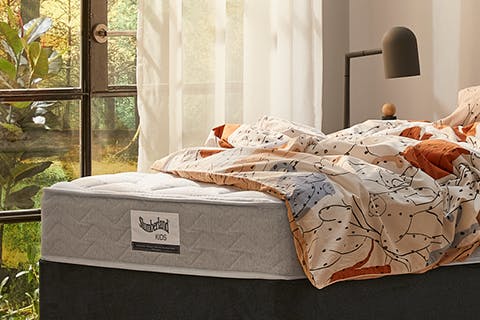 Invest in a good quality mattress
A good mattress can last between 7- 10 years, so investing in the best quality mattress you can afford for your child is essential.
"Kids need a quality mattress to support their growing body and a comfortable one so they enjoy sleeping," Gouin says.
Doing some research to understand the different support and comfort features of each mattress, will help you decide which type of mattress might suit your child best. Using online assistance such as our mattress selector tool, or heading in-store for some one-on-one advice, can help refine your choices and take some of the guesswork away, making you feel more confident when you make your purchase.
Many people choose to go straight from a cot mattress to a king-single size and bypass buying a toddler-size bed. This allows plenty of space for growing bodies, and can even comfortably accommodate your child through to early adulthood. Thinking about longevity when buying for your child's room is economical in a number of ways.
Mattress protectors are also important to protect your mattress investment from moisture, bacteria, allergens and general wear and tear.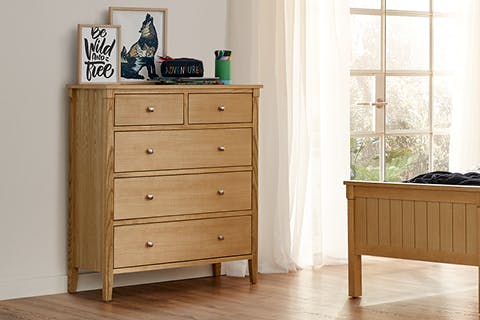 Stock up on storage
Providing your child's bedroom with ample storage is a must to help maintain a calming environment.
Choosing a bed with gas-lift storage, under-bed storage drawers or headboard storage is a great way to conceal an ever-increasing collection of toys, books and games, so after the chaos of the day – you can easily tuck everything away and restore the bedroom to a clear and restful space, free from visual clutter.
Adding a chest of drawers, wardrobe or tallboy can help keep clothing neatly stored away, and allows you to more easily locate items when you need them.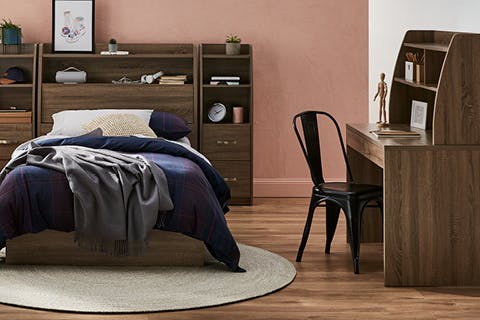 Create designated learning areas
As your child approaches school age, think about providing spaces to encourage learning, or engage in art and craft activities. Creating study nooks in the bedroom can make focused time more appealing, as well as providing a quiet personal space in which to formulate ideas or express creativity.
Add a desk, bookcase or use a loft-style bed with usable space underneath to create an inviting learning hub in the bedroom.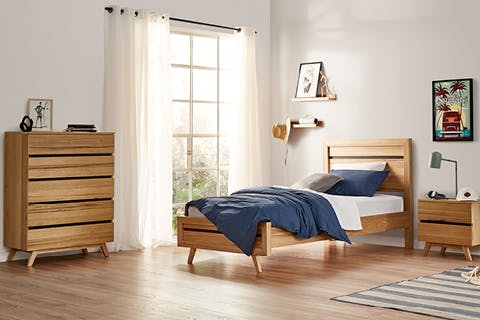 Consider a matching suite
Choosing a matching bedroom suite can take a lot of the hard work out of styling your child's bedroom. Often economical not only on time, but cost, there are many advantages of buying a complete bedroom package.
When you buy a matching bedroom suite, it becomes a lot simpler to establish a flow with your chosen colour palette, and means you can often solve the bed, storage and study options in one easy transaction.
Choosing a classic design ensures that the suite style can evolve along with your child's tastes and preferences. Personalising the bedroom space with the use of throws, cushions, artwork and rugs, can be a more efficient option as your child grows, rather than changing the style of the furniture itself.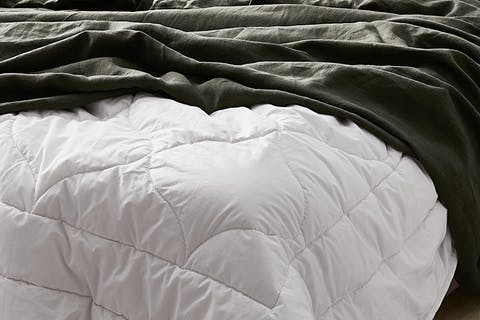 Breathable bedding
Whist bedding is sometimes the last piece of the puzzle when designing a bedroom, it's also one of the most important. Firstly, choose the right pillow by deciding on the firmness and ensuring that the pillow you choose correctly supports the head and neck.
Steph adds: "and choose a pillow made of good quality, breathable materials."
Quilts and sheets should be made with breathable fibres and take the seasonal temperature into consideration. If your child is too hot or cold during the night, the quality of their sleep may be affected.
Designing a bedroom for your little Snoozer can be fun! With many ways to personalise each bedroom, you can create a space that's meaningful, inviting and can last your child for years to come.
References: https://www.realestate.com.au/advice/easy-tips-to-get-kids-to-sleep/