Some of you might be secretly thinking, 'what's Snooze doing on set with Vogue Living?'.
I guess it's not what you've come to expect from us. We're experts right? Passionate about finding the right mattress for you, excited about beds, thrilled by the turn of an offset spring coil. We get it.
But our furniture ranges are becoming a story in themselves, especially the upholstered range of custom made beds, Venus – the inspiration for our Dream Bedroom Series. Read on for how to master the look:
So what did they pick?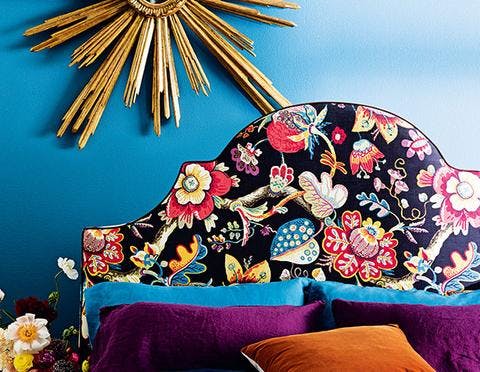 DECADENT FLORALS
The first bedroom in the series took inspiration from our Bold and Beautiful Style Collection. Cue dark, moody bed linen, and a bedroom painted in Dulux 'Deepest Water'. But the hero was the bed itself, the Venus bed frame with Ornate headboard upholstered in the show-stopping 'Alhambra' print in 'Onyx' by Warwick, trimmed in 'Esprit Merlot'. A big WOW from the team.
So what did we learn about Bold and Beautiful?
Don't be afraid to go for a big 'out there' print.
Pick out accent colours, in this case blue and orange, not every colour in the fabric.
Make the headboard the hero and keep the rest of the bed and linen simple.
Don't do the obvious; pretty boxes or packing cases can serve as a bedside table.
EUROPEAN ROMANCE
Say the words 'Shabby Chic' and an image of frilly cushions and layers spring to mind. But this look delivered a romantic style with a simplicity that was contemporary and refined.
Why it works?
The look combines a strong, masculine leaning shape, the Venus bed frame with wing headbord, with the softest pink, Warwick's 'Haven' in Shell, to keep the balance.
When you upholster your bed in a beautiful fabric, have the confidence to let the bed carry the look. Don't clutter it with cushions.
Go for it with contrast piping but if you're nervous, keep it within the same colour family, i.e. here we're working within a close palate of pink to burgundy.
All white accessories help create a restful, clean feel in a bedroom and allows an upholstered bed to really shine.
Introduce reflective surfaces to throw light and shade and add that sense of Romance. We love the floor standing vintage mirror and mirror ball.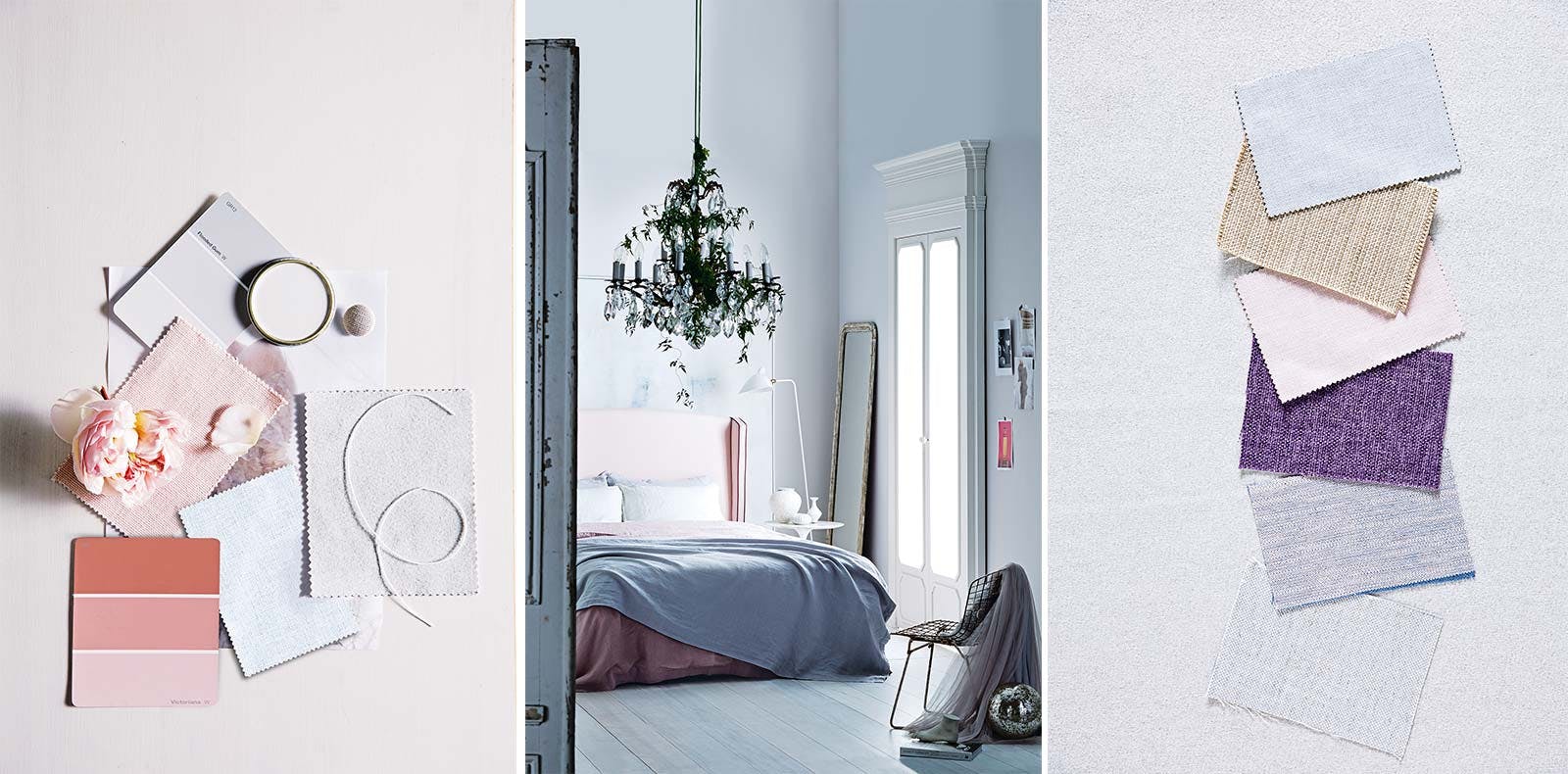 MINIMALIST LOOK. BIG ON TEXTURE.
Without a 'look at me' fabric, we were a little unsure of how The Minimalist bedroom would turn out.
But with its subtle grain, Warwick's 'Diego' in Denim set the scene for texture. Combined with leathers and matt accessories it became an earthy bedroom packed with warmth and sophistication. For many, this became a real favourite.
Which one do you love the most? Don't forget to look out for our competition – coming soon.
The Venus range features in the September/October 2016 issue of Vogue Living. For more style news and features, including details of our upcoming competitions, click here to sign up to our newsletter.