Summer days are drifting away to those Summer nights as famously put by John Travolta and Olivia Newton-John, so it's time to refresh your bedroom retreat. Pull back the curtains and open your windows. Let there be light and a cool, Summer breeze as you enter your relaxing space. Serenity will be at your doorstep when you incorporate our four ways to style your bedroom this Summer.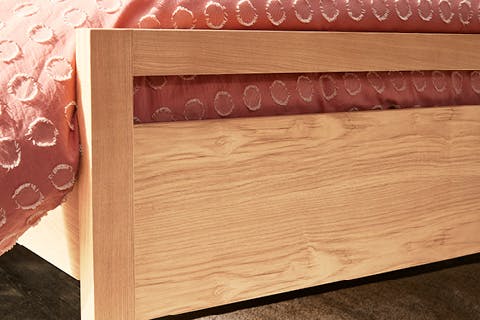 1. Contemporary timber base
There is nothing better than enjoying a good night's sleep and it all starts with a solid foundation to support your mattress. To create a bedroom which promises sun-filled mornings, breezy afternoons and warm evenings, try a contemporary timber base which is reminiscent of a beach boardwalk. Simple and understated, the Stockholm bed frame portrays sleek lines and minimalist contours which convey tranquillity when paired with your fresh bed linen this Summer.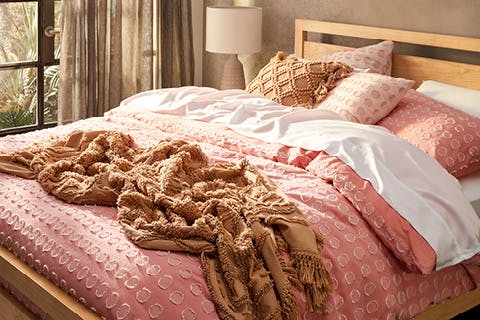 2. Light bedding
Save hours of sleep with light bedding. It's time to ditch the thick wool quilt in favour of a lightweight cotton quilt. Another way to create a warm weather-ready bed is to dress it with light layers. Opt for lightweight sheets and throws, which you can pull up on a chillier night or leave at the end of the bed on a warmer evening. Two things to consider when selecting your sheets is their breathability and ability to draw moisture. Natural fabrics like cotton, linen and bamboo will help you get a good night's sleep when the night's get balmier.
3. Cherry blossom bed linen
Building your bed this Summer isn't just about material and texture; it's also about colour. When it comes to colour don't be afraid to experiment with pops of brighter shades, like pink (it is Summer after all) The Benedita Quilt Cover in Blossom by Linen House features a fresh spot pattern across a blossoming pink background. This contemporary design is sure to create a relaxed vibe in any room with its delicate eyelash textured detail. Complete the look with it's matching European pillowcases and a Circlet cushion in chai.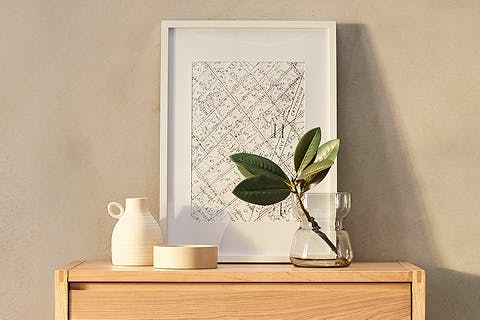 4. Minimalist decor
 The introduction of plants or minimalistic natural elements to your bedroom can instantly transform your space into a Summer haven - whether it be pot plants, fresh monstera leaves, or flowers from the backyard in a vase. These elements add life to the room and connect your bedroom to nature. In this serene bedroom setting, a twig brings fresh air and a burst of vibrancy to this space. If you don't have a green thumb to keep your houseplants alive, adopt an artificial variation or locate trinkets and a photo frame in a neutral shade to tie the look together.
Refreshing your bed frame, swapping out your bedding, introducing a pop of colour and accessorising your space with minimalistic decor can help you to create the tranquil bedroom setting you've always dreamt of. With the right styling, you'll be one step closer to Summer serenity. Oh, those Summer nights!
References: