Ever heard the phrase '12 going on 21' or something to that effect? If there's a 'tween' in your household, you're probably all too familiar with this notion. It's a transitional time for everyone; your 12 year old is not quite a teenager or young adult, but they're definitely NOT a young kid anymore. They certainly waste no time letting you know this. Yes it's an exciting and fascinating time….but it can also be tumultuous and ever changing. In most cases your tween will be keen to discard anything that suggests they're younger than they are. This could include that bunny pink wall colour, or some cherished childhood toys. It's quite possible, therefore, that at some stage a teen bedroom overhaul will be necessary.
If you are embarking on this next stage of children's bedroom styling, i.e. catering to the tween years, the stakes are high! The goal is to ensure there is an element of individuality, whilst also being on trend and most definitely being cool. Snooze Stylist, Mel Brady, teamed up with Chris Carroll of The Life Creative and Metricon's Senior Interior Designer, Jacinta Evans to give you some insider style tips.
1. Work together with your tween
Styling and re-decorating should be a team effort. Their input will contribute greatly to their end result satisfaction. Mel suggests that you make the final decision on the big items: furniture items such as the bed and the desk etc. That way you can choose quality 'something solid and something lasting' and take into account where and how the product is made (things your tween may not be as interested in!)
The My Design bed featured in the Snooze/Metricon collaborative shoot, is a stunning example of style, flexibility and quality. Not only is it customisable (let your 'tween' be involved in the selection of different headboards, base and storage options and choice of 6 different timber stains) but it is also made in Australia. Let them help with decorating. Include them in the search for decorator items and one-of-a-kind pieces. They'll have the best ideas to suit their individual personalities.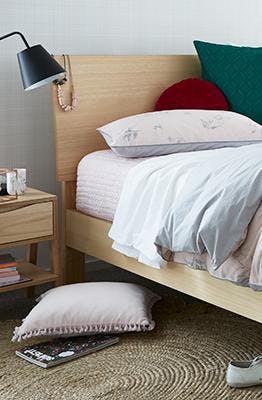 2. Decorating with functionality
Jacinta, Senior Interior Designer from Metricon suggests moving away from a single bed into a double, or even a queen, which will really take them into the later teen years or adulthood. When you consider that a double mattress is the same length as a single, it may be worth considering a queen size mattress/bed for your growing teenager! They may even take the bed with them when they leave home (although perhaps the idea of them one day leaving home is too daunting a thought to contemplate right now!) Make sure you think about a desk too - they'll hopefully be spending some time there in the near future!
3. Opt for sophistication when in doubt
Whether we're talking colour palette, decorator items or graphics, it's usually safer to lean towards a slightly more sophisticated tone. This will undoubtedly match the '12 going on 21' attitude (we suggest avoiding anything that is remotely reminiscent of childhood)! A simple graphic wall paper or feature wall in a muted colour is more versatile - your tween is going through a transitional period so this will avoid them tiring quickly of anything too bold.
4. Layout and open space are important
Ensure there is some open, clutter free space for hanging out - a bedroom should feel like an oasis, a place in which your tween wants to spend some time. Beanbags, big cushions or hanging chairs are all great 'downtime/hang out zone' ideas. In terms of light, we suggest keeping the room fairly bright; handy for when they're studying or reading. Sheer curtains work well to achieve a light and bright space.
5. Balance - between now and later (i.e how to ensure longevity)
Keep in mind tweens change their mind constantly so it's better to go for well curated, interchangeable pieces (that are reasonably priced). Tastes are definitely going to change over time - so stay clear of theming the big items such as the bed, or desk and as mentioned above, opt for more sophisticated pieces when in doubt.
Most importantly, remember this space represents your tween and their sense of self. They will spend a lot of time here, and hopefully, you'll get an invite to come and hang out here too!
Check out the video below as our Snooze and Metricon style teams talk you through the creation of their 'tween' bedroom style.