The summer break is over.
Allow yourself to grieve a couple of days, a week max. And then pull yourself together.
Just because the holidays have come to an end, doesn't mean you need to say adieu to summer. Sure, we're all back to the daily grind...but think about it, summer days are long. That's one of the many reasons we love 'em. And even though the kids are back at school, the work routine has started up again (whether you work in or out of the home), there's still plenty of day light early in the morning and late in the afternoon. Why wouldn't you make the most of it?
Most importantly, there are many ways you can bring a summery vibe to your bedroom and keep that summer feeling going well into Autumn.
Here are our top 5 suggestions on how to bring summer to the bedroom.
1. Bright sunny colours
Brighten up your bedroom by adding some colour! Don't worry, no need to repaint or re-upholster! Stick to accessories and bed linen. Nothing says summer sun like the colour yellow - we love the Anno 'Exclusive to Snooze' quilt cover set by Linen House. Or if you love your coastal colours; such as blues and soft blues, try complementing them with a pop of bright citrus such as an orange cushion or brighter bed frames.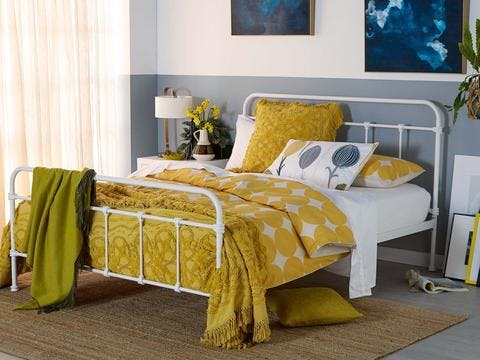 2. Bring the outdoors in
Ah nature. Who doesn't love nature? In fact if it weren't for the cold or the rain, or those pesky mosquitoes, I'm sure many of us would opt to sleep under the stars and be at one with nature. But given the fact that sleeping outdoors is not very realistic for most, why not bring the outdoors in?
Plants are a fantastic way to bring life to an indoors space. Aside from literally cleaning the air we breathe indoors, they also invoke a sense of calm and well being. Green leafy plants, small or large are wonderful for the bedroom because they're soft and dreamy as opposed to structured & jagged. Flowers, herbs, and terrariums are other ways to add some greenery or colour. It's a personal choice but some people prefer small and subtle flowers next to the bed instead of a huge bouquet such as a bunch of violets or lilac - it's less overwhelming.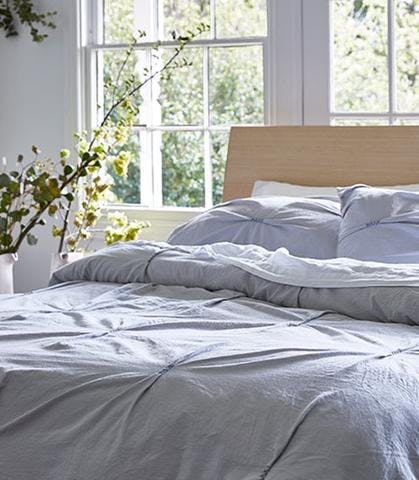 3. Let there be light!
Natural light, or sunlight is such an important part of our daily lives. Why wouldn't you want to benefit from as much light as possible - especially when it can make getting out of bed a much more appealing task. Aside from opening up the blinds and windows, how else can you bring natural light into your bedroom?
Installing higher windows is one way of creating privacy in a space where you still want to benefit from natural light. Skylights are another option. Also, you can add bedroom mirrors - they can double the amount of light in a room by reflecting incoming light. Lastly, colour plays a big role - lighter colours reflect light and brighten up a space whereas darker colours absorb the natural light.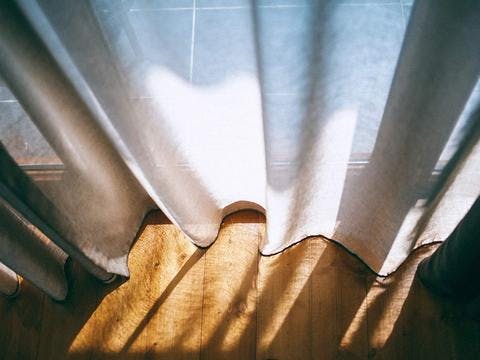 4. Natural materials & textiles
Think about using natural fabrics and materials where possible - flooring, decorating items, or bed frames and upholstery. We love the combination of Tasmanian Oak timber veneer & timber as used in our My Design collection. Or the richly grained Stringy Bark Eucalyptus timber used to create the Iris Standard Bed Frame. Soft wool or linen are other great natural fabric ideas for upholstery.
5. Get up early! 
There's so many reasons to jump out of bed at first light…..Getting up earlier allows you to fit more into your day without feeling rushed, you get the most out of these final days of summer light.
That's it folks…..now let the sun shine in!