The bedroom should be a place you can fall in love with, feel relaxed and comfortable and be surrounded by things you love. But tucked away and generally not on display, this space can sometimes be a little neglected. For some of us, we're well into the maturity of adulthood before we stop and take a moment to consider how to create a 'grown up' room! So we're taking the time to celebrate this space and give it the love that it deserves….because ultimately it's what you deserve: your own dreamy sanctuary.
Chris Carroll of The Life Creative caught up with Snooze Stylist Mel Brady and Metricon's Jacinta Evans to find out how bring beauty and sophistication to this bedroom!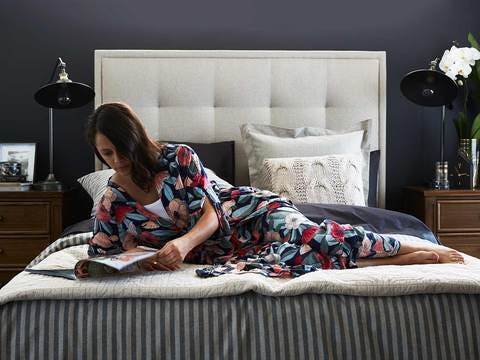 Glamour and Comfort
Given that this space should be all about you, it really is the one place that is less about functionality and more about style and comfort. You shouldn't need to worry about light fabric colours being ruined by kids and their mess. Upholstered headboards such as the one seen here on the Memphis framed QS bed frame speak to this sophisticated style as well as comfort. Prop yourself up with some pillows, grab a cup of tea and enjoy the thought of never leaving your bed. Ha! Well, one can enjoy the idea for a moment anyway!
Create your mood
Paint colour plays a key role in the mood of the room - dark charcoal (as shown in this Metricon home), shadow, rich amethyst, deep inky blues or even earthy tones are very on trend . It's important to remember though that deeper hues, as beautiful as they are for creating a warm and moody room, can have the undesired effect of making a room feel smaller than it is. Perhaps all you need is one dark wall? Or you can use lighting, and well placed mirrors to counterbalance the effect of the darker walls.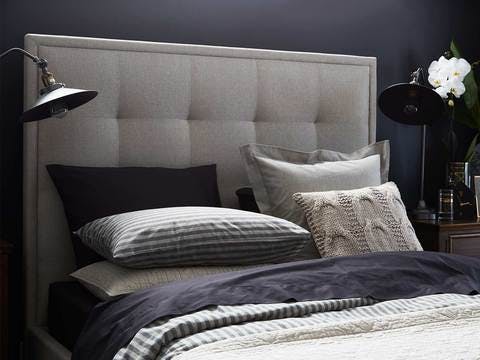 Texture and asymmetry
Another way to add dimension to the room is to ensure there are different textures at play. Layering can bring the whole room together, from the bed to the floor and curtains. The oatmeal upholstery of the bed head works with the striped cotton quilt cover, stitched bed comforter, soft charcoal cotton sheets and knit cushions. White sheers curtains add yet another texture to the room, as does the floor rug.
Remember, there's no need to be matchy matchy - symmetry is not necessary on a bed head! Mix it up; a couple of euros, a couple of standards, and some individual stylised cushions.
Make it your own
We all have very different tastes and needs, and within the bedroom there is so much opportunity to play around with different textures & colours: whether it's through linen and accessories, or the upholstery or timber stain of your bed, there's certainly no lack of choice. Don't settle on a colour just because it's the only one you could find on the shop floor.
Get inspired first and foremost.
To truly create the bedroom of your dreams, ensure that you know what you want! Do the research, get inspired and create a mood board. There's no reason you can't take a little inspiration from here and a little from there and piece it all together to create your own look. Then play around online and instore to see what's available. These days there are so many tools to help you get inspired or create your dream bed from the comfort of your own home. The bedBUILDER® from Snooze is a great example of this.
Most importantly, have fun with it - this room is your happy place. Sweet dreams!