We all know that choosing a bedroom theme which reflects your personality, characteristics and needs can be a daunting task but it doesn't need to be. Allow us to help you decide with advice from two bedroom styling experts from Snooze. Whether you crave a minimalist natural sanctuary or a luxury boudoir, there's plenty of inspiration for everyone. And alas beauty sleep has never looked this good. 
When it comes to finding a decor style which resonates with you, it helps to make a list of everything you like. We highly recommend using a virtual moodboard like Pinterest to help refine your tastes and give you direction when you decide to start shopping.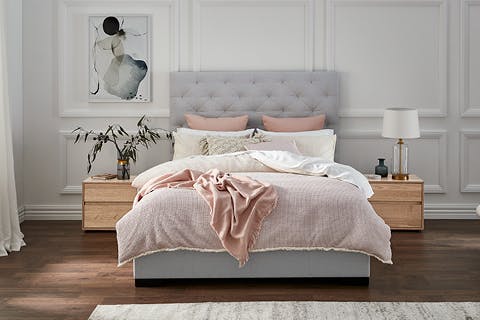 1. Luxury
A luxury theme looks and feels decadent. Think plush, heavy fabrics; excess drapery, bold, royal colours and a touch of metallic shine. Materials that visually scream 'opulence'  lend to this theme well, like velvet, fur and silk. Danielle Frazzetto who is the Content Director at Snooze and is responsible for defining our creative vision says that [you] need to 'Think about upholstered bed frames [as well as] different shapes, like curved and scrolled styles. You'll see a lot of pleating, stitching and button detailing'. She recommends a voluptuous tufted headboard which speaks to the luxury style like the Memphis Diamond Stitched bed frame. It features diamond stitching detail to create a handcrafted look and feel. Stylist for Snooze, Mae Abas says 'This theme tends to work better in spacious bedrooms due to the bedroom furniture and accessories being on the bulky side and [that] you should finish the look with opulent light fixtures and or period finishes'.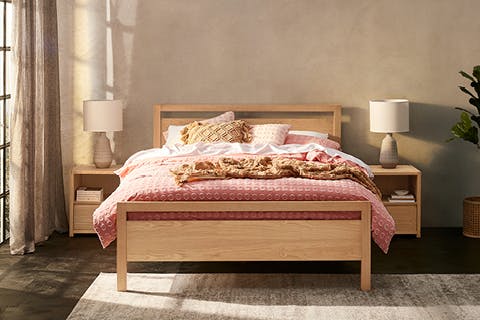 2. Contemporary
Modern, sleek and simple are words to describe the contemporary theme. Think minimalistic, but stylish. 'It's the best solution for people who struggle to identify with a particular theme'. according to Danielle. 'It also works better [than the luxury theme] in smaller spaces' she adds. A neutral style like the Stockholm bed frame will help you create a clean, functional and fuss-free bedroom space. A contemporary bedroom suite is available in a variety of materials but she stresses that a 'Minimalistic, Scandinavian-inspired timber always works well'. When it comes to accompanying bedroom furniture, this look is versatile and suits an array of other bedroom themes. It's a great solution if you're not keen to design a bedroom from scratch. When it comes to accessorising, incorporate monochromatic and neutral shades with a bold quilt, cushion or throw. Interior accents should be subtle to ensure any stylish, bold accents take the centre stage.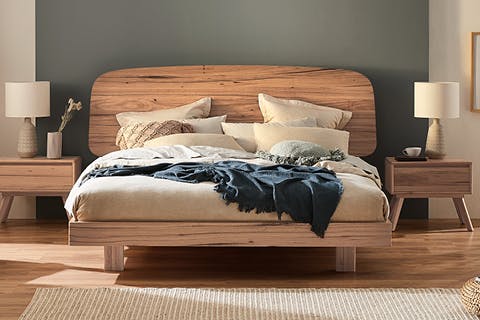 3. Natural
A natural organic theme is very popular right now. Packed with raw materials and textures, this bedroom style can help you bring the outside in. Create simplistic serenity with a soft, distressed timber furniture style like the Lakeside bed frame. Danielle says [this style] 'Is a good choice for people trying to warm up their bedroom space stylistically'. She goes on to say [that] 'This look is defined by warm and earthy tones'. You can complement your bed frame with bedroom furniture featuring clever storage to help create a space which brings you a sense of calm. While colour palettes within this theme tend to lean more towards earthy browns and greens, it can work just as well with other neutral but nature-inspired palettes like sand or stone. Opt for interior accents which incorporate a mix of periods and styles to help your space feel like a layered cosy escape from everyday life. Don't forget to feature a well-placed house plant to accentuate the space.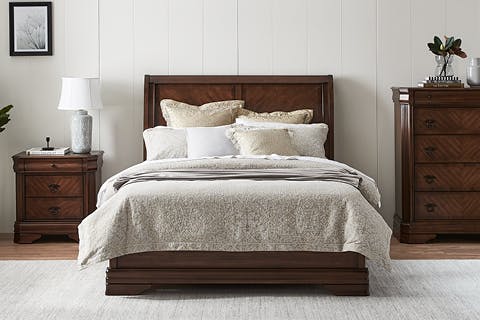 4. Classic
This theme goes beyond trend and seasonality to transcend time, which means it'll never go out of style. The classic style sits somewhere between-or within-country classic and French provincial styles. It is best described as comfortable and simple, with a touch of elegance. 'Think about traditional furniture pieces, usually in subtle or sophisticated tones which sit well in a neutral space to help ensure it never goes out of style.' Danielle explains. The Tiffany bed frame is one such bed frame. It's crafted from hardwood timber with intrinsic detail to help create a timeless space. If you're interested in making loud statements with your style, this theme isn't for you. Accentuate your bed frame and accompanying bedroom furniture with beige, cream or grey linen. Silver and blue Interior accents together with a sophisticated lamp by your bedside is sure to create the warm ambience you desire. 
Choosing a theme may seem challenging but we hope these ideas have given you
the confidence to design a bedroom which speaks to you. Be faithful to your own taste, because nothing you really like is ever out of style. Happy designing Snoozers.
References: