Ever get itchy feet and want to update your bedroom look? Mix up your bedroom furniture or get the latest on trend accessory? Here's our easy ways to update your bedroom for less.
1. LAYER ON THE BED LINEN
Here's something of a Snooze staff tip. Think about 'dressing' your bed in the same way you dress yourself - in layers! Layer one is your quilt cover. Opt for something neutral like white, or this season's silver or pewter shades, and choose the best quality you can afford. These should out-last any seasonal or trend changes. Then get layering. Use European Pillows to inject a shot of seasonal color. Add a throw and some extra cushions to capture the season's trend. But remember the principle is this; invest in what will never date, spend sensibly on trending additions.
(Below) Snooze Luxury Collection 600 TC Supima cotton quilt cover set in white with exclusive to Snooze European pillowcase 'Duke' (on the left) and 'Anaya' (on the right).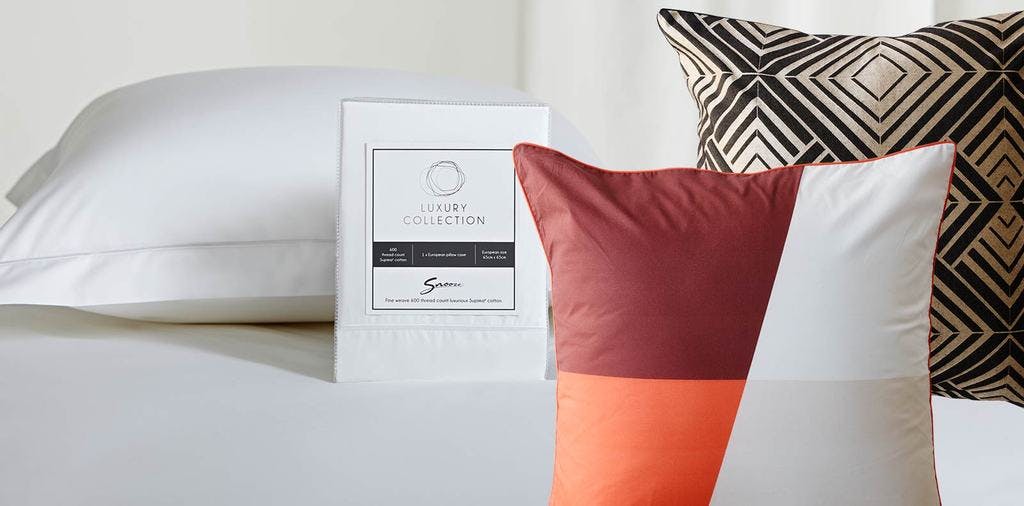 2. GET PAINTING
Painting furniture is an easy way to bring a fresh look to your bedroom. Try painting an old chair in place of a bedside table, or change up a chest of drawers. Looking for tips?
Make sure you sand the furniture down thoroughly so that the paint goes on smooth and remember, wood that hasn't been painted before will need a coat of something called primer, available from all good DIY stores.
Or make things easy and use Chalk Paint. Chalk paint gives furniture a nice vintage patina but doesn't require a coat of primer. Ask at your nearest specialist paint shop.
Take things up a notch, get some masking tape, measure 7cm length from the foot of the chair, wrap a length of tape on the spot, and paint a contrast colour.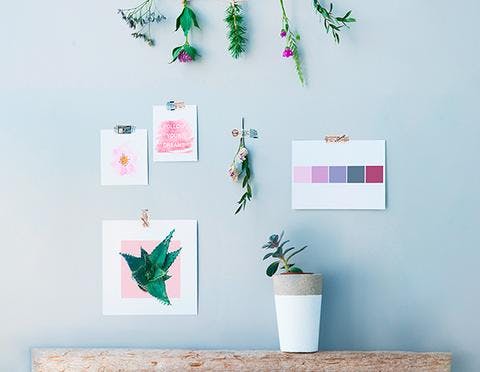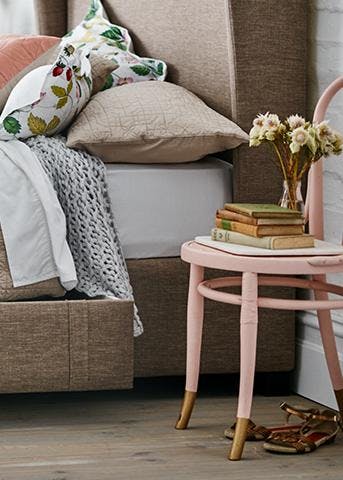 3. BRING THE OUTSIDE IN
One of the quickest ways to freshen-up a bedroom is to introduce a plant or two. Orchids create a romantic feel and succulents are pretty hard to kill. Don't know your Peace Lily from Parlour Palm? Check out our feature, 'Four Steps to Freshen Your Bedroom for Spring' for ideas on which plants are good for bedrooms.
4. GET CREATIVE
Painting a room from top to bottom can be daunting. Try injecting new shades and styles with stencils. They're also perfect for introducing playful colour into kids' bedrooms. Our partner, Dulux Australia has some great ideas for bringing creativity to nursery walls, but we think the idea works in bedrooms for kids of all ages. Check out the article here.
5. MAKE IT A GRAND EVENT
If you are thinking about a kids' bedroom makeover, now's a good time to head into Snooze.