Buying a new bed can be challenging if you don't have a plan. Before you settle on a queen mattress or a king bed, ask yourself the following questions:
Do you prefer a firm mattress or something with a bit more give? 
Are inner-springs your thing, or is your ideal mattress made of foam or latex?
Do you like to spread out, or do you share your sleep space with a partner, family or a furry friend? 
Queen Size Bed Dimensions Vs King Size Bed Dimensions
King Bed: L 203cm x W 183cm
Queen Bed: L 203cm x W 153cm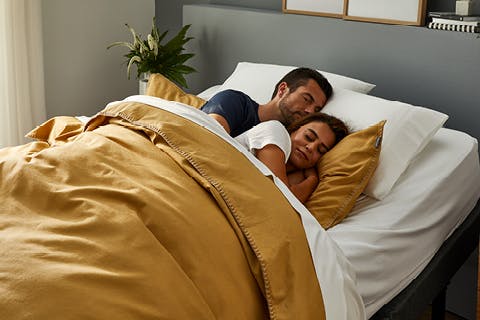 How big is a king mattress?
A king mattress is the same length as a queen but comes by its 'king' title thanks to an extra 30cm on your side of the bed (or 15cm if you split your sleeping situation evenly between two). It's great for families who enjoy morning snuggles with their little Snoozers or those who can't be parted from their pet pals. The king-size bed is a great choice provided you have the room. It is important to consider the size of the bedroom your new bed will occupy and other bedroom furniture surrounding it.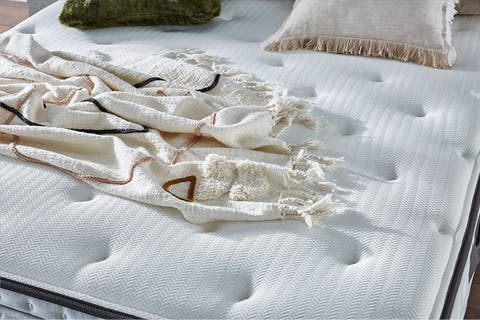 How big is a queen mattress?
A queen mattress offers a more compact sleeping experience at 153cm's in width. This smaller size works well in most bedroom sizes, supporting two sleepers comfortably, provided you're not over a certain height or weight. Queen beds are ideal for buyers with limited space or a minimal budget - bedding and accessories tend to be more affordable too!
Should You Buy a Queen Size Bed?
There are plenty of reasons why the queen bed remains the most popular size option for singles and couples. Cheaper than a king and better suited to smaller rooms, the queen is also easier to manoeuvre - an important factor to consider if you like to move house a lot.
Mattresses come in a range of styles to suit every type of sleeper. Firm mattresses can offer good support for front sleepers; side sleepers tend to prefer softer mattresses that can cushion the body, while back sleepers may benefit from a medium-firm option. When choosing a queen bed frame, consider factors such as the overall height of the mattress and frame together and whether you might literally end up 'climbing' or 'falling' into bed. While matching decor is important, how you use your bed matters more.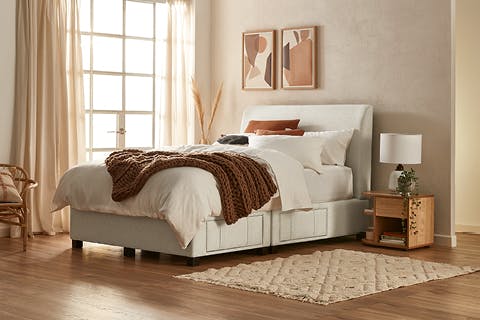 Recommended room size for a queen-size bed
The average Australian bedroom measures 3.2 metres x 3.0 metres, so a queen bed will take up about half the width and two-thirds the length of the room. It is worthwhile measuring this out before choosing your new bed to see how it will work in the space you have, and how much area will be left over for other bedroom furniture. If you're sparing in centimetres, it may be worth investigating a queen storage bed or finding a way to maximise wardrobe space so your tallboy doesn't take up the rest of your bedroom.
Snooze tip: Leave at least 75 centimetres between the bed and the surrounding walls to avoid the room feeling cramped; for a more opulent feel, a buffer of 90 centimetres is even better. 
Should You Buy a King Size Bed?
Are you the occupant of a large bedroom with room to move? The king bed may be the size for you. A favourite amongst families with young children, king mattresses offer all the same benefits as their queen counterparts, with a full range of firmness and material options to suit every sleep style. When choosing a king bed frame, it is especially important to take into account the size of the bedroom and the additional room the frame will take up. If possible, it is helpful to try out a prospective new mattress on the same height of frame or base you will be using, so you can get a sense of how tall the ensemble will be; this will impact the ease and comfort of getting in and out of bed.  
Recommended room size for a king size bed
The average Australian master bedroom is around 4.2 metres x 3.9 metres, making it truly fit for a king (bed, that is). You will have plenty of space for bedside tables and other furniture, such as a bureau or dresser. Just remember to aim for that buffer of 75-90 centimetres between bed and walls. 
While there are plenty of reasons to choose a queen or king bed, ultimately size is going to play a big part in informing your decision. At Snooze, our friendly team can help you take the guesswork out of picking the perfect mattress and bed frame to suit your needs. Visit us in-store today and find your dream bed.