Linen House have called it! It's the summer for relaxing. And who wouldn't want to indulge, relax and stay a little longer when the bedroom looks this good.
To get in the mood for some Summer unwinding, Linen House went coastal for their Spring Summer 2016-17 campaign shoot. They chose a house in the picturesque town of Lorne, Victoria with ocean views and gum trees providing the perfect backdrop to their fresh and contemporary range of bed linen. We caught up with the Linen House team to find out more about their Spring Summer range, their Spring/Summer campaign shoot and the behind the scenes moments that made them laugh.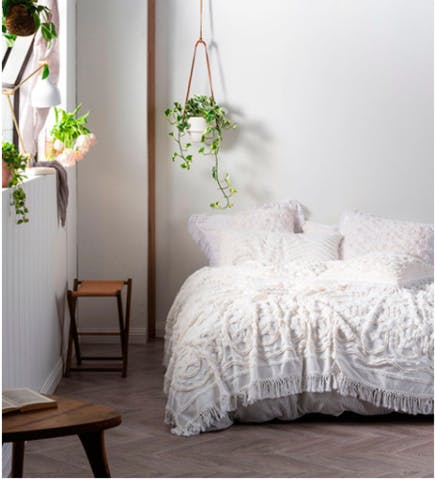 What a beautiful campaign – tell us about where & why you selected this dreamy location and any memorable moments from the shoot?
When discussing our location, we couldn't go past gorgeous Lorne on the Great Ocean Road for our campaign – it's the perfect place to relax and unwind. We shot at Ocean House which was designed by architect Rob Mills – and is synonymous with his harmonious aesthetic with clean lines, raw concrete and polished timber. You have ocean views on one side while towering eucalyptus at the other. The house blends into the landscape with these incredible views and there is something really calming about it. It encompasses the Australiana feel that is central to many of the designs in the Linen House Spring Summer range.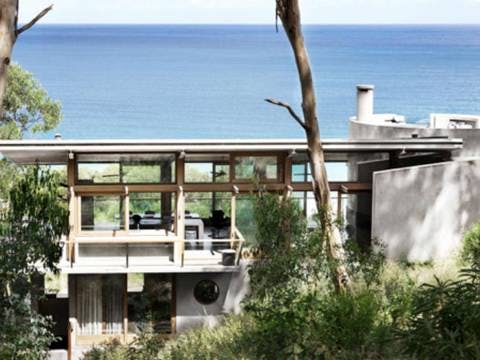 Absolutely love the chenille coverlet/quilt – can you tell us about the inspiration and how best to style this look?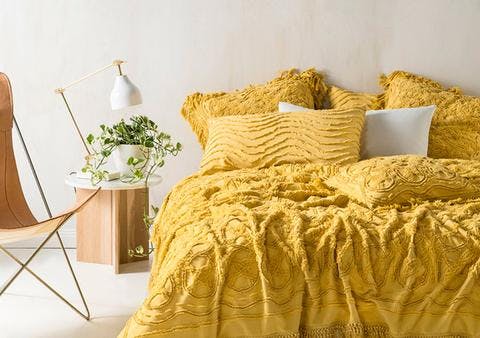 The chenille is our modern take on a nostalgic classic. It's so scrumptious and tactile. I love that you can style it in a really relaxed way, let it speak for itself. The coverlet is amazing in the hotter months when it can be used over your sheets, no quilt necessary for those lovely balmy nights.
Any hints on choosing the right linen for your bedroom this summer?
Your bedroom should be a place of retreat, rest and relaxation. So it's worth having bedlinen that is inviting! If you are hesitant on pattern and drawn to plainer colours – go with it, but maybe consider something with texture? There is so much out there that is lovely and tactile. I love the white on white texture of the Chenille Drift and Somers Coverlet as it is soft and inviting while not being drab or boring.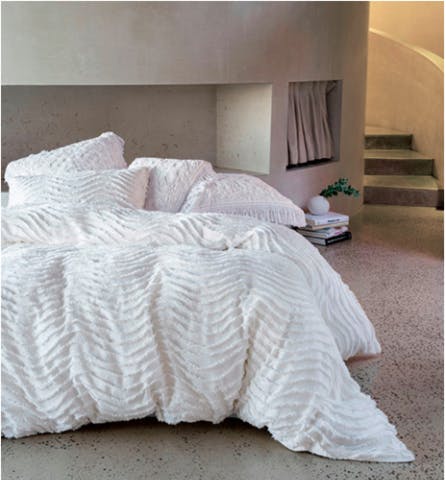 Linens are a favourite of mine as they are really great for summer – they are the epitome of effortless whilst being elegant. They are also great to mix and match with other designs and cushion textures. If you love something bolder, don't be afraid to mix it up with patterns and styles! While that may sound counterintuitive, it looks amazing if there is a bit of mix and match going on. It's also a great way to keep it fresh by just changing a cushion or some Euros in a different colour or pattern.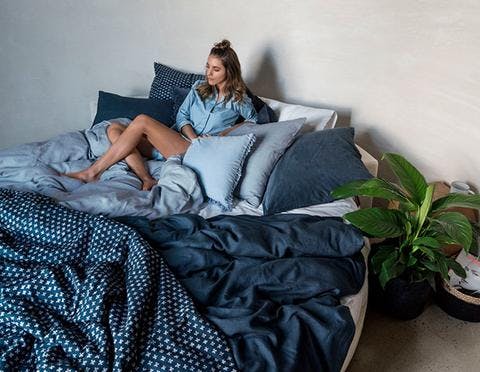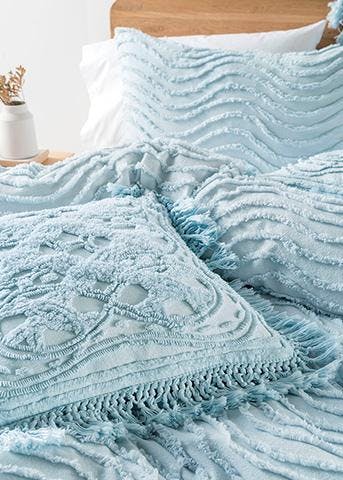 Your personal favourite looks from your new season range or combination of particular collections within the range?
I've mentioned them above, but I would have to say the linen range, Nimes and the chenille Drifts / Somers Chenilles are standouts.
I've been told that summer doesn't start until you start sleeping in linen! They are durable and really are effortless to style – which for me is important. I love the raw organic texture and softness to linen that creates a perfectly lived in look. And anything that comes in an Indigo hue are winners for me.