The good feeling of waking up on sustainable bedding
Wouldn't it be good if we could be climate activists, while we slept? This is the sort of thing pondered by our team when considering how we could make changes to the way we produce our bedding. With the textile industry one of the world's biggest contributors to landfill, we knew we couldn't rest until we were able to reduce waste and minimise the environmental impact associated with making our bedding.
In addition to educating the Snooze community on how to best recycle bedroom furniture, mattresses and bedding, we have actively researched, and incorporated significant improvements to the way we make our bedding ranges. These are:
Incorporating more naturally derived, sustainable and responsibly sourced materials into our range
Increasing the number of products made in Australia
Moving towards plastic-free packaging, ensuring it is sustainably made and recyclable
By making thoughtful choices when buying bedding, you too can help reduce carbon emissions, contribute to a more sustainable way of life, and do your bit to curb a global waste problem. Sound good?
Here are 3 easy ways you can choose to help save the planet, from the comfort of your own bed: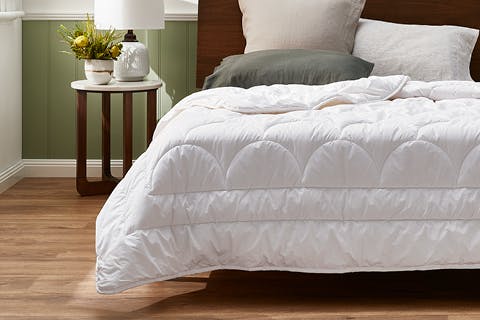 Choose bedding from our Suprelle® Blue Quilt & Pillow Range
The fibre ethical dreams are made of, Suprelle® Blue is far more than just a sustainable fabric made from recycled plastic bottles. Suprelle® Blue is indeed made sustainably from recycled plastic bottles, but the most innovative part of this particular type of recycled material, is that the plastic bottles used to create the fibre, are exclusively collected by Plastic Bank®. 
Plastic Bank® is an inspiring organisation that has created a circular recycling economy. Plastic Bank® works with underprivileged coastal communities worldwide, who receive premium payment that can be used for essentials such as food, housing, healthcare and education in return for collected plastic waste.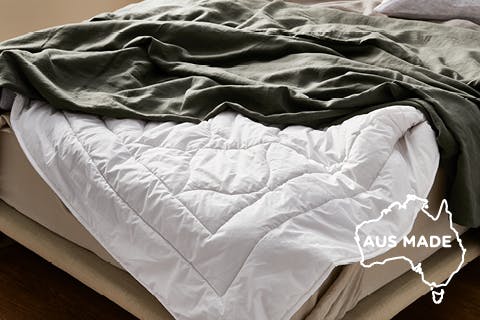 Choose Made in Australia
Supporting local farmers feels good. From farmgate to factory floor, we've increased the amount of our bedding that is made in Australia, sourcing natural fibres directly from Australian farmers. Our range of Australian-made pillows, quilts and mattress protectors are expertly stitched in Australia, with the end result being premium quality, durable bedding, where sustainable production practices have been used.
We have sourced wool, cotton and alpaca fibres from local farmers, and are proud to make these quality fibres available to you in-store through our range of Australian-made bedding. Australia is at the forefront of moving towards more sustainable farming practices, with the reliance on pesticides declining. Choosing Australian-made bedding supports local business and ensures you are investing in high-quality bedding that is long-lasting.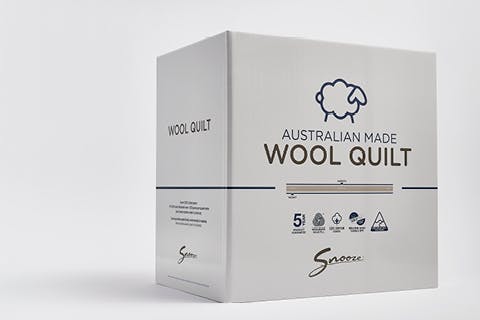 Choose recyclable packaging
Simplicity is at the core of our improved, sustainable packaging. Ensuring packaging can either be recycled or thoughtfully reused in the home, is an important part of making holistic, sustainable choices.
The packaging for our quilts, mattress protectors, toppers and memory foam pillows are packaged with FSC (Forestry Stewardship Council) cardboard, ensuring the cardboard is obtained from sustainable sources and is traceable for authenticity. Look for recycled packaging when purchasing your bedding products.
Making sustainable choices is a team effort. We are committed to embracing innovation and moving further into sustainable products and practices so you can rest easy knowing your comfort didn't cost the planet. We can all snooze a little deeper when we know we've made our bed right.