Decorating a bedside table can make a huge difference to the overall look of your bedroom space. When it comes to bedside table styling, there's no right or wrong answer. It's about finding things you enjoy and working them in with your decor. If you're looking for some inspiration, we've compiled some easy tips to consider when styling your bedside tables.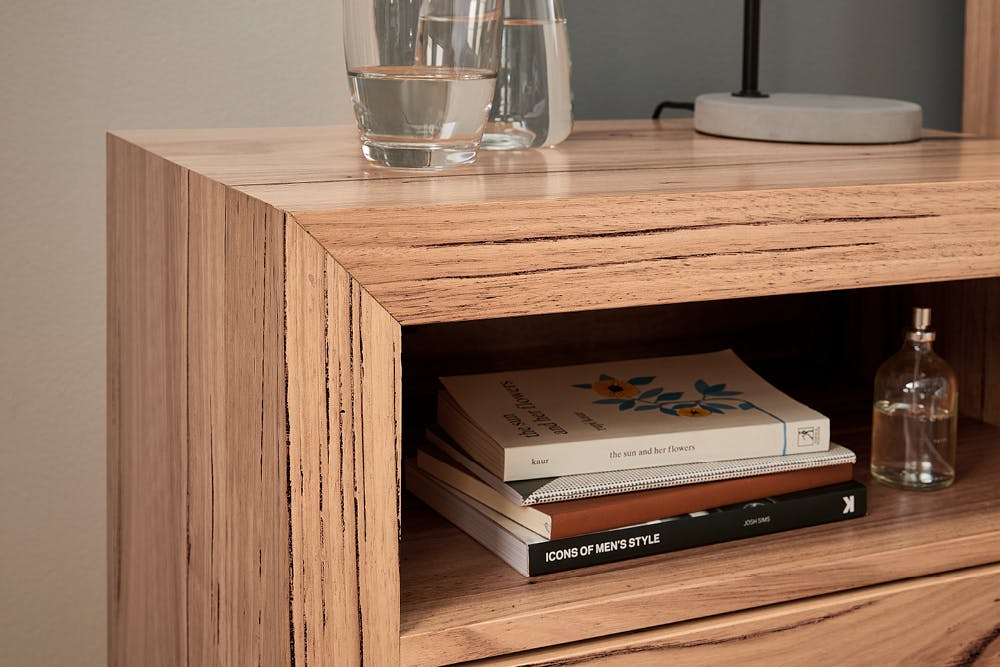 Tips for styling bedside tables
When looking for bedside table decor ideas, experiment with your personal style, or stay true to your current bedroom aesthetic. 
Do you like simplicity? In this case, you might not want much on your bedside table, with a more pared-down minimalist look to tie everything together. This may look like a simple lamp, a book and a candle—or less if you prefer!
On the opposite end of the styling spectrum, the Boho look is about blending patterns and textures to create a more flowing style. Have fun layering textures and vases or ornaments that are meaningful to you.
How to style a bedside table
When it comes to design, there's some basic principles that are helpful to keep in mind when you're looking to decorate a bedside table.
The "rule of three"
A good place to start is the 'rule of three', which indicates that three pieces is the ideal number of items to create a memorable and cohesive space. This is because odd numbered groupings look more natural, and are visually interesting. 
This design trick works perfectly when styling bedside tables, but isn't just limited to the number of objects you place on them. You can use the rule of three with patterns, colours, and heights, to create visual interest and a unique look.
Symmetry or asymmetry, that is the question
Matching bedsides is always a classic look, however bedside tables don't always have to be identical. Instead, you can have two very different bedside tables—perhaps one in timber and the other in white—yet connect them using matching lamps and styling to create a sense of symmetry. It comes down to what you enjoy and how you want your space to look.
What to put on bedside tables
Your bedside decor can bring out the beauty of your bedroom, as it's the perfect place to add elements that speak to your personal style. They can provide a glimpse into who you are and what you enjoy.
Lamps
The easiest place to start is the lamp. Generally, this will be the biggest item on your bedside and will somewhat dictate what else you can do with the space. Remember, they don't always have to be placed in the centre of your bedside table—for smaller lamps, offset the height difference by placing it towards a back corner of your bedside. The colour of your lamp may tie into a specific palette, or you may want it to be the focal point.
Candles and Vases
Candles will create soft lighting that is romantic and inviting. Candles come in a range of colours, heights and scents, which makes finding the right one a little easier.
Trinket Trays and Books
If you like to have coffee in bed, or put on moisturiser at night, consider a mirrored tray. This is not only a stylish choice but a practical one that will protect the top of your bedside table.
Books will not only nourish the soul and encourage restful bedtime habits, but add height and interest to a bedside table. Placing a candle or small vase on top of a stack of books will bring the look together. If you're not a reader, swap the books out for a journal, which is a great way to pen your thoughts and reduce your screen time, helping you get in a calm mindset before bed.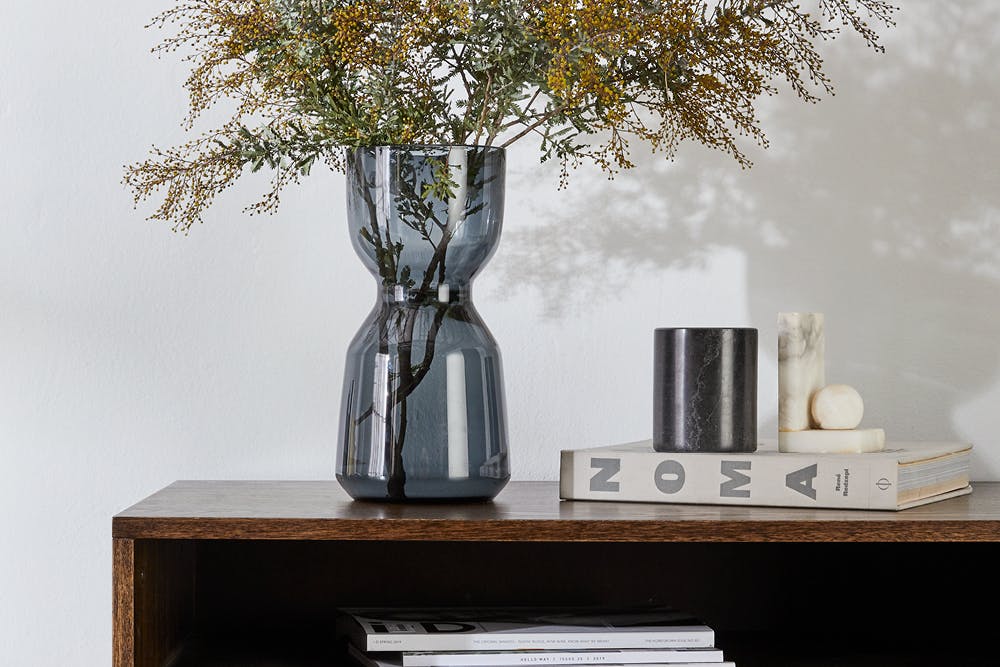 How do you decorate a nightstand without a lamp?
If you like more space on your bedside table, you might choose a sconce or a pendant lamp instead of a table lamp. That's great as it frees up the nightstand for other items.
Try swapping the lamp out for a tall vase of flowers, or a photograph of your loved ones. Having a tall item like this not only helps create height, but ensures that there's still a statement piece to draw the eye.