If 2021 has shown us anything, it's that a little wellness (and sleep) goes a long way. There's no shortage of wellness gifts out there to speak to the friend or family member who loves (or needs to) invest in self-care. To make your Christmas shopping a little easier, we've assembled five of the best wellness gifts, including everything from washed linen to a pink noise machine. With your assistance, your loved ones will make 2022 their most relaxing and fulfilling year yet.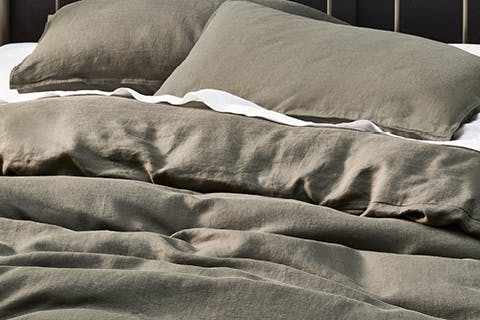 1. A new washed linen quilt cover
Give the gift of a washed linen quilt cover this Christmas. Our new washed linen range has been woven into an exquisitely soft, lightweight fabric in shades inspired by the Mediterranean coastline. Each quilt cover offers improved breathability and absorbency to help your loved ones remain comfortable and at ease (even during those humid Summer nights). As an added bonus it's been prewashed and will continue to soften wash after wash to help create a relaxed bedroom setting that encourages a better night's sleep. Choose from crisp white, natural, burnt rust, khaki green and pinstripe.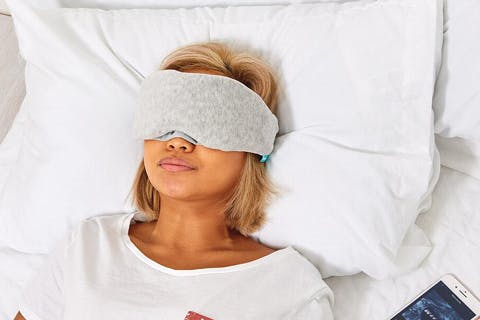 2. A high-tech Bluetooth sleep mask
Drifting off has never been easier for your loved one. A BlueTooth sleep mask comes with an in-built speaker which is designed to wirelessly connect to their phone, tablet or any other Bluetooth-enabled device. We suggest the Topoint Bluetooth Wireless Sleep Eye Mask as it's been designed with thicker material and adjustable velcro straps to ensure it's comfortable and stays in place, especially if they're a side sleeper. It has a long battery life so that your gift-receiver can drift off to a peaceful playlist, meditation or podcast of their liking, night after night without hesitation.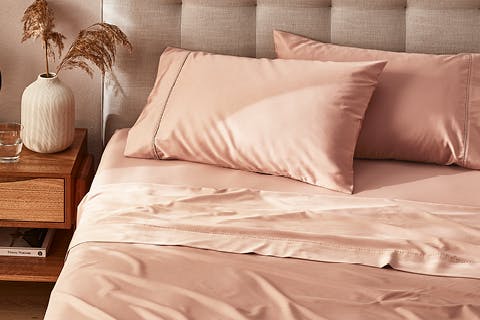 3. A decadent bamboo sheet set
Nothing says decadence like the silk-like threads of bamboo sheets. Our new bamboo sheet set is designed to be luxuriously soft for any contemporary style bedroom with a natural twist. Your loved ones will relish the feeling of climbing into a comfortable bed night after night, whether it's to watch Netflix, chat to their partner or wind down for sleep. It has been woven into a naturally breathable fibre and comes available in four modern shades: crisp white, sterling silver, clay and indigo blue. Perfect for all year round, this is a gift sure to impress...I mean who can say no to fresh, new sheets?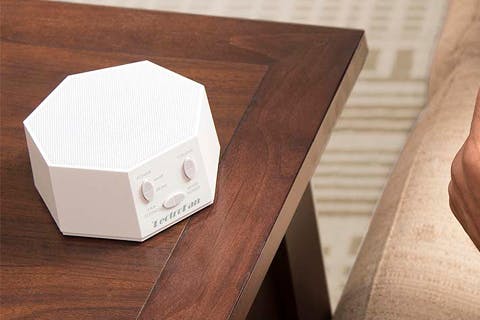 4. A pink noise machine 
A pink noise machine is great for someone who loves to relax but lives on a noisy block or struggles to wind down. Much like white noise, pink noise helps to drown out external sounds to help provide your loved ones with a more comfortable, restful bedroom environment. Pink noise encompasses all the sound frequencies that are audible to the human ear. Due to being more even in tone in comparison to white noise, it helps to soothe and can provide benefits for those who are easily distracted.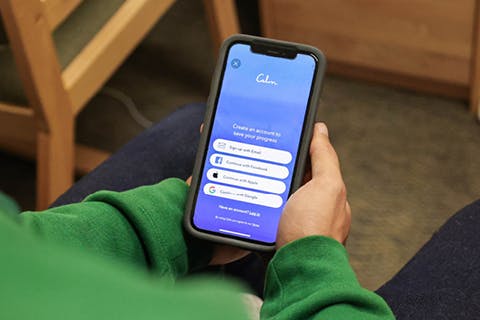 5. A sleep app that works 
In a world full of digital content, a sleep app like Calm, Headspace, iMindfulness, Aura or Breethe will help your loved ones switch off. These sleep apps can be useful tools if they are struggling to put good sleep habits into practice, whether they need to overhaul their sleep hygiene completely or just keep a closer eye on it. Calm is our top pick because it features helpful tips for a more enriching sleep, instructions for dream journaling and guided bedtime meditations. It also comes with a collection of celebrity-read bedtime stories - let's be honest who doesn't want to drift off to the sound of Matthew McConaughey's voice each night? 
From Bluetooth sleep masks and apps to quality bamboo sheets, we have your wellness gifting needs for Christmas covered. With these innovative ideas, you are sure to help give your loved ones the gift of self-care through relaxation and sleep. It's all too often something forgotten about but is sure to make a difference to their everyday life.