Do you want to turn your guest room into a welcoming retreat for visitors to unwind in? Whether you have a lot of space or just a little, there are plenty of ways to style a guest bedroom so your friends and family feel right at home. From selecting the right bedding to adding personal touches, here are some guest room ideas to help you create a relaxing retreat when they come to stay.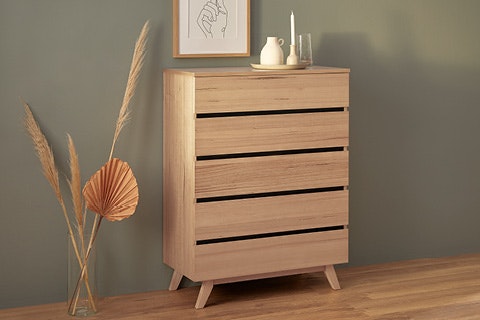 What should be in a guest bedroom?
When it comes to creating a guest bedroom, it's all about a comfortable, inviting space for your visitors - just like your own bedroom. You can make your guest room special by adding functional and beautiful guest bedroom furniture like a dresser or tallboy, helpful amenities, and various pillows and blankets. 
There's no one-size-fits-all rule for guest room furniture. It's all about what you love, what works for your home and what your guests will appreciate.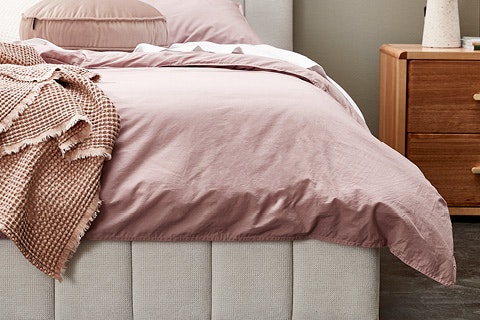 Colours can soothe the soul, add a touch of luxury or brighten a darker space
Calm and soothing colours are always a safe way to create a restful space for your guests. Whether you use a colour to match your guest bedroom decor or choose something unique, there are plenty of colours and themes. 
That doesn't mean you can't match your guest bedroom decor to the rest of your home. If you love bright and bold colours, consider choosing a neutral palette and then adding pops of colour with accessories such as throws, pillows, blankets, or artwork to tie in with other rooms. Deep, dark colours can make a room feel moody and luxurious, while lighter tones can make a smaller space feel more expansive and bright.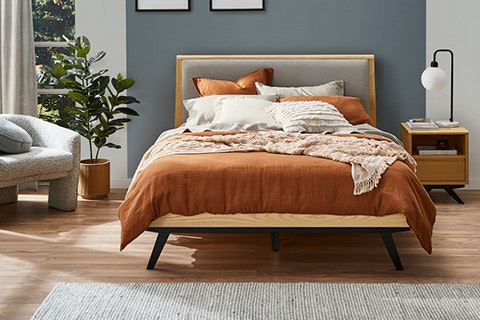 Choosing guest furniture: there's no right or wrong option
Choosing furniture for your guest bedroom can help maximise the space you have. If you have a dedicated guest bedroom that you like keeping set up for unexpected guests, look for a complete bedroom suite with a matching frame, bedside tables and storage. Opt for flexible furniture solutions like a sofa bed if you have a dual-use room.That way, you can easily fold up the bedding and use the space as an office, craft room or whatever else you need!
Light woods can make your guest space feel larger and brighter, while darker tones can make a room feel cosy and timeless. Consider an upholstered bed head for a softer feel or a metal bed frame with delicate or ornate detailing when choosing a bed.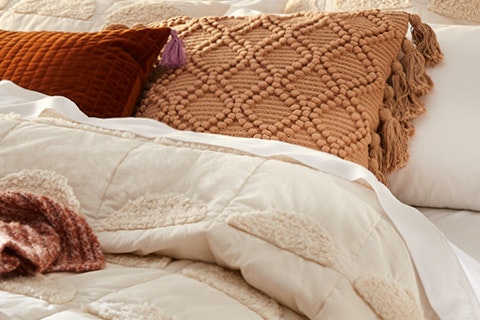 How to style the ultimate guest bed
Now the big furniture decisions are handled, you should focus on the smaller details. 
An easy way to make your guest's stay feel like a hotel getaway is by styling their bed with quality linen, luxurious blankets, cosy throws and fluffy pillows and cushions. Invest in a good set of quality linen sheets. Linen is a lightweight, soft, breathable fabric that helps keep your guests more comfortable all year round. Play with different textures and colours to make it feel cosy and inviting. It's the little touches that make a big difference.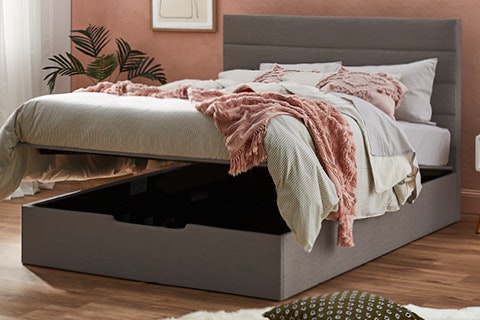 What do guests notice immediately? Storage!
Have you ever stayed somewhere - a family member's house or hotel - and realised you have nowhere to put your suitcase or hang your clothes? A key consideration for your guest room design is choosing functional furniture that looks great while providing ample storage. There are plenty of furniture solutions that have you covered with extra storage. A bed with under-bed storage is the perfect place for guests to keep their suitcases, or shoes to help keep the room clean and clear of clutter during their stay.
No matter the space, try to offer your guests drawers and hanging space to put away clothing and a stand for their suitcase or duffel bag. A freestanding clothing rack can be a great solution if the room has no wardrobe and you're tight on space.  Remember, even bedside tables can provide enough room for folded clothing. 
Small touches, big impact
When finishing up the room, go the extra mile for your guests with small touches that show you care. Some of our favourites are: 
Fresh flowers 
A basket of essentials like tissues, magazines, water, fruit, and local treats for a late-night snack.
A kettle and tea and coffee supplies
A variety of luxurious toiletries
Bedside lighting that's easy to operate 
Spare phone chargers and the wifi code
A comfortable chair or seating area
Creating a warm and inviting atmosphere through colours and furnishings can play a big role in making guests feel welcomed and valued. Snooze offers a wide range of furniture options to help you turn any space into a comfortable home-away-from-home for your visitors. Take a look at our bed options and start designing your ideal guest bedroom today.