You order a mattress online. It arrives at your door in a (relatively) small box. You start to wonder whether your delivery driver has picked up the wrong consignment. If you haven't encountered the 'bed-in-a-box' concept before, you could be forgiven for your basic-math-disbelief, but it may well be that there is, indeed, a full-size mattress inside that box.
Revolutionising the online mattress shopping experience, the 'bed-in-a-box' design makes getting quality mattresses to your door, inside your house, and up flights of stairs much easier. In an age where convenience is King, this style of mattress is rapidly gaining popularity. Not only can you have a formerly bulky product shipped directly to your door, but buying a bed-in-a-box doesn't mean you have to compromise on quality. 
So, exactly how does a large mattress fit into a small box? It's a reasonable question to have. We've compiled some handy information below to help you understand this modern mattress phenomenon.
What is a bed-in-a-box?
A bed-in-a-box is a mattress, normally comprised of either:
A memory-foam material, a latex material or a viscoelastic material (or a combination of these) 
A hybrid of memory foam/latex/viscoelastic material combined with a modified coil support system.
After manufacturing, the mattress is compressed using heavy machinery. It is rolled, then vacuum-sealed and put inside a box ready for transport.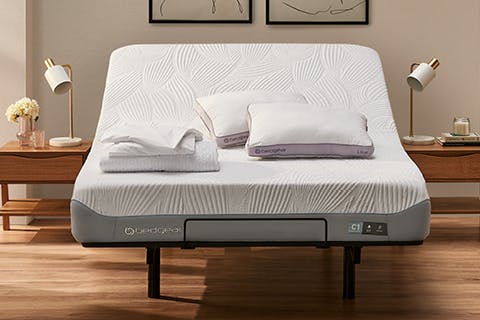 What are the benefits of a bed in a box?
Convenience, convenience, convenience. From end to end, transporting mattresses that have been compressed inside smaller boxes provides efficiency and minimises the resources required to move them around. With a reduced size, mattresses become much easier to manoeuvre, and shipping costs and times are reduced. They are also easier to store. The list of benefits of the bed-in-a-box seems endless.
The reduction of transport and storage overheads means you can often take advantage of buying a higher quality mattress for a lower price. You can usually have these mattresses shipped to your address for free or a reduced shipping fee, as the seller doesn't need to employ specialists to deliver them to you.
Are bed-in-a-box mattresses good quality?
Buying a bed-in-a-box doesn't mean you have to compromise on quality. However, as with regular mattresses, not all mattresses are created equal.
Just ask the team at Bedgear. Living out their mission to create 'performance bedding', Bedgear's story of innovation starts as many do, out of necessity. When Bedgear's CEO, Eugene, needed specialised hypoallergenic bedding for his son, the only bedding available was hot, stuffy and not breathable. So, Eugene thought outside the box. In cutting up old lacrosse shorts and sewing them back together to create breathable bed sheets for his son to sleep on, Bedgear's 'performance bedding' was born.
Bedgear's C1 mattress is a premium bed-in-a-box offering with the same spirit of innovation. Blending sophisticated moisture-wicking fabric and specialised air-flow panels, with high-grade layers of React® conforming foam technology, the C1 mattress takes the heat out of the problem of traditional memory foam mattresses.
The reason this is so exciting is that Bedgear's bed-in-a-box offering transcends plain convenience and raises the bar in this category. Incorporating a range of premium features, including the benefit of its open cell construction that allows for airflow and helps prevent heat build-up, the C1 bed-in-a-box mattress helps respond to the pressure and movement of your body by sculpting itself to your body shape. It is also available in three feels: plush, medium and firm.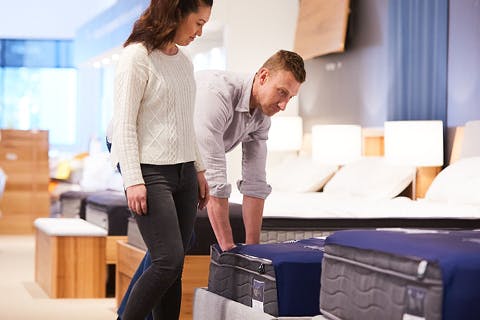 Can I still try a mattress out in-store before I purchase?
Yes, you can. If you know your sleep preferences and whether you prefer a plush, medium or firm feel, you may be ready to purchase online. If you like the bed-in-a-box concept but would still like to feel it for yourself, you can head in-store to give you confidence when purchasing. It's always a good idea to call the store before you visit to make sure they have the model you're interested in.
Whether you'd rather skip the car park and do everything online, or you prefer to test drive your mattress and then take advantage of the physical convenience of having it delivered directly to you, then the bed-in-a-box is worth considering. For more help deciding which mattress might be right for you, head in-store or use our online mattress selector tool to help give you added comfort when purchasing.
References