We've all heard that mums fantasise about getting more sleep because let's face it, when was the last time they slept uninterrupted for the full 8 hours? While we should honour her daily - pay homage to yours this Mother's Day with a thoughtful gift that is sure to help her relax and recharge. We've rounded up some gift ideas that can assist her with getting that highly-sought-after beauty sleep...after all that, she's done, doesn't she deserve it?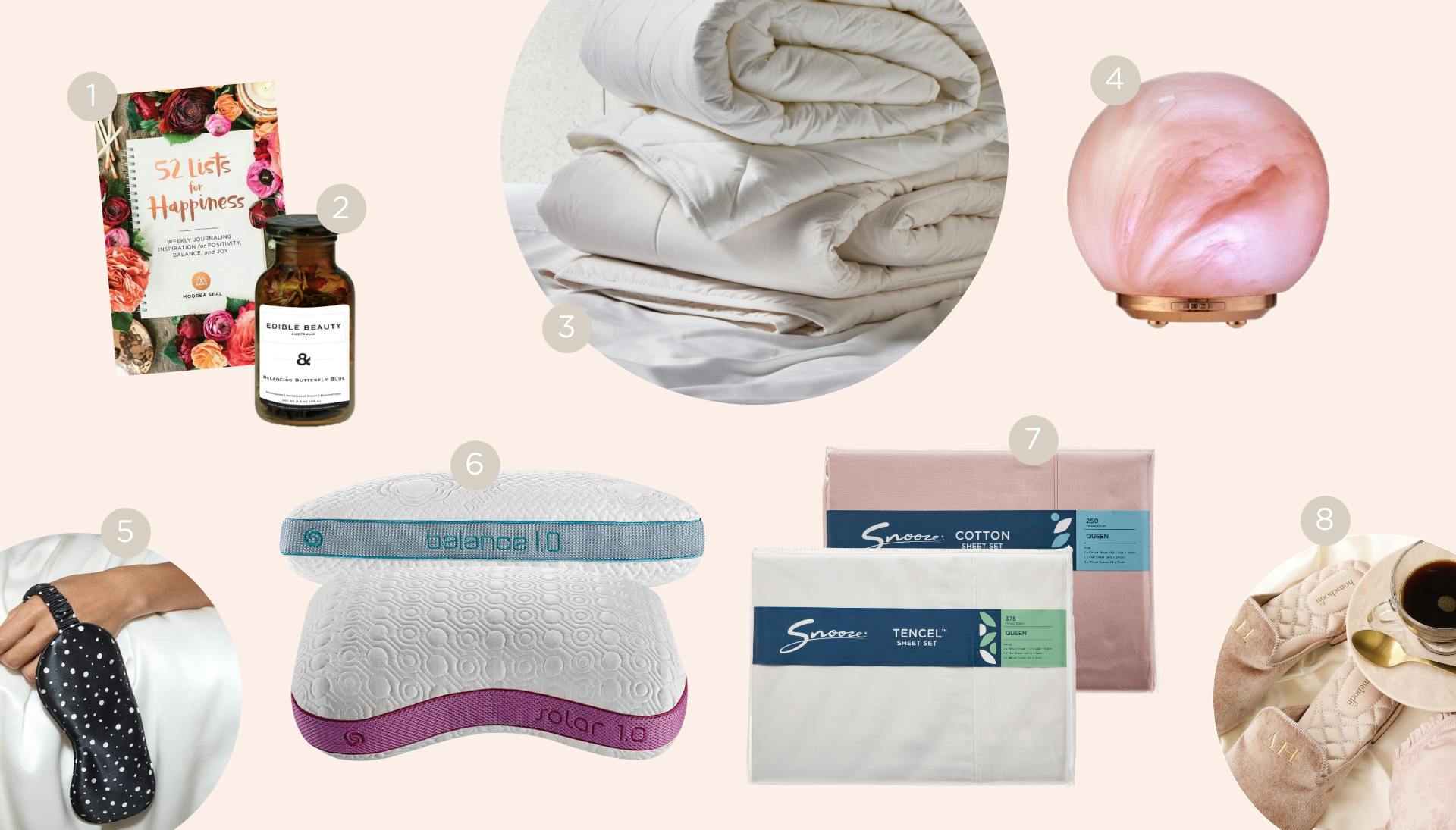 1. A sleep journal
Many mums suffer from a lack of sleep or inability to drift off because they spend their time in bed worrying. By getting them to write their worries down into a sleep journal, you're helping them address the problem at hand. Another method is to get them to focus on good things that happened in their day that they're grateful for. 52 Lists for Happiness is great because it will help mum reflect, acknowledge and invest in herself, and ultimately transform her life by figuring out exactly what makes her heart sing.
2. Sleeping beauty tea
Calm and soothe mum's worries before bedtime with a sleepy tea. Ensure the herbal brew is free from caffeine and made with pure, botanical ingredients to help her unwind ready for sleep. Our pick is the Sleeping Beauty Tea from Edible Beauty. It features passionflower, chamomile and skullcap which have been recognised for offering beneficial properties when it comes to encouraging a better night's sleep. Chamomile is relaxing and calming, and skullcap may help to promote relaxation and emotional well-being, and even reduce nervous tension and exhaustion.
3. Personalised pyjamas
If your mum is having trouble drifting to the land of the nod each night, it may be due to her not wearing suitable pyjamas. Ensuring she has jammies made from soft, breathable quality materials will ensure she's comfortable between the sheets and can help her drift off to sleep quicker. For the mum who appreciates a little aesthetic luxury, opt for personalised pyjamas with her name or initials. They are available in various fabrics from silk to cotton and linen. Finish the gift off with a pair of slippers that will keep mum's toes cosy.
4. Silk sleep mask
Help her beauty sleep remain uninterrupted with a silk sleep mask. 'Light, especially at night, can disrupt our internal biological clock that helps to regulate our sleep-wake pattern' according to Dr. Wendy Troxel, Senior Behavioral Scientist from RAND Corporation. When choosing a sleep mask for mum, you want to find one that is comfortable enough that it doesn't prevent her from that much-needed slumber. Other important factors to consider are shape, size and weight. There are also sleep masks available that sit heavier on the eyes to assist with stress relief.
5. A tailored pillow
A quality pillow can go a long way towards getting mum a better night's sleep. Rather than making a blind purchase, encourage her to come in-store to be fitted to meet her standard of comfort with a tailored pillow. The BEDGEAR balance pillow (exclusive to Snooze) features a foam fill to mould to her head and neck while she sleeps. They also come available in four heights - from the lowest profile 0.0 to our tallest at 3.0. Pair this gift with a deep sleep pillow spray. Many feature light notes of chamomile and lavender which are sure to calm the mind and get her body relaxed and prepared for sleep.
6. Quality linen
A new set of sheets may not be the first thing most think of when it comes to gift-giving, but they make an impressive present. Truth is, sheets do matter. After all, she does spend a third of her life in bed. With brand new sheets, mum will look forward to climbing into her comfortable bed night after night and, for years to come. Give the gift of a Cotton, Bamboo Cotton or Tencel™ sheet set. And with varying thread counts available to suit her sleeping preferences, how could she say no to fresh, new sheets?
7. A new quilt
Give the gift of cosy, sleep-inducing comfort with a brand new quilt. When it comes to the quilt, try and suss out if your mum is a warm or cool sleeper as this will impact the type of quilt you give her. Warm sleepers often need a lighter fabric quilt making Cotton or Tencel™ an ideal choice. Cool sleepers crave extra warmth and will require a quilt with insulation, like Wool. As we are now coming into Winter, we recommend gifting her a Wool quilt which will offer her maximum warmth during those cooler nights.
8. A diffuser
The bedroom is her very own sleep sanctuary. A diffuser can be the perfect addition to this space and used for diffusing essential oils like lavender, cedarwood and ylang-ylang to help her relax and unwind ready for sleep. Just know that some essential oils can be dangerous to fur-babies so keep this in mind if she likes to sleep in the same room as a pet. When choosing a diffuser as a gift, look for one which exudes a gentle multicoloured light to help ease her into sleep like the Polly Pink Resin MoodMist® Diffuser.
From diffusers to personalised pyjamas and quality linen, we have your gifting needs for Mother's Day covered. With these thoughtful ideas, you can give one of the best presents ever to mum - the gift of sleep. It's something she often won't buy for herself but may end up having a big impact on her day-to-day life. After all, It's not about every waking hour but every sleeping hour and she deserves it.
Until next time Snoozers
References: