As the seasons change, you might be tempted to hit the shops and embrace a whole new look. While that's always fun, it's certainly not necessary every year, and investing in quality bed linen and furniture with an eye on what's trending, but an understanding of what's classic and has longevity, will stand you in good stead. Sound complicated? It's not. Here's how.
Trending now: Shades to watch
The shades that continue to make my heart sing, and indeed are popular globally right now, are those inspired by the natural environment. For us in Australia, think deep olive tones, calming blue hues of sky and sea, and classic rusty dessert tones. These colours read as a neutral, and are a great base against which to layer pattern and texture. The trick is to make sure that just a hint of your base colour is in the patterned version - too much and it all gets a bit matchy-matchy. 
Shop the look: Snooze Linen Sheet Set in Cyprus; Snooze Linen Quilt Cover set in Rust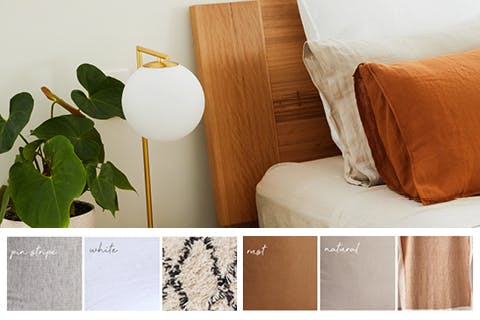 Materials of the moment
I love a set of fresh white linen sheets for two reasons - one, because everyone should have a set!, and two, because they just feel good. Warming in winter and cooling in summer, they're great to keep on hand in the linen closet and super versatile for any trending look. And white is timeless, it's a crisp choice in summer and contrasts beautifully with any feature quilt shades above.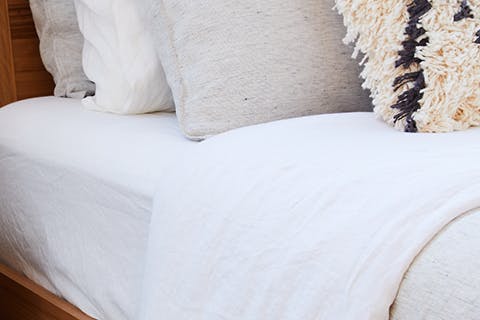 For quilts, in summer I turn to natural materials. A combination of a lightweight cotton summer quilt and a bamboo mattress protector is a winning combination in my book - wicking away moisture, with added hypoallergenic properties. 
Shop the look: Snooze Cotton Quilt; Protect-a-Bed Bamboo Jersey Series Mattress Protector
Mattress care
Every mattress deserves a spring or summer refresh, to keep it in good condition, as well as to minimise dust and build-up. It's a simple task that almost anyone can take on. Once the bed is stripped, give it a good once over with the upholstery setting of your vacuum. Flip the mattress and repeat - and always use a waterproof mattress protector to help protect the mattress from accidental spills and everyday use.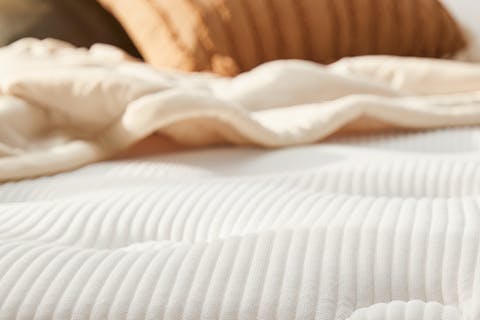 Furniture
Now for the big investment pieces - the furniture. If you're a lover of Hamptons or country style, consider more provincial and curvaceous profiles that can suit both of these looks. An upholstered bedhead can work in almost any style, but I love the hint of primness and sophistication it can bring to these trending looks. 
If coastal or Scandi is more your jam, look to sturdy modern or vintage-inspired profiles, in lighter shades of timber. Australian hardwoods are a particular favourite of mine. In fact, anything Australian made is always worthy of a second glance for its eco profile alone - but these timbers have an understated beauty that's worth exploring. 
Shop the look: Dane Bed Frame with Upholstered Headboard & Base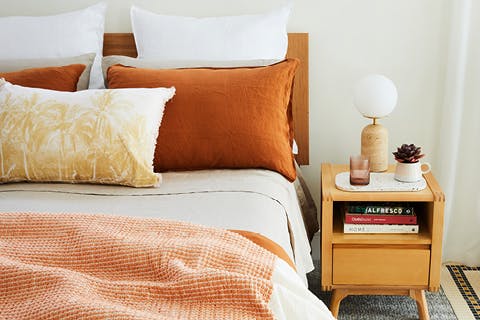 Choosing a combination of colours in fresh, lightweight fabrics, along with timeless furniture, will set the perfect tone in your summer bedroom and have you feeling ready for the day, whatever awaits.