It's no secret, camping isn't everyone's idea of a holiday. Not everyone enjoys spending their downtime without their creature comforts, or setting up nylon tents, dealing with the frustration of a missing pole, and worrying about being blown away. Evan Dando of The Lemonheads knew about it all too well when he sang 'I lied about being the outdoors type'. But the 90s grunge band obviously didn't know about Glamping! Derived from 'glamorous camping' glamping is the perfect solution for those that love the beauty of nature without compromising the comforts & luxuries of home. Getting outdoors and back to nature is at the very heart of camping - it's something everyone should have the opportunity to enjoy - and glamping makes the idea so much more appealing to many.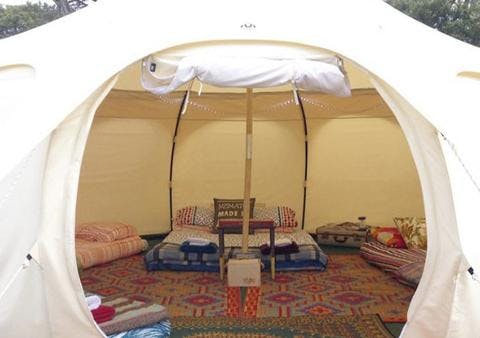 Cue Happy Glamper, a company that creates unique glamping experiences for those looking to take camping to the next level. You can enjoy a stay in an Airstream, vintage caravan, Lotus Belle or canvas bell tent, all in the beautiful surrounds of the Mornington Peninsula...on the site of your choice. It's alternative, unique accommodation for those looking for something amazing and a little bit out of the ordinary. As co-founder Jessie Curtis-Griffiths says "Going camping is the best way I know to disrupt my daily routine and shift my focus back to the things that matter".
The unique concept came about when duo Jessie and Scott Curtis-Griffiths sold their photobooth business and used the capital to import a vintage Airstream caravan from California. They decided to introduce some luxury to the camping experience and maintain the comforts of home such as sleeping in a comfortable bed!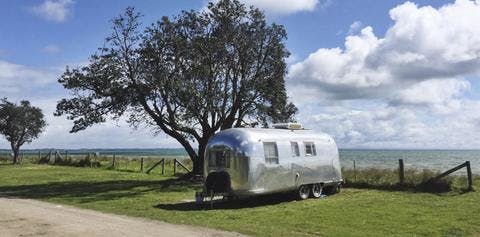 Furthermore, to enhance the experience, the guys at Happy Glamper do all the hard work for you - pitching, styling and packing down, so all you have to do is sit back, relax and enjoy the great outdoors!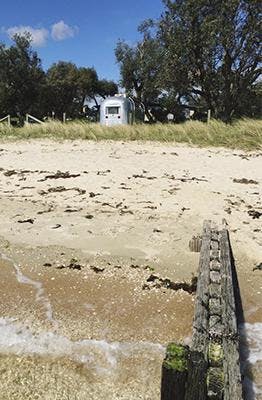 We caught up with founders and operators Jessie and Scott to ask them a few questions about 'snoozing' in style!
Hi Jessie and Scott - firstly, thank you. We love the idea of sleeping in the great outdoors, yet the rigmarole of packing an entire car and trailer, set up and pack down of a tent and annex etc can be hard work You've made the camping experience possible without the fuss and with the added bonus of a comfortable sleeping arrangement! What's your idea of the perfect night's sleep?
The perfect night's sleep for us would be snuggled up in the Airstream bed with colourful soft linen, loads of cushions, fairy lights above our heads and the sound of waves crashing on the nearby beach.
Have you got a favourite sleep over event that you can think of? Or are there too many to name?
We have done so many, however Do Lectures Australia is definitely our favourite. We've provided the accommodation for this 'ideas camp festival' two years in a row up in the high country of Victoria in Autumn. The remoteness of the camping area, the sound of the river, the clear starry night sky and the incredible people involved will forever be etched in our minds. Keep your eyes peeled for the next one, it's not to be missed!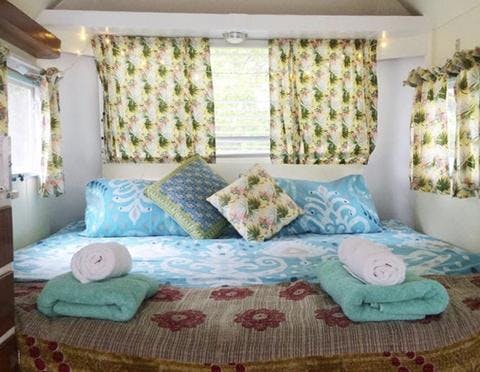 What's your most popular glamping set up request? And your personal favourite set up?
The most popular would definitely be a bell tent pitched and styled right near the beach to celebrate a birthday or anniversary.
Our personal favourite is our Airstream 'Peggy Sue'. She's a 50yo caravan we imported all the way from California USA. We've renovated the interior to be open and simple... she's literally one of a kind!
The Happy Glamper story is indeed a happy success story - a brilliant idea at a time when people really are looking to escape back to nature in a sustainable, nomadic way. What advice do you give to people to make their own dreams come true?
Be a Do-er! If you have a dream, act on it! But always have a backup plan, whether it's starting the new business part-time while still employed elsewhere or creating multiple income streams until your preferred one takes off.