If your bedroom feels like it's only slightly larger than a shoebox, don't worry - it's possible to make your small bedroom look bigger. And it doesn't involve a television rescue team coming in to knock down walls or add a mezzanine! All you need is a bit of imagination and a few tricks. Read our 5 tips below to discover great ways to make your small bedroom look and feel like a spacious oasis.
#1 Remove clutter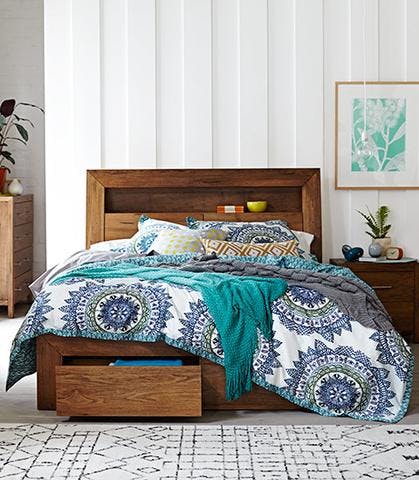 Keep items in your small bedroom to a minimum. If you can, opt for one bedside table instead of two, and choose a bed frame that offers you plenty of storage space, like the Clovelly bed shown here. It features a bookshelf headboard, for books and nick-naks, plus heaps of storage under the bed, for spare blankets and pillows, or shoes and clothes. If you don't have room for bedside tables, add a shelf above your bed, and use it for books and reading lights.
#2 Choose great colours
Using lighter colours will make any space look larger. But if you'd like your small bedroom to be interesting and dramatic, think about contrasting colours. In this bedroom, the white walls, bed and bedroom furniture is contrasted beautifully with the black headboard and the red feature wall. The result is so stunning you just might forget that the bedroom is actually quite small!
#3 Add a mirror, or two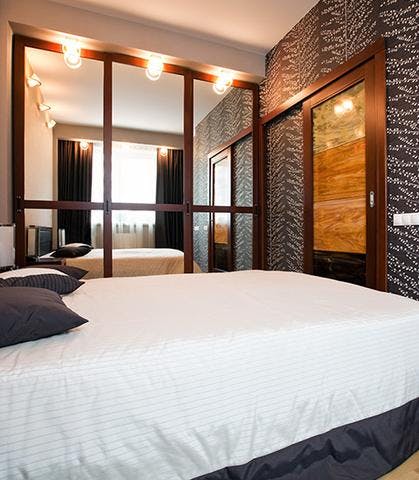 A great way to make a small bedroom look bigger is with a big bedroom mirror. Mirror doors on wardrobes are a great trick as it means your space is working double time. Adding large mirrors on opposite walls is also a great way to give the illusion of depth and space to your bedroom.
#4 Light on top
Instead of a couple of beside table lamps on each side of the bed, try to think of more space saving solutions. Downlights can give a bedroom a spacious and dramatic look. Two large pendant lights hanging above each pillow is also a wonderful option, or wall lights attached to the wall either above the bed or on either side of the bed.
#5 Use wall space, instead of floor space
Wherever you can, add storage solutions to your wall space, rather than the floor space. A row of shelves that go from the floor to the ceiling will not only add depth and height to your room, they'll give you extra storage space. Another trick is to hang dramatic drapes or curtains from the top of the window down to the floor, to give the appearance of tall ceilings.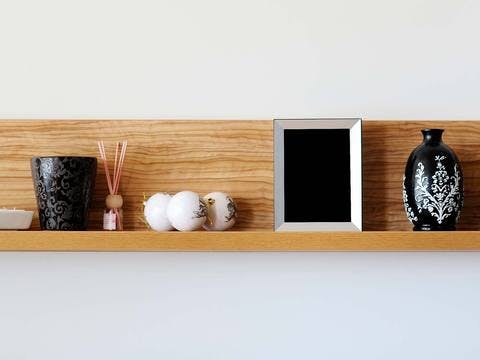 Visit Snooze for more ideas
If you'd like to see our wide range of beds with storage, like the Tiffany Queen bed frame with matching bedside table that has an in-built jewellery shelf, or our bedroom storage solutions, including under bed storage drawers, check them out online or visit your local Snooze store.