Getting enough sleep can help us lead our best lives but the million-dollar question is how do you determine if your mattress is the right size for you? Whether you're shopping around for yourself, a family member or to fill a spare bedroom in preparation for those unexpected guests, Snooze offers an extensive range of beds and mattresses to help you achieve a better night sleep. It's time to stop dreaming about a mattress which is a little longer, wider or bigger and explore the different bed dimensions available to you. Read on for the factors you should consider when determining the size of your next mattress.
1. Find your size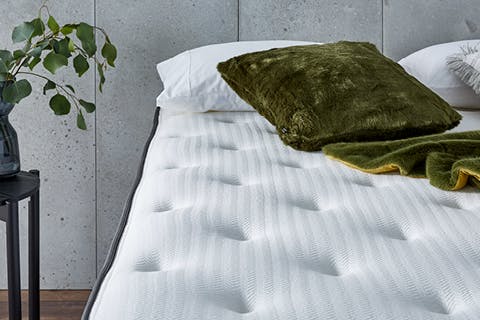 Mattress sizes are determined by length and width, from single mattresses for growing kids to super king ensembles, preferred by space-lovers with large rooms. Before you start making the important decision about which size to buy, ensure you measure your room and compare its layout with the listed dimensions in the bed size chart below.
Snooze Bed Size Chart
| | | | |
| --- | --- | --- | --- |
| Mattress Size | Width x Length (centimetres) | Width x Length (inches) | Buy it For: |
| Single | 91.5cm x 190cm | 36" x 74.8" | Kids, Teens & Adults |
| Single XL | 91.5cm x 203 cm | 36" x 80" | Kids, Teens & Adults |
| King Single | 105.5cm x 203 cm | 41,9" x 80" | Teens & Adults |
| Double | 138.5cm x 190cm | 54.5" x 74.8" | Guests, Teens & Adults |
| Queen | 152.5cm x 203cm | 60" x 80" | Guests & Adults |
| King | 183.5cm x 203cm | 72.2" x 80" | Adults |
| Super King | 203cm x 203cm | 80" x 80" | Adults & Families |
2. How to choose a mattress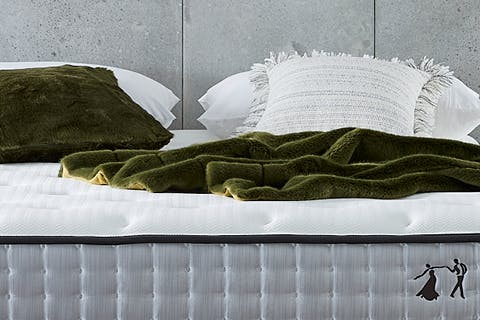 On the other hand, If space isn't a problem and the decision is based on wants alone, consider if the mattress will fit, who will be sleeping on it and how often it will be used when exploring each benefit and potential drawback. Remember if you have questions, our Snooze team can help you take the guesswork out of buying your next mattress in-store. 
SINGLE BED DIMENSIONS
190cm long - 91.5cm wide
The single bed size isn't only for kids, it suits all ages. Single mattresses help space-starved adults make the most out of small studio apartments and share house bedrooms, ensuring they have somewhere comfortable to sleep after a long, tiring day. The downside? They're not made to be divided between adults or their demanding furry friends - if you're planning on sharing the mattress or for the mattress to be shared by others, we would always suggest bigger is better.
Single bed measurements suit: Kids, teens and adults
Larger single bed sizes: Long Single Mattresses (L: 203cm x W: 91.5cm) and King Single Mattresses (L: 203cm x W: 105.5cm)
DOUBLE BED DIMENSIONS
190cm long - 138.5cm wide
The humble double still has a lot to give. It can be perfect for guest rooms, teen upgrades and those who sleep alone but need spare inches to toss or turn, double mattresses have some of the space-saving abilities of singles without sending one half of visiting couples to the couch. On the other hand, if you're investing in a bed for yourself and your partner, a double may not deliver the sleep experience you desire night after night. It really depends on how cosy you want to be!
Single bed measurements suit: Kids, teens and adults 
QUEEN BED DIMENSIONS
203cm long - 152.5cm wide
Queen mattresses are the new normal when it comes to choosing mattresses for master bedrooms. Widely regarded as the shared bed of choice, 152.5cm gives each sleeper 76.25cm of legroom throughout the night - which equates to seven whole centimetres more than a double! A little space can go a long way in ensuring everybody gets enough sleep, although some doorways do struggle with larger mattresses - particularly those in older houses. Plan how you'll get your queen size through the door before you purchase to prevent having to downsize.
Queen bed measurements suit: Teens and adults
KING BED DIMENSIONS
203cm long - 183.5cm wide
A king size mattress can equal an undisturbed night of deep sleep, delivering the kind of experience you'd expect from snoozing solo in a single bed while sharing with your nearest and dearest. With so much space, it's difficult to imagine a king size having many drawbacks, but there are two - a large mattress can be heavy and difficult to move, plus those with a taller build may still struggle with their feet hanging over the end.
King bed measurements suit: Adults
SUPER KING BED DIMENSIONS
203cm long - 203cm wide
Have small children invaded your bedroom space? Then a super king mattress could be for you. Delivering relief to overwhelmed parents and a whole lot of luxury to those who don't have kids sneaking in for a cheeky snuggle, this mattress is gaining popularity as master bedrooms become sleep sanctuaries. While the positives far outweigh the challenges, keep in mind your mattress needs to last the distance - will you always have enough room for a super king? Or do you see yourself moving house in a few years?
Super king bed measurements suit: Adults, family sleeping
The right size mattress for you will depend on a range of factors, and while purchasing online is convenient if you're short on time, nothing beats experiencing it for yourself in-store. Can you and your partner both fit on a queen size mattress comfortably, or is a king size what you have been dreaming of this entire time? You won't know the answer to these questions until you try out different mattress sizes with the Snooze Profiler available at your local Snooze store.
Once you have sorted out the bed dimensions, there is an array of other factors to consider like surfaces, materials, firmness and cushioning, not to mention a broad range of reputable mattress brands (we've made four recommendations to get you started). After all, it's amazing what a little Snooze can do. Visit your local Snooze store and look forward to a better night's sleep for night's to come.
Snooze better. Visit your local Snooze store today.