How to Make Your Bedroom a Sanctuary for the Senses
Traditionally a punishment reserved for disobedient children, most adults would agree that being told to: 'go to your room', would actually be a dream come true. After all, our bedroom is the place where we: sleep, play, relax, think, create, escape, love, unwind, laugh and recharge.
When life has us endlessly negotiating competing priorities, it can be hard to allow ourselves the proper amount of time to download. Going to your room, is one solution we can all make time for, and we don't have to wait to be sent there.
Spending some time to make your bedroom as amazing as possible, by creating the right comfort level, atmosphere and personal touches, may provide the inspiration needed to 'go to your room' whenever you need to recharge or put the spring back in your step.
Here are 4 ways you can focus on making going to your room, the ultimate treat to yourself: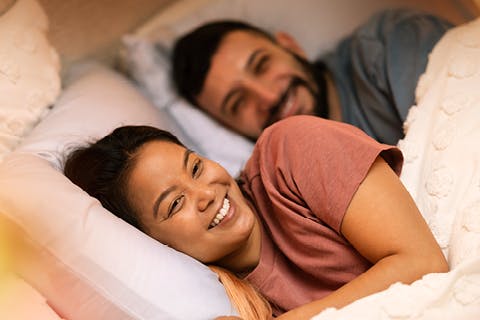 Body
Set yourself up for physical comfort. First and foremost, start with your bedroom centrepiece and curate your most comfortable bed. Investing in a good quality mattress can be key to creating a space that you look forward to going to, day or night. Aligning your mattress with your body type, and physical sleep preferences can help you achieve improved rest. Getting proper rest can help you feel rejuvenated and ready for the world. By using our online mattress Quiz, or heading to your nearest Snooze store to use our Snooze Profiler, you can get helpful advice on which mattress might suit your needs best.
Creating the ideal bed for your bedroom sanctuary doesn't stop at the mattress alone. There is a range of adjustable bases, such as the Sealy Posturepedic Inspire Base, that allow you to raise and lower the height of your head and legs at the touch of a wireless-remote button. Adjustable ensembles allow you to customise the position of your body to suit your activity. If reading or viewing in bed, these bases are a great option for enhancing comfort.
If you really want to up the ante in the comfort stakes, choose an adjustable base with a massage function, like the Sealy Ergomotion Massage base,(although you may never want to leave your room again).
Bedding also plays a central role in creating the right comfort level for your bed. Choose breathable fibres that suit your personal sleep temperature and the climate of your room, to help make your bedroom a haven of comfort.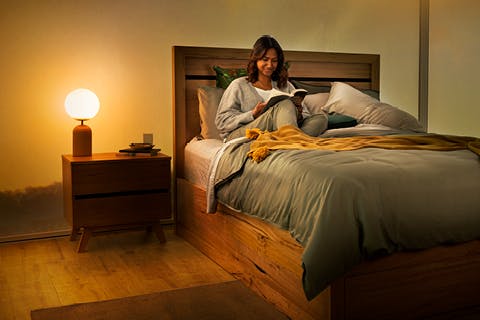 Mind
Tidy room, tidy mind. We all know how good it feels to walk into a clutter-free space. Tempting as it may be to throw your clothes across the dresser, or pile books up on the floor, keeping your bedroom space as clear as possible can help you relax on a deeper level. When your visual cortex is not overwhelmed by unnecessary objects, your mind is free to focus more easily on what you're doing. Choosing bedroom furniture with hidden storage such as the Henley Gas Lift Bed Frame, will likely increase your chances of maintaining a clutter-free space. Clever bed frames such as this, allow you to tuck excess items away quickly and easily, while making your belongings available to access whenever you need to. 
When planning how to make the most out of your space, consider storage options that will be a harmonious addition to the room, especially if you don't have the luxury of built-ins. Adding a tallboy to store your clothing, such as the Clovelly 5 Drawer Tallboy can help you keep your bedroom clutter-free, while organising your clothes neatly may also inspire you to make better use of them.
We've surely all heard advice on limiting screen-time in the bedroom, to keep it a place of rest. While a good streaming session in bed can be mighty appealing, why not heed that advice and take the time to read instead? Not only does reading help to refocus your mind, it can give your eyes a well-deserved rest from daily screen saturation.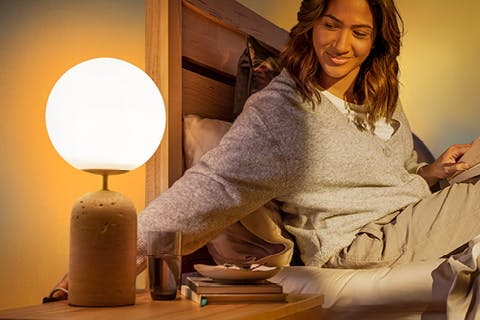 Mood
Set the mood in your room to make it inviting and appealing. Choose the right furniture, ambient lighting and include things you love, like a statement piece of furniture, a cosy chair or create your own reading nook. 
Indulging all of the senses within the sanctuary of your bedroom, can add additional elements of relaxation to your bedroom. Using music and essential oils to set the mood in your room can change the way your room feels. Playing some uplifting music, or reconnecting with a favourite album can restore your personal spark, and open your mind to creative inspiration.
Having multiple light sources in your room allows you to facilitate a more pleasant atmosphere than standard overhead lighting can provide. Whether you add a feature lamp, or choose a bed frame with in-built lighting such as the Clovelly Bay Feature bed frame (which offers dimmable LED lights), arranging a selection of lighting states in your room, can help you set the right mood for your activity.
Creating bedtime rituals like spritzing the pillow with a calming mist, or massaging your hands with a luxurious hand cream to end the day, are additional little mood-lifters that can help achieve a deeper sense of relaxation.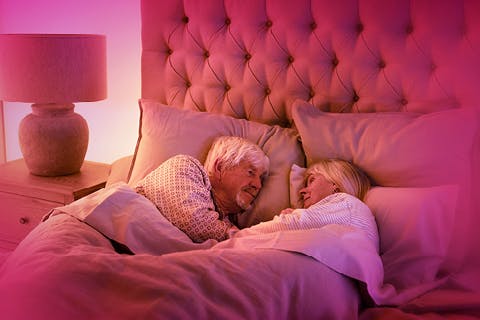 Style
Making sure the style of your room reflects you as a person, can play a significant part in making you feel more at-ease. Thinking about what style resonates with you best and making changes in your bedroom to accommodate them, can enhance your experience of having down-time in your room, and make your bedroom more like your own private oasis. 
Whether you feel connected to nature and enjoy having a beautiful Australian timber adorn your bedroom like the WA Marri timber featured in our Meridian bed frame or perhaps it's luxury you crave, like the decadence and regal appeal of our Memphis range. Either way, choosing a style that makes your bedroom space feel good to you, is key to making your bedroom, your 'happy place'.  
In a world where our senses are exhausted with images, messaging, deadlines and spreadsheets, making your bedroom the most important room in the house, can be an effective way of restoring your equilibrium, calming your mind and recharging your body. Why not go to your room? Take some time to lift your spirit and rediscover your amazing place, your room.